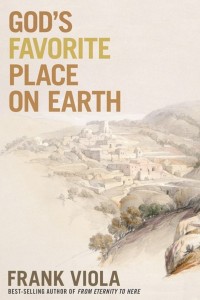 God's Favorite Place on Earth by Frank Viola
God's Favorite Place on Earth by Frank Viola was a delightful read. Frank Viola has written a wonderful book. He uses the place of Bethany, the hometown of Mary, Martha, and Lazarus as the basis for his contention: everyone needs a loving community to come home to. He calls Bethany God's favorite place on Earth because this was the place Jesus went when He needed rest, comfort, and a place to call home. The book combines a beautiful narrative along with the ingredients of true Christian community. The narrative is written from the point of view of Lazarus. Lazarus recalls his past experiences with Jesus. The book uses the stories in the Bible, but fills in the gaps to make its points.
Using alliteration for the chapter titles, Viola makes the case that we can appreciate, be awed, become awakened, be anointed, ascended, and anticipate Christian community. Each chapter begins with the narrative, formed by a fictional retelling by Viola. Following this narrative, the chapter shows a section of Scripture. Each chapter ends with principles about Christian community.
The book is well written. However, one must accept the fictional retelling of the stories by Viola. In some chapters, the premise that he lays out seems forced. One the whole however, this is an excellent book about Christian community.
This review was posted for Speakeasy. The book's website is http://GodsFavoritePlace.com The book can be purchased on Amazon. 
Twitter tags: #Speakeasy, #GodsFavoritePlace, #FrankViola
Disclosure of Material Connection: I received this book free from the author and/or publisher through the Speakeasy blogging book review network. I was not required to write a positive review. The opinions I have expressed are my own. I am disclosing this in accordance with the Federal Trade Commission's 16 CFR,Part 255.
Related articles