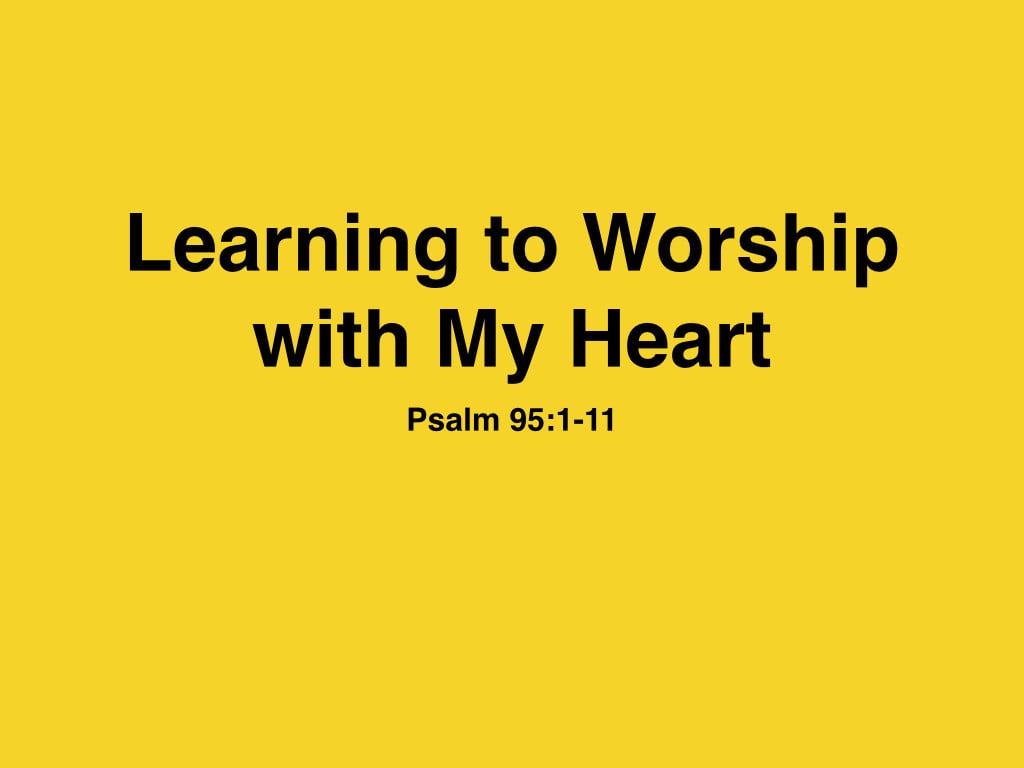 Learning to Worship God With My Heart
Learning to Worship God With My Heart is a sermon from Psalm 95:1-11 in a series on "The Heart."
Satan was standing outside a church building one Sunday morning. Inside, the people were singing, praying, and listening to preaching. A passerby asked Satan if that did not bother him. With a demonic, sneering laugh he replied negatively. Then he added, "They get that way on Sunday, but they will be all right on Monday. It's just a little habit they've acquired."
God save us from such a habit. Our worship is to make a difference in who we are and what we do.1
Do you sometimes wonder if your worship should be better than it is? How can I worship God in a way that makes sense and makes a difference in my life. Worship is not a concert where I just listen to the singer and enjoy the performance. Worship is not just a way for me to sing and make music – although it includes that. Worship is a matter of the heart. Worship is when I personally express my devotion to God because of Who He is what He has done in my life. When it comes to worship, what matters most is the heart.
From this psalm, I want to show how my heart impacts my worship experience. I want us to learn how to worship with the heart. Let's begin with the basics of worship.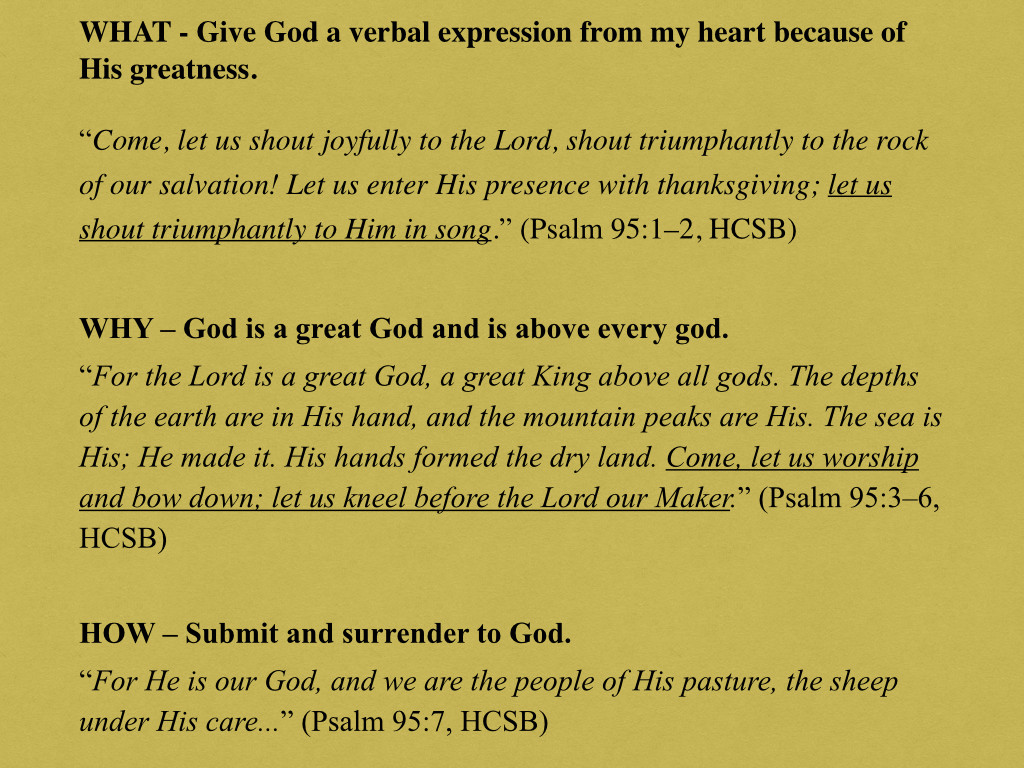 WHAT – Give God a verbal expression from my heart because of His greatness.
"Come, let us shout joyfully to the Lord, shout triumphantly to the rock of our salvation! Let us enter His presence with thanksgiving; let us shout triumphantly to Him in song." (Psalm 95:1–2, HCSB)
In verses 1–7 we have the what, why, and how of worship. The what is that we are to "sing to the Lord," "shout joyfully," and come before Him "with thanksgiving." 2
In the morning—when my mind might be foggy and my body might be tired—if I'll kneel down before the Lord, if I'll lift up my hands and praise His name, if I'll sing loudly in my study, if I'll worship enthusiastically, even though my spirit may not initially be on board, it doesn't take long for it to respond accordingly. That's why the psalmist doesn't say, "Do these things if you feel like it." He says, "Do these things, period." Worship is not based on feeling. Worship is based on who God is. And He is merciful, generous, wonderful, and loving.3
WHY – God is a great God and is above every god.
"For the Lord is a great God, a great King above all gods. The depths of the earth are in His hand, and the mountain peaks are His. The sea is His; He made it. His hands formed the dry land. Come, let us worship and bow down; let us kneel before the Lord our Maker." (Psalm 95:3–6, HCSB)
The why for such praises is that He is "The Rock of our salvation," "the great God," "the great King above all gods," "our Maker," "our God and we are the sheep of His hand." 4 Psalm 95:4-5 has a cosmic scope that establishes God's power. The passage contains two bookend structures that describe the totality of the created world: depths and heights; sea and dry land.5
HOW – Submit and surrender to God.
"For He is our God, and we are the people of His pasture, the sheep under His care…" (Psalm 95:7, HCSB)
The how is in our submission and surrender to Him. In this we offer our bodies as living sacrifices—this is our "reasonable service [of worship]" (Rom. 12:1).6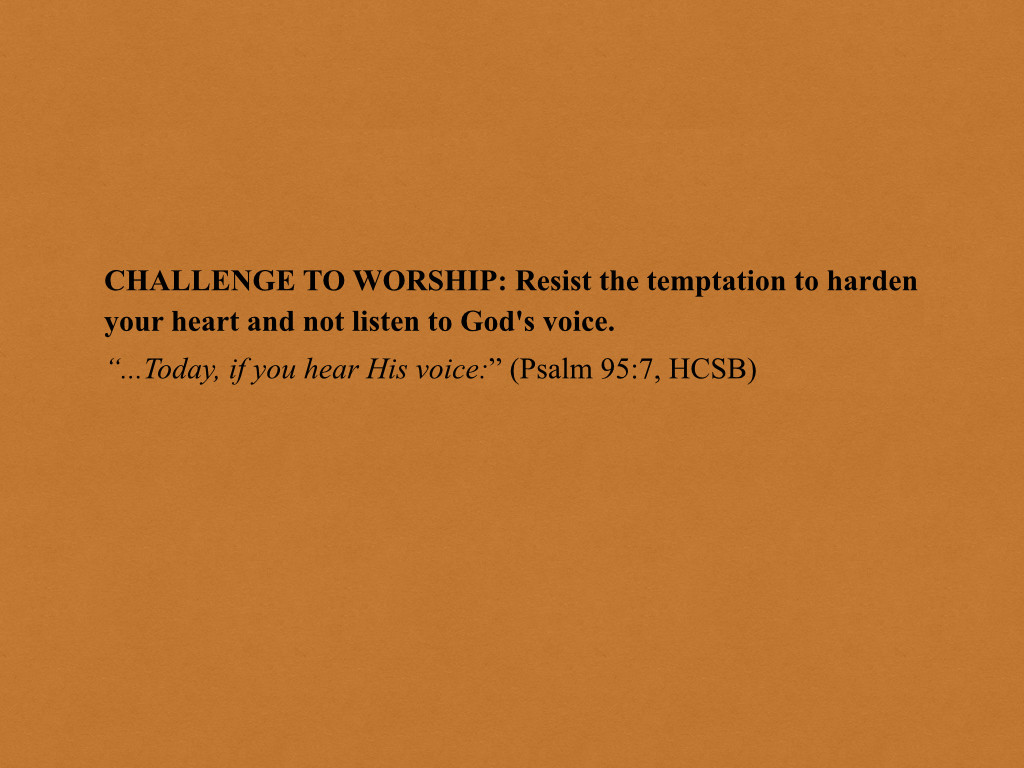 CHALLENGE TO WORSHIP: Resist the temptation to harden your heart and not listen to God's voice.
"…Today, if you hear His voice:" (Psalm 95:7, HCSB)
The greatest challenge to worshiping God with my heart is when I harden my heart. Every Christian can experience the temptation to harden our hearts. What is it when my heart hardens? It means that I have chosen to stop loving God by my sinful will. There are a variety of words to define someone who is hardhearted: one is unfeeling, callous, coldhearted, hard-boiled, heartless, uncompassionate, unemotional, and unsympathetic7 What are some ways in which I can harden my heart, or become insensitive to God?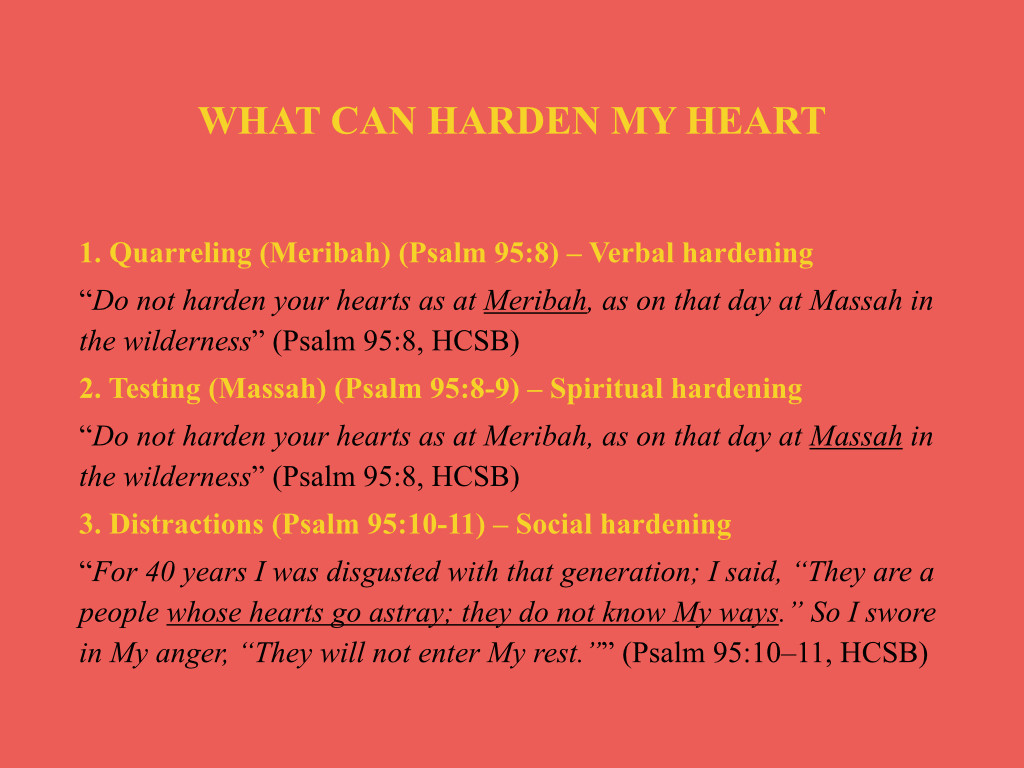 WHAT CAN HARDEN MY HEART
1. Quarreling (Meribah) (Psalm 95:8) – Verbal hardening
"Do not harden your hearts as at Meribah, as on that day at Massah in the wilderness" (Psalm 95:8, HCSB)
The first way you can harden your heart is to quarrel. You can harden your heart by the way you speak to other people. Your mouth can get you into trouble.
2. Testing (Massah) (Psalm 95:8-9) – Spiritual hardening
"Do not harden your hearts as at Meribah, as on that day at Massah in the wilderness" (Psalm 95:8, HCSB)
The second way you can harden your heart is by spiritual hardening. This happens when you test God. This is a spiritual hardening of the heart. Why do I say that? Because God can test your faith in Him. He does that to His servants. For example, God tested the following people:
God tested Abraham and how he would trust God:
"After these things God tested Abraham and said to him, "Abraham!" "Here I am," he answered." (Genesis 22:1, HCSB)
God tested the people under Moses' leadership:
"So he cried out to the Lord, and the Lord showed him a tree. When he threw it into the water, the water became drinkable. He made a statute and ordinance for them at Marah and He tested them there." (Exodus 15:25, HCSB)
God tested the generation of the Israelites when He sent the plagues to the Egyptians:
"none of the men who have seen My glory and the signs I performed in Egypt and in the wilderness, and have tested Me these 10 times and did not obey Me," (Numbers 14:22, HCSB)
God tested Hezekiah to see where his heart was:
"When the ambassadors of Babylon's rulers were sent to him to inquire about the miraculous sign that happened in the land, God left him to test him and discover what was in his heart." (2 Chronicles 32:31, HCSB)
In this case, God tested Hezekiah to see if the king's heart had strayed from God. He found that to be true and as a result, there was a consequence to his life.
So God can test us to see if our relationship with Him is true. Now, God's testing is never a temptation. God does not tempt us to sin.
"No one undergoing a trial should say, "I am being tempted by God." For God is not tempted by evil, and He Himself doesn't tempt anyone." (James 1:13, HCSB)
Many Christians go through a trial and they may question God about it. Asking God questions about why things are hard are ok. But when one turns from a simple question about the conditions of the difficulty to the point where they question trusting God, they have started to harden their heart. Questioning God about my problems is one thing. Questioning my faith in God because of my problem is much more dangerous thing.
Instead, God tests the condition of our heart spiritually. God can even make our hearts hardened. Why would He do that? To test our desire for Him. It is one of the unique characteristics of God that He can test you, but you can't test Him. He can put you in a situation to see if you will trust Him. He can test your heart.
"Why, Yahweh, do You make us stray from Your ways? You harden our hearts so we do not fear You. Return, because of Your servants, the tribes of Your heritage." (Isaiah 63:17, HCSB)
As this passage shows, the purpose of God hardening my heart is to help me return to Him. When God hardens my heart, it is always to grow my faith.
The opposite cannot happen. We are told not to test God.
"Do not harden your hearts as at Meribah, as on that day at Massah in the wilderness where your fathers tested Me; they tried Me, though they had seen what I did." (Psalm 95:8–9, HCSB)
If you see God work in your life, you should not later come to the point where you want to test God and question your trust in him. If that happens to you, then your heart is starting to harden. This spiritual hardening happens when we resist trusting God. We question His goodness. We show little faith in what He has done in our lives.
3. Distractions (Psalm 95:10-11) – Social hardening
"For 40 years I was disgusted with that generation; I said, "They are a people whose hearts go astray; they do not know My ways." So I swore in My anger, "They will not enter My rest."" (Psalm 95:10–11, HCSB)
You can easily let society cause your heart to go astray. In this case, the people of God wanted to go back to Egyptian society. They let the Egyptian culture cause their desires for God to be distraction. The ways of the world became more attractive than the ways of God. When the ways of the world become more attractive than the ways of God, you are in danger of social hardening. This is the reason why many Christians no more of what is going on Facebook than God's book. Don't get me wrong. I don't have a problem with technology and society. We need to reach out to people around us. But when we let the voices around us distract us from listening to the Great Shepherd's voice, then we have let our hearts be distracted by social hardening.
What happens as a result? God prevents you from getting rest.
The people of God let society distract them from God's ways. As a result, they missed out on the blessings and the rest which only God could provide (Psalm 95:11). The same is true today. There are Christians who have hardened their hearts. They have turned from what God wants them to do. He has provided for them and they turn away. They resist Him and they wander in the wilderness. The wanderings will never cease. They will never rest from this continual hardening and they will never see God provide rest for their souls. As a result, you miss out on the blessings and the rest which only God could provide (Psalm 95:11). The heart is the essential part in worship, not the voice. God wants us to keep our hearts focused on Him.8