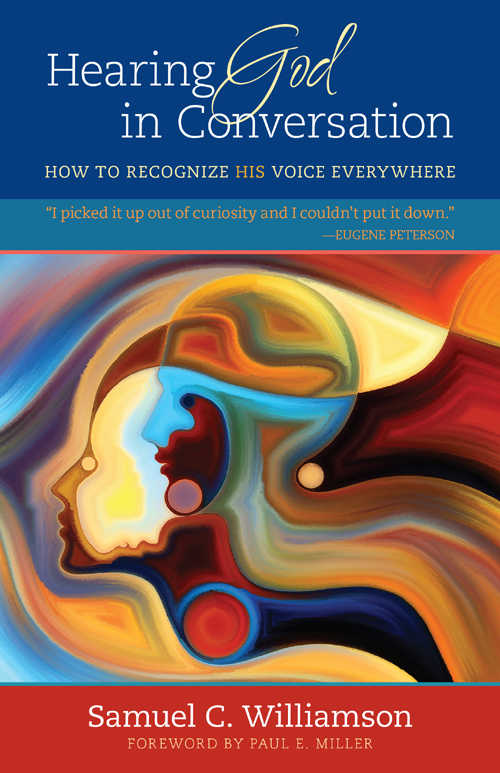 Hearing God in Conversation by Samuel C. Williamson
Hearing God in Conversation by Samuel C. Williamson is a book that was written to help the reader "recognize God's voice everywhere." Williamson begins with the premise that God does speak and that He wants to talk with us (40-41) (John 10:3, Jeremiah 33:3, Revelation 3:20, John 16:13, Isaiah 30:21, John 8:47, Psalm 32:8.) In Chapter 1, Williamson illustrates how God speaks in multiple methods and moments (44-54). In Chapter 2, Williamson reveals that conversation IS the point and encourages the reader to just be themselves when they talk to God (55-72). He makes it clear that prayer is not a list of demands, but an ongoing relationship where God engages us through specific ways. In Chapter 3, Williamson describes how to recognize God's voice (73-90). This has been a dilemma for many people. Williamson explains that one must learn to distinguish God's voice from others because God is still, not silent. One must learn the discipline of paying attention in order to hear God. God has a strong, compelling voice, but He will not coerce or force us to hear Him. God speaks by putting words in our minds – which is the simplest way to explain it. The spiritual enters the physical through the mind. Yet it takes practice to listen. Williamson then reminds us that once we listen to God, we must act on what we hear (James 1:22).
In Chapter 4, Williamson describes the purpose of Scripture. He challenges the notion that the Bible is a maintenance manual or useful to prescribe correct behavior. It is not for inspiration or to find the truth. Scripture exists for us to meet God (91-104). In Chapter 5, Williamson shows how one can hear God in meditation (105-120). Using an illustration from Star Trek II: The Wrath of Khan, Williamson shows that Khan became Moby Dick because he had meditated on it and quoted it to James Kirk. He states that meditation changes us (131). We can repeat God's law, write paraphrases, and interact with Scripture to gain its truth (121-135). In Chapter 7, Williamson shares the interesting idea about how to brainstorm with God. This is the idea of listening and sorting out the voices one hears when one studies the Bible (136-149).
In Chapter 8, the focus shifts away from hearing God's Word for yourself and learning to hear God's Word as ministry to other people (150-176). Chapter 9 addresses the difficulties and biases in hearing God's Word (169-182). In Chapter 10, Williamson shows that God connects to us through His Word by asking questions (183-193). In Chapter 11, the author encourages the reader to cultivate a "holy curiosity" (194-209). In Chapter 12, Williamson addresses the question: "How Can I Know It's God's Voice?" (210-228). In Chapter 13, he asks the reader to pursue a "relational knowledge" of God (229-245). Williamson addresses the impact of emotions in Chapter 14 (246-258) and that God speaks in our detours in Chapter 15 (259-275). Williamson challenges the reader to hear God in the ordinary in Chapter 16 (276-289) and warns us that God shouts in His silence in Chapter 17 (290-309). Williamson reminds the reader that God always guides even when the answers to prayers don't seem to come in Chapter 18 (310-330).
Williamson includes two appendices. The first answers significant questions that come up about the nature of prayer (331-351). The second deals with questionable and excessive practices (352-378). In all, Williamson provides a comprehensive book on the nature of prayer as conversation. He addresses the problems in prayer, the challenges of listening and in the end reminds us that prayer is about God, not us. Perceiving God's voice is hard even for the experienced Christian. Williamson's book will help a Christian to listen better to God's voice. The book is theologically solid and gives practical advice on prayer. I highly recommend this book.
I also reviewed Is Sunday School Destroying Our Kids? by Samuel Williamson
Disclosure of Material Connection: I received this book free from the author and/or publisher through the Speakeasy blogging book review network. I was not required to write a positive review. The opinions I have expressed are my own. I am disclosing this in accordance with the Federal Trade Commission's 16 CFR,Part 255.