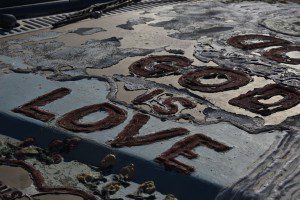 God's Love Is The Reason to Praise God
November 21, 2016 Year C
Psalm 117:1-2
God's love is the reason to praise God. All other reasons to praise God derive their meaning from God's love. There are all kinds of other reasons to praise God. For example, God created me. He saved me. God helps me, keeps me safe, provides for me, and reassures me.
Yet, the source of all of these actions is God's love.
The psalmist addresses everyone and calls them to praise God. No one is excluded from the ability to praise and glorify God. There are two different ways the psalmist expresses this universal call to praise God. First, every nation can praise God. Every country and political identity on earth can praise God. Second, every person and ethnic identity (or people group) can glorify God. The psalmist says that everyone can praise God. No boundaries, nor any barrier or subjective form of racism should prevent anyone from praising God.
"Praise the Lord, all nations! Glorify Him, all peoples!" (Psalm 117:1, HCSB)
Therefore, the reason that everyone can praise God is because God loves everyone. His love is that great. His love is great because it is a faithful love. God is faithful because His love is faithful. Unlike human love which can quit, God's love will never quit. Because His love is great, He can be trusted to provide for me forever.
"For His faithful love to us is great; the Lord's faithfulness endures forever. Hallelujah!" (Psalm 117:2, HCSB)
No wonder the psalmist ends with the word "Hallelujah!" When I think about the idea that God loves me, that His love is great, that I can trust His love, and that this love will last forever – how can I not do anything else but praise God?
Praise: I praise You God that You are faithful to love me with a great love that will last forever!