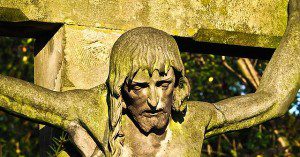 November 25, 2016 Year A
The hardest job after the Thanksgiving meal is to clean up after the big meal. After the people have gone home, one is left to take the time and clean up the mess. One washes the dishes, cleans the floors, and disinfects the room.
Just as I may clean up after the family gouges on food, God has cleaned up on my life after I have gouged myself on sin. He erased the names of idols (Zechariah 13:2). He removed the people who were making a mess of the faith – false prophets (Zechariah 13:2-5).
His Son Jesus, came as God's shepherd to sacrifice Himself for God's people – His sheep (Zechariah 13:7).
God will take the effort to clean up the world when He judges. He will literally "mop up" the world in judgment. He will cut off some (Zechariah 13:8), and then He will refine others (Zechariah 13:9). God's Mop of Judgment will clean away the ones who did not choose Him. The Mop will clear up the floor so that only those who are tested will remain.
How can I tell if I am not the dirt and grime that God will clean away in judgment? If I call upon Him He will answer me. He will say that I am His child if I will say that He is my God (Zechariah 13:9).
Prayer: I want to be one who calls upon You. I want You Lord to remind me that I am Your children. Please cleanse me of my sin as I trust in You daily.