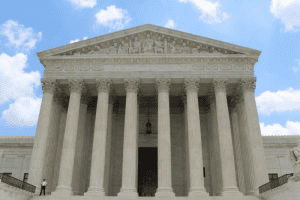 You remember The People's Court, Night Court, Judge Judy. Law and Order. Shows that revealed how our system of justice and judgment work. That is what Jesus is describing here in the first two verses of Luke 17.
WORLD SYSTEM OF JUDGMENT (LAW AND ORDER) (Luke 17:1-2)
In the world's system of judgment, we have what we call law and order. In that, I mean that if someone offends another, then there is a punishment for the crime. Here, Jesus gives an example of a punishment that fits the crime:
"He said to his disciples, "Offenses will certainly come, but woe to the one through whom they come! It would be better for him if a millstone were hung around his neck and he were thrown into the sea than for him to cause one of these little ones to stumble." (Luke 17:1–2, CSB)
Law and Order
Jesus says that if you are going to sin and hurt other weaker people, then watch out. The world will judge you. Now, some will say that this verse is about child abuse and that a person deserves to be killed by drowning.
We are going to take care of this. Our children are going to be protected. We are going to make sure that no one harms our kids. We will make sure the offender pays. That is how the world thinks. It's an extreme example. Everyone would agree that if you hurt an innocent little child, that the person deserves to be punished. Even prisoners who have murdered others and done horrendous crimes hate child molesters. My point is everyone at some level believes that real evil (however we define evil) deserves to be punished.
That is how our system of law and order works. It is a form of teaching morality by management. We have police and a system of courts of law that are designed to punish the evildoer. In the United States, it is a regulated system to protect someone as innocent until proven guilty. If they are found guilty, then they will get a certain punishment.
Yet the level of punishment varies from person to person in society. If you see an offense that is reported on Facebook, you will see that many people would rather punish people for their crimes. They will even accuse levels of government of being corrupt, or not doing what they should. So we have our own opinion about how laws should work. It is almost as if there are three levels of laws:
THREE LEVELS OF LAWS
1. Lawlessness
This law is executed in the court of opinion. You can look at the actions of the local school officials in the recent lockdown and you will discover that everyone has an opinion. Some of the comments border on lawlessness. Hang 'em high. The officials didn't do enough to protect my child. We should go to the school officials because they can't keep my kids safe. If we followed everyone's opinions about the matter, there would be chaos. There would be no system. One family would treat the event one way. Another family would do something completely different. There would be no order. That's lawlessness.
2. Law of the Land
This law is executed in the court of law. This is the rule of law. We have a government that operates on this level. You can look in the Old Testament and they were given rules to live by for a society. Some of those laws may seem confusing today, but God put a system of law for the nation of Israel. God established a government to operate in a court of law.
Moses was the lawgiver and God used Moses and other judges to regulate society. We move to the New Testament and Paul reminds us of the purpose of government: to regulate society. If we do good, the cops won't bother you. When you do bad, the cops come to regulate how you live. If something is wrong, it is settled in the court of law.
According to the Associated Press, on the evening of February 6, 1996, three friends drove the rural roads east of Tampa, Florida, with the intent of playing pranks. Tragically, their game was anything but funny. They pulled some twenty street signs out of the ground, including the stop sign at one fateful intersection.
The next day three eighteen-year-old buddies, who had just finished bowling, breezed through that intersection without stopping. Their car sailed into the path of an eight-ton truck, and they were all killed.
One year later the three perpetrators of the deadly prank were convicted of manslaughter. In June of 1997 they stood in orange jail jumpsuits and handcuffs before a judge in a Tampa courtroom, weeping and wiping their eyes, and were sentenced to fifteen years in prison.
It is a dangerous thing with tragic consequences for anyone to take down a signpost on the highway. It is no less dangerous for anyone to vandalize the signposts that God puts on the highway of life. When we honor God's commandments, we point the way to the signposts of life. If we dishonor God's commandments, we can unwittingly lead others to destruction.1
3. Law of Christ
This law is executed in the court of forgiveness.
CHRISTIAN SYSTEM OF FREEDOM AND FORGIVENESS (LAW OF CHRIST) (Luke 17:3-4)
The Christian system operates with different laws. There is really one rule, and that is the law of Christ. What does that law say? You help one another when each of you sins.
FOUR STEPS IN THE CYCLE THAT RELEASES ME FROM RELATIONAL SIN
The Cycle in the New Testament
"Be on your guard. If your brother sins, rebuke him, and if he repents, forgive him." (Luke 17:3, CSB)
In this passage, Paul tells us that if other Christian sins, then you go confront, and if he repents, you forgive.
"Brothers and sisters, if someone is overtaken in any wrongdoing, you who are spiritual, restore such a person with a gentle spirit, watching out for yourselves so that you also won't be tempted. Carry one another's burdens; in this way you will fulfill the law of Christ." (Galatians 6:1–2, CSB)
In Galatians, Paul reminds us that if a Christian is involved in a sin, then the more mature person should restore the person. The way one is restored is by gentleness. You carry the burden and you work at restoration. The law is love.
""If your brother sins against you, go and rebuke him in private. If he listens to you, you have won your brother. But if he won't listen, take one or two others with you, so that by the testimony of two or three witnesses every fact may be established. If he doesn't pay attention to them, tell the church. If he doesn't pay attention even to the church, let him be like a Gentile and a tax collector to you. Truly I tell you, whatever you bind on earth will have been bound in heaven, and whatever you loose on earth will have been loosed in heaven. Again, truly I tell you, if two of you on earth agree about any matter that you pray for, it will be done for you by my Father in heaven. For where two or three are gathered together in my name, I am there among them."" (Matthew 18:15–20, CSB)
Here, the passage describes what happens when you work at restoration. If someone sins against you, then you go to them. You confront. If he listens (and listening means repenting), then you are done. You share your forgiveness and the relationship is restored. If this doesn't work, then you get someone else.
This second set of people are more mature.They are designed to help restore the person. You confront, they should repent in the presence of more mature people. If he does, then you grant forgiveness. If this doesn't work, then you take it to the church. The goal is restoration. The reason we know that the goal is restoration is that later Peter asks, how long should I let this happen?
"Then Peter approached him and asked, "Lord, how many times shall I forgive my brother or sister who sins against me? As many as seven times?" "I tell you, not as many as seven," Jesus replied, "but seventy times seven." (Matthew 18:21–22, CSB)
Well, Peter asked that question for us. He asked Jesus: How long am I supposed to confront, see repentance and forgive? Jesus' answer is often. If that person is not learning to repent for the same sin, then it is time to step up to the second level of restoration.
The point of bringing a set of people to the offender is to get them to see where they are wrong and to repent. If they refuse, then you go to the church. If they still refuse, then you let them out and treat them like they are an unbeliever.
The point of this process is to get to forgiveness. People look at this process and think that it is about judgment. It is not. That is how the world operates. If we are truly Christian people, if we are truly Christ followers, if we are truly people who are members of the Body, then we will go from sin to confrontation, to repentance to receiving forgiveness. Look at that this process:
1. Confrontation
2. Repentance
3. Forgiveness
4. Failure (sins against you)
"And if he sins against you seven times in a day, and comes back to you seven times, saying, 'I repent,' you must forgive him."" (Luke 17:4, CSB)
The offender must repent before forgiveness is given. When I forgive the offender, I give him freedom from the guilt. When I forgive, it should release me of revenge. The point here is that people are slow learners. God gives us the grace to be slow learners.
Conclusion
Let me end with this story from Dr. Tony Evans:
We've all seen, even if just in a picture, a bell in a bell tower. These hang up high and have a rope attached to them. To ring the bell, the rope must be pulled down a few times. There is a constant pulling and constant ringing of the bell. Now, after the pulling is over and the person pulling the rope lets go, the bell will keep swinging. The bell does not stop swinging just because the rope is not being pulled anymore. It will swing for a while before it slows down and eventually stops.
Forgiveness is the act of letting the bell rope go. It means that you choose to no longer hold the rope. A lack of forgiveness is when you constantly pull the rope. Each ring of the bell reminds us of each wrong inflicted on us by another. Our constant pulling of the rope keeps the wrongdoings on our minds. Now, if we choose to let go by a decision of the will, our emotions will still hear the bell for a little while. But, if you let the rope go and leave it alone, after awhile, the bell will slow down until it stops.
Don't let the fact of the feelings of the pain get in the way of your forgiveness. You are responsible for not constantly ringing the bell. If you don't pick up the rope, the sound will die down. Sometimes forgiveness is hard because we've been ringing the bell for so long that we don't know how life is without the bell. Sometimes we leave the bell alone for a while but then we pick up the rope and we start all over again.2
1 Craig Brian Larson, 750 Engaging Illustrations for Preachers, Teachers & Writers (Grand Rapids, MI: Baker Books, 2002), 553–554.