FRIDAY (April 3, AD 33)
Peter Denies Jesus
It's Denial Friday. And no, denial isn't a river in Egypt.
My last two posts I used the word 'Resonate,' in my titles. To be honest, I really don't like the word resonate. It's an overused hipster word like the word 'woke.' I thought I'd be funny using it and I was trying to make my posts clickbait worthy. I didn't really want to write about Peter denying Jesus because whenever I think about this part of the story I get a little choked up. I thought about writing why I resonate with Good Friday, but I never understood why we call Good Friday good? I know it's the day Jesus died on the cross for the forgiveness of sins and that's a good thing, but I don't really feel that way about it. It doesn't seem right in calling the brutal beating and death of someone a good thing, let alone the death of the Son of God. I resonate with Peter's denial of Jesus, but this also gives me the heebie jeebies. Peter's denial speaks deeply into what it means to be human.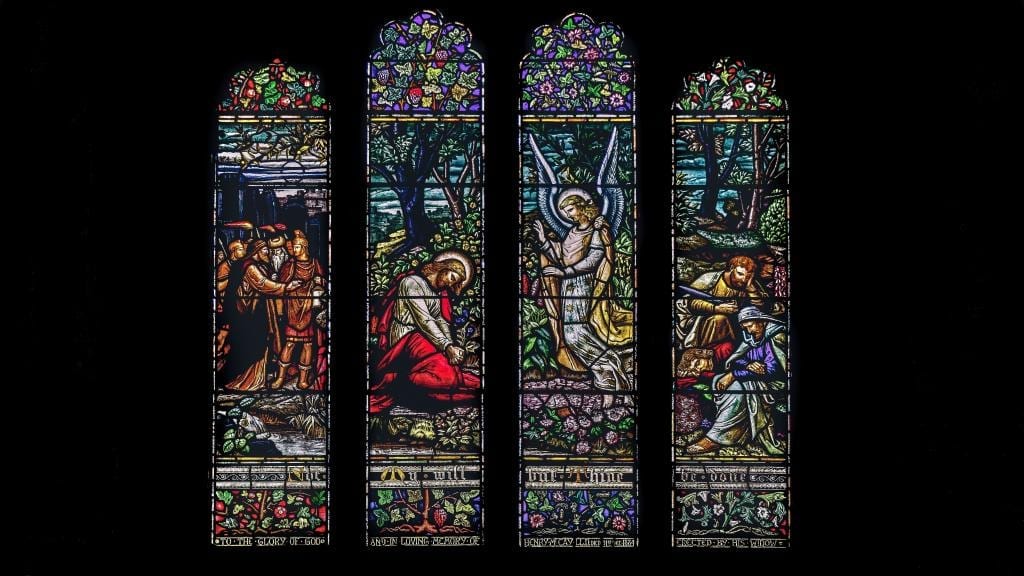 I remember when my grandpa Tom Murphy died, and we had his wake at our house. I was about 10-years-old and I didn't know what it meant to be human yet. If you've never been to an Irish wake, it can be a little confusing. Everyone is laughing and drinking and telling stories, mostly embarrassing stories about the deceased. For a 10-year-old it can be a little overwhelming, and it overwhelmed me with emotion. I became so upset with everyone talking and laughing and drinking at my grandpa's expense that I yelled at everyone and stormed out of the house and sat on the front steps sulking. I had yet to experience death, but death has a way of making sure we feel its sting in our lives.
I don't know why I'm telling this story about my grandpa's death, but it was the first time I can remember feeling unsure about how I was to feel about someone close to me dying. My thoughts were so confused and I couldn't think straight. I didn't know who was my friend or foe. The trauma of the experience caused me to go into fear mode.
Moments like these can cause distress, which alters how our brain functions. Our mid-brain, the fear center of our brain, takes over and looks for immediate stress relief in a non-rational way. This is when anxiety, fear, and panic take over, and our cognitive mechanics or our ability to stabilize our thoughts and emotions get out of whack. This happens because the mid-brain works of triggers and not on data, as one of my grad professors pointed out.
I'm not sure how much trauma the Apostle Peter experienced in his life or in this moment with Jesus, but it was clear he wasn't thinking. Now this isn't an excuse for him to act the way he did, but he wasn't thinking plainly. Every time I read about Peter's denial in the gospel of John, my stomach get's all knotted up because I can feel Peter's anxiety and fear. Either this guy was a self-preservationist, or he was plum scared out of his pants. I think it scared him because the rest of his life's story shows he didn't care too much for his own life.
I've been known to lie a time or two, mostly to protect myself or to make myself seem more important that I really am. Being confronted with situations that back us into a corner can cause us to operate out of the fear center of our brain. When this happens, we immediately go to survivor mode. It's the fight-or-flight concept. Scientists say that when we are in crisis situations and have traumatic experiences, our brains go into overdrive, the mid-brain takes over and prevents control from being established. This happens every 15 seconds, so they say. Talk about the brain not being able to focus.
Betrayal, denial, and love.
I think it is important to look at the events that shaped Peter's mindset before he denied Jesus. Every gospel account records the moments Jesus was betrayed in the garden. John's account specifically names Peter in his account, whereas the others don't name names.
Betrayal and Arrest of Jesus ( John 18:1-11)
When Jesus had spoken these words, he went out with his disciples across the brook Kidron, where there was a garden, which he and his disciples entered. Now Judas, who betrayed him, also knew the place, for Jesus often met there with his disciples. So Judas, having procured a band of soldiers and some officers from the chief priests and the Pharisees, went there with lanterns and torches and weapons. Then Jesus, knowing all that would happen to him, came forward and said to them, "Whom do you seek?" They answered him, "Jesus of Nazareth." Jesus said to them, "I am he." Judas, who betrayed him, was standing with them. When Jesus said to them, "I am he," they drew back and fell to the ground. So he asked them again, "Whom do you seek?" And they said, "Jesus of Nazareth." Jesus answered, "I told you that I am he. So, if you seek me, let these men go." This was to fulfill the word that he had spoken: "Of those whom you gave me I have lost not one." Then Simon Peter, having a sword, drew it and struck the high priest's servant and cut off his right ear. (The servant's name was Malchus.) So Jesus said to Peter, "Put your sword into its sheath; shall I not drink the cup that the Father has given me?"
Talk about having a lot happen in about 30 minutes to an hour. Peter went from standing in a garden with Jesus and the other disciples to being confronted by the authorities, to cutting some dude's ear off to standing in a courtyard being asked if he was a friend of the accused criminal. How would you feel if you were in Peter's sandals? I know I wouldn't have been thinking.
Peter denies Jesus not once, not twice, but three times (John 18:15-18 & John 18-25-27)
Let's read these two accounts from the gospel of John.
John 18:15-18
Simon Peter followed Jesus, and so did another disciple. Since that disciple was known to the high priest, he entered with Jesus into the courtyard of the high priest, but Peter stood outside at the door. So the other disciple, who was known to the high priest, went out and spoke to the servant girl who kept watch at the door, and brought Peter in. The servant girl at the door said to Peter, "You also are not one of this man's disciples, are you?" He said, "I am not." Now the servants and officers had made a charcoal fire, because it was cold, and they were standing and warming themselves. Peter also was with them, standing and warming himself.
John 18-25-27
Now Simon Peter was standing and warming himself. So they said to him, "You also are not one of his disciples, are you?" He denied it and said, "I am not." One of the servants of the high priest, a relative of the man whose ear Peter had cut off, asked, "Did I not see you in the garden with him?" Peter again denied it, and at once a rooster crowed.
It takes love to overcome failure.
It's easy to say that I would never turn my back on Jesus like Peter did. But truth be told, I don't know what I would have done. My mid-brain decision making would've been in hyper-drive. I resonate with Peter's denial because I made poor choices and turned my back of friends and family when I've been in crisis situations. Self-preservation and survival became my focus. I've let people down, people I love deeply. One of the hardest things to do is to stand before a loved one that you've wronged and to have them forgive you.
I want to end this blog post with the way Jesus ended things with Peter before he left this place called earth. It gives me a big kick in the gut because I've had similar conversations with Jesus, and I whisper, "Lord, you know everything; you know that I love you." I guess this is the most human of stories for me in the Bible.
Jesus and Peter.
John 21:15-17
"When they had finished breakfast, Jesus said to Simon Peter, "Simon, son of John, do you love me more than these?" He said to him, "Yes, Lord; you know that I love you." He said to him, "Feed my lambs." He said to him a second time, "Simon, son of John, do you love me?" He said to him, "Yes, Lord; you know that I love you." He said to him, "Tend my sheep. 17 He said to him the third time, "Simon, son of John, do you love me?" Peter was grieved because he said to him the third time, "Do you love me?" and he said to him, "Lord, you know everything; you know that I love you."