(Clicking on a book's cover will take you to its Amazon page.)
EVERYWHERE SHE'S NOT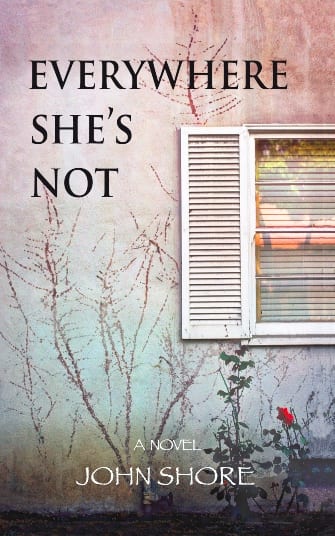 FINALIST, 2019 PUBLISHERS WEEKLY BOOK-LIFE PRIZE
FINALIST, 2020 INDIE BOOK AWARD, FIRST NOVEL
"Deeply engrossing . . . a highly satisfying reading experience. . . Shore's prose is nearly transparent–which is extremely high praise. The writing is so stylistically on target that the language itself falls away, allowing the reader to enter into the subtleties of the story completely. . . . Shore's protagonist is authentically funny and rawly sympathetic. . . . This novel stands apart for its originality. It is a testament to the notion that the strongest works are often those with simple storylines, exceptionally told." — Publisher's Weekly's BookLife Prize
"It's not easy to tell a story that is filled with hilarious humor, the pangs of love lost, excruciatingly sad family life and deep, deep inner circumspection that ultimately uplifts your soul, but John has done just that. I highly recommend you read this book; you will thank me later." — Jon Mayes, Advance Reading Copy
"With masterful prose, pitch-perfect dialogue, and laugh-out-loud humor, Shore has crafted an engrossing story of human fallibility, family wounds, and the redemptive power of self-discovery. Both heart-rending and hilarious, Everywhere She's Not will resonate deeply with anyone who's ever struggled to understand their past or find their truest self." — Erica Witsell, author of the novel, Give.
"Shore's territory is the daily, personal challenges of how we live. He traces the very real, very emotional lives of ordinary people who are just trying to keep up–with, often, their own hearts." — Bruce Steele, The Asheville Citizen-Times
A powerfully compelling introspective look at life . . . The wrecked persona of David is beautifully achieved through narrative intimacy, stellar descriptive work and compelling dialogue . . .  Everywhere She's Not is a harrowing and fascinating novel — K.C. Finn, for Readers' Favorite
---
UNFAIR: CHRISTIANS AND THE LGBT QUESTION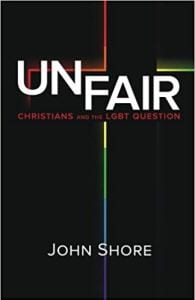 "The touching, brave, and frequently heartbreaking letters in UNFAIR: Christians and the LGBT Question should be required reading for any Christian who claims that gay people can't also be Christians—and for LGBT people who feel there's some conflict between their sexual orientations or gender identities and their faith. John Shore is sharp, he's funny, and he's right. To find out why I've called him America's preeminent non-douchey Christian, buy and read this book. And I challenge anyone who believes that the Bible justifies the persecution of their gay and lesbian neighbors—particularly those on the religious right who've made lucrative careers for themselves out of bearing false witness against their gay and lesbian neighbors—to read this book's concluding essay, "Taking God at His Word: The Bible and Homosexuality." Read John with an open mind and he'll change yours." — Dan Savage, founder, It Gets Better.
"Amen! A book that gives voice to the thousands of lesbian, gay, bisexual, transgender and questioning people who have been told they must sacrifice their identity to be Christian" — Believe Out Loud
"For most of us, the fact that gay kids growing up in evangelical homes are made to feel worthless, unloved and unwanted is just plain depressing. For John Shore, it's a challenge–an opportunity to teach, to preach, to gently mock, and, most importantly, to throw the love of Jesus right back at evangelicals." — Randy Roberts Potts
"As a former conservative evangelical, and now progressive pastor, I have studied the issue of homosexuality for years. I can say without a doubt that this book is the best treatment of the subject that I have ever read. This should be on the desk of every pastor, teacher or youth leader." — Roger McClellan, founder, The Progressive Christian Alliance
---
PENGUINS, PAIN & THE WHOLE SHEBANG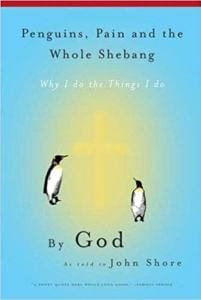 "This wonderful work has God taking over Shore's computer and dictating His thoughts throughout this short (only 128 pages) but deeply profound work. I use the word "profound" only after some deliberation. Shore, a.k.a. God, here deals with everything from sex to atheism after an opening chapter that purports to be a transcript of a conversation between God and the Archangel, Michael, in which they deal with man's uniqueness and frailties. But of all the really great stuff in the book, it's Shore's (or God's) treatment of atheism that jumped off the pages and grabbed me. It is without a doubt one of the best treatments of a very difficult subject I¹ve ever read. It¹s also one of the most hilarious. Several times I found myself laughing out loud. This is not just an easy read; this is a must read. It proves once and for all that God has a sense of humor." — Good News, Etc.
"I think I have been looking for a book like this since before I was ordained. Shore has managed to articulate a healthy systematic theology without droning on like an academic pompous pious poopyhead. This book will separate the sheep from the goats. If they can get beyond the concept of God saying 'pissed off' and 'cheeky monkey,' they might just realize that Christianity is not a dried-up lacey doily sentimental thing in an old biddy's dusty armoire, but a living dynamic force at work in the world. So, John Shore, enough of my pontificating– this is my way of saying thanks– you just made my job as a pastor more inspiring and a lot easier. I look forward to gifting your book to my happy Lutherans, and inflicting it upon the holier-than-thou ones." — Pastor Marty Zimmann, St. John Lutheran Church, ELCA, Dundee, Michigan
"Mere Christianity meets Mad Magazine!" — The Very Rev. Scott Richardson, Dean, St. Paul's Cathedral, San Diego, CA.
"This wonderful little book gives you God's perspective on all those questions that believers, non-believers, and pre-believers ask. This is the book you want to give that non-believing friend, not so much in an effort to convert them, but to at least help them understand why it is you believe. Not for the easily offended, but written with just the right amount of humor and tact. If you can only read one book this summer, this is it."— Chris Enstad, Pastor of Youth and Young Adults, Normandale Lutheran Church, Edina, MN.
---
I'M OK—YOU'RE NOT: THE MESSAGE WE'RE SENDING UNBELIEVERS, and WHY WE SHOULD STOP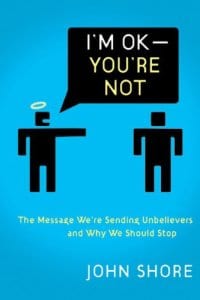 "Shore is a humorist whose work is more comedic than Donald Miller, and his appeal to Christians is more direct. Shore is preaching and teaching under the comedy, and he is very effective as a critic and motivator. Shore turns evangelism upside down and engages in just enough hyperbole to effectively make his point…. Shore ends each chapter with sets of extended comments from unbelievers on what they want to say to Christians. Shore calls these sections Ouch, and that is what they are. These unbelievers are articulate, thoughtful and way out in front of many Christians on the subject of love, respect and dialog…. Shore appeals to Christians to ponder the nature of love, the importance of honest and mature Christian character and how relationships with non-Christians really look. Shore speaks so much common sense, and skips so much Christian-ese and predictable rhetoric that some Christians will be offended immediately. Younger, thoughtful, humble Christians who know something is very wrong will find Shore saying exactly what they have been thinking. This is a great book for a discussion group, and it has questions to stir up those discussions. If you let this book loose in church, however, the response may be explosive, which would be a lot of fun. An outstanding book to stir up thought and conversation. And a good book to show to a thoughtful unbeliever. —Michael Spencer, a.k.a The Internet Monk, author of the bestseller Mere Churchianity.
"A frank discussion of a crucial flaw in modern evangelical movements. Emphasizing the concept that letting others experience Gods love is far more potent than simply telling them about it, I'm OK—You're Not emphasizes the importance of listening to the Great Commandment above all. The Great Commandment referred to is as spoken by Jesus Christ and recorded in the Bible: Love the Lord your God with all your heart and with all your soul and with all your mind and with all your strength. Love your neighbor as yourself. There is no commandment greater than these. Penned with gentle charm, Christian humor, love, and understanding, "I m OK – You re Not deserves to be required reading for any Christian considering embarking upon an evangelical mission or career." — Midwest Book Review
"A must-read not just for pastors, but for anyone who has a passion for the Gospel, yet lacks the ability to see the Church as others often see it. Shore succeeds in presenting a viewpoint worthy of consideration and advantageous for the growth of outreach-focused believers." — Outreach Magazine
---
COMMA SENSE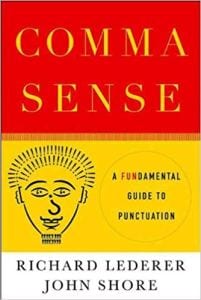 "Comma Sense is a clear, entertaining, and just plain helpful guide to the American rules of punctuation." ― Lynne Truss, #1 New York Times bestselling author of Eats, Shoots & Leaves
"Of my 465 books on punctuation—I've read them all—Comma Sense is the wisest and funniest. It's the only one you really need." ― Bryan A. Garner, author of Garner's Modern American Usage
"A thorough field guide to the pesky little critters of the punctuation forest. Lederer and Shore hit the marks!" ― Bill Walsh, author of The Elephants of Style
"Who else would call the exclamation point 'this titan of tingle, this prince of palpitation'? Who else would call the apostrophe the Jesse James of punctuation? Who else would compare the dash to Fred Astaire, the semicolon to Duke Ellington, and parentheses (yes, my darlings) to Louella Parsons? It can only be Richard Lederer, Viceroy of Verbivores, and his trusty sidekick, John Shore." ― Patricia T. O'Conner, author of Woe Is I
"Punctuation needn't be perplexing or painful, as Richard Lederer and John Shore make abundantly clear. Comma Sense is full of easy-to-understand guidance for the grammatically challenged—and loads of laughs besides!" ― Martha Barnette, author of Dog Days and Dandelions