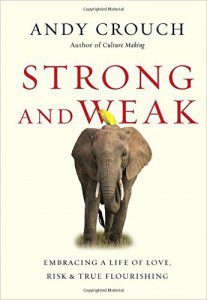 Today I want to start a blog series reviewing one of the better books that I have read in the past year. The book is Strong and Weak by Andy Crouch and it has changed some of the ways I do ministry, and the ways I approach leadership as a Christian.
I also have a weekly column on Scot McKnight's popular blog Jesus Creed, and I'm starting this series on Scot blog because I want lots of people to know about this book, and then after today I will continue it right here.
Here's a portion of the blog over there:
Midway through his book, Andy Crouch gives a fascinating anecdote that I have re-told a few dozen times to friends.
Crouch points out that the most classified document in the United States government is the daily Presidential briefing. Every morning the President starts his day with a summary of all the most pressing threats and dangers that are facing the United States.
This seems like it would make every President, you know, not a morning person. This is information that comes from all the vast networks of intelligence that America has. This information has been highly vetted and is credible knowledge that the President needs to have to make decisions on how to take action to keep American lives safe.
Crouch points out that only one of these briefings has ever been seen by the public. It was from August 6th 2001 and the only part of the briefing made public was a few sentences that said "Bin Laden determined to strike on U.S. soil."
But here is the point that Crouch makes with all this. After the President hears about these imminent dangers, he then goes on with his day, doing photo ops, press conferences, interviews, and attending banquets. All the while, he alone knows what the rest of the world does not. He knows that North Korea has a nuke with our name on it and that Seal team 6 is going in. (side note: movie idea?)
And the President can't share this information with anyone. Can you imagine the kind of mass panic and chaos that would happen if we all knew intimately what kind of dangers we were facing? Commerce would shut down, the economy would tank, and society would crumble.
Every. Single. Day.
This is what Crouch calls "the Hidden Vulnerability of leadership." Every leader knows things that the people they are leading do not know. Good leaders are as transparent as possible with those they are leading, but even the best leaders can't tell everyone everything.
Most people don't know this information, and probably wouldn't want to, they just want to know that qualified people are making the best decisions for the common good with the information they have. But we don't judge them on the information we don't know, we judge them solely on the decisions we see.
If that sounds familiar to you, than welcome to leadership. Now I want to talk about how to do it like a Jesus person.
You can find the full blog introducing this series that I'll be doing here the next few days on Scot's blog here.
UPDATE: Due to some missed emails the full blog won't publish on Scot's site until next Wednesday. The rest of the series will continue on here. So consider today a kind of book teaser for the rest of this series.