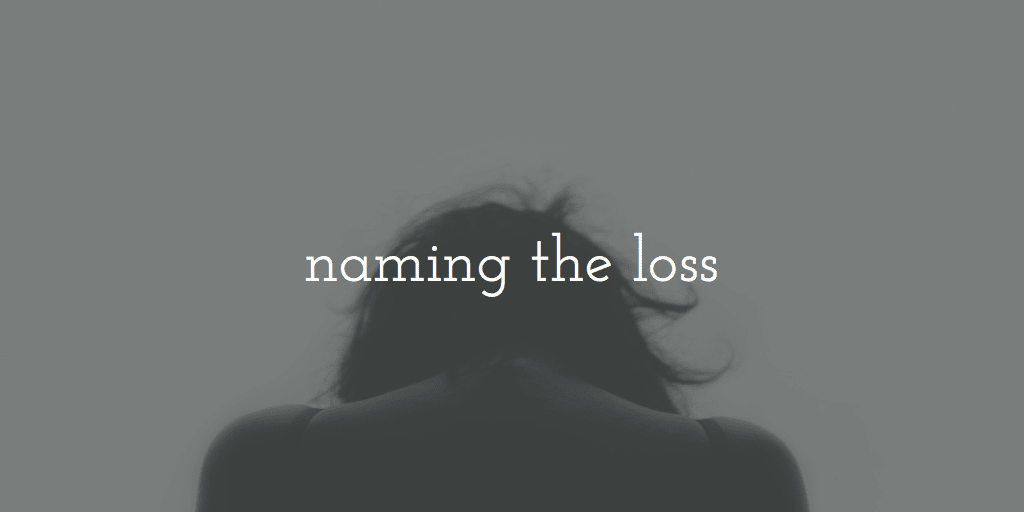 So over the past month, two different dear friends of my wife and I have had late term miscarriages. In the past, I've quietly reached out to people that I've known who've gone through this traumatic experience and shared with them a post I wrote back in 2012 when Leslie and I miscarried at 5 months (on the week of Christmas).
Sometimes I'll share with them about how that was the worst Christmas of our lives, and how we now see it as a gift of God that it was on Christmas day the very next year when our little Hannah Grace was born.
But before I share with them any of that, I try to encourage people to name the loss they are facing now. With miscarriages this is often difficult to do, and that's why in the past I would share with them this post. Since my old blog is down I've decided to repost it here in case it might help any of my friends.
You should know, I never intended on publishing this. It was written early in the morning as a journal entry trying to process my own grief in losing a baby, it was only after hearing other's peoples stories of confusion and heartbreak in this that I decided to publish it the first time, and why I'm re-publishing this today. If you are going through a season like this, my prayer is that it can help you name your own loss.
Naming The Loss
So this past Sunday I was able to share publicly for the first time about what happened with our little family last year. I've been inspired by Mike Cope's blog over the past two weeks, and the way he's been able to create a space for those with similar experiences, so I decided (with permission from Leslie) to share our experience on here as well.
Sometime early last August, Leslie and I had discovered that we were pregnant. We had been "practicing" for quite a while and so we where very excited to add another baby to the Storment's family. After the first trimester ended, we started telling people, and picking out nursery color schemes. But when we went to the Doctor sometime late December, well past the 4th month of pregnancy,  we discovered that the baby had stopped growing a couple of weeks earlier. And that she was never going to be born.  We went into the hospital the next day, and began the long journey toward picking up our lives and finding a new normal in a story that would feel a bit incomplete.
It's interesting that in the Garden of Eden, God allows Adam to name the animals. From a purely linguistic standpoint that is a actually a really big deal. To name something is create categories for it, it is to help shape the way that reality is experienced. The same is true for pain. The problem with a miscarriage, and with losses like it, is that it is a unique kind of hurt. One that is hard to explain to people who haven't experienced it. In some ways, you wonder why it hurts so much.And the temptation can be to believe that it really shouldn't be that big of a deal. But for those who have experienced it, you know differently. There's something wrong that you can't even put words to. But you must try. We must name our pain.
Now I believe that God is one day going to set the world right, and that means we will see our baby again. But all Theology must begin with the facts, and the facts are often bleak. To shy away from naming them isn't making you more spiritual, it only makes us less honest. Ever since this experience,  the #1 comment Leslie and I have had since sharing our story is "Me too" I thought it might be helpful to post how we named our loss. For those who have gone through something similar.
Because the emotions swirling around inside me were so hard to define, I sat down a couple of nights after we got the news and wrote a letter to Mary (our little baby who would never be born). I never planned on sharing this publicly, but I am doing so in hopes that it might bless others who are going through, or have been through, similar situations. Here's how we named our loss. I hope this helpful to some.
Dear Mary,
You are  gone. In one sense, you were never really here. You were more an idea taking shape for me, you were in the world, but not quite here yet. And maybe that's part of what makes this feel so bad. You were all the dreams of what could have been. And since what we have is already so good, it just makes it hurt all the more.
Eden, your 3 year old sister, has my heart when she wants it. She can ask to go on a date with her daddy in a way that makes me melt. She dreams of marrying me, and I know from experience, this will one day turn into real dreams of marrying a real man. Her silly passions, and her serious and playful theology bring a lightness to our home. She loves dances and ribbons, and movies and ice cream and pizza. Her name means delight, and she wears her name well.
Samuel, your brother, is just as much of a joy. He loves to wrestle and to read. He loves Tigers and Dinosaurs and our golden Retriever "Moses." He's starting to love Superman he already loves his PaPa, and he's always loved food.  And for all those things and a thousand more, we love him. He is funny and sweet, and even though he's only 20 months, you can already tell he's tenderhearted.
And that's what makes losing you so hard. We've seen what it looks like to have a child. You would have been that too Mary, but in your own special way. I guess I realize that when people make love, they actually make something, something special and wonderful, but fragile too. And sometimes that is so fragile it breaks, and it can't be fixed.
Mary, I feel like someone should tell you they're sorry. I want to protect you from what happened to you even though we didn't  know until three weeks later. Your mom wants to blame herself, even though she knows there is nothing to blame herself for, probably just because she wants someone to be able to apologize for this.
I hope you didn't feel pain yet. I hope that you were just born into the age to come without any realization of what happened. I hope that what I hope is real, and that I get to meet you one day, and that the years that were robbed from us, and from you, will be restored.  I want to cry for you now, but hope for you forever.
This Monday I had gone with your mom to the Dr. so that we could record your hearbeat. That was when we found out that your heart had no beats left. It felt like the bottom dropped out on us so fast that we were unable to breathe for a few seconds.
I'm certain that Hope rushing out a room makes a noise.
There will be other babies, but none will be you. And I wish I could hold you and dance with you just one time, I'd tell you we would have loved you fiercely. We would have given you much, but not too much. We would have protected, but not sheltered you, we would have cheered your successes and allowed your failures. We would dream for you, till you could dream for yourself. Then your dreams would become ours.
I wish you could know that you were and are, and will be loved. I want to believe that I'll know you one day, and that you'll know us. Our love made you, and we bet you are something special.
Love,
Your dad.