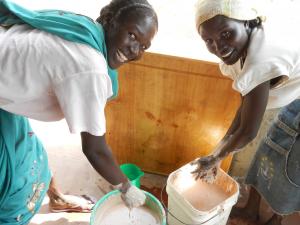 In the striated shade of the crumbling thatched hut I momentarily forget that I have been away for a year. We are sitting on sagging rope beds, our knees touching the small table hammered out of flattened oil canisters which is holding five cups of scalding hot tea. A baby boy, fat and completely naked, sleeps deeply in a nest of cloth to my left and we all subconsciously take turns casually shooing flies from his open mouth as we talk. Small chickens peck skittishly in the well-worn dirt at our feet. Outside the fraying tarp fence of the small refugee homestead inhales and exhales noisily in the hot wind.
Kome, our hostess, is sitting on an oblong rock, bony knees poking up near her shoulders as she bends forward and hammers lalob shells with precision, cracking them open to dig the out small kernels and tossing the stringy husks to the chickens. She is an old woman, far older than most in this context, with thinning hair, sinewy arms, bright eyes and lots of beads around her neck.
She is one of the few elderly Christians among her people. She used to be like many of her peers, resolutely content with ancient animistic ways that had a complicated but significant relationship with Islam, good-naturedly heckling her son and daughter-in-law as they left to pray with a handful of Christians nearby. But somewhere along the lines something changed. Honestly, I don't even know the story, however dramatic or simple it might be. All I know is that Kome's tenacity is now fixed on Jesus. And she speaks of him, sings to him, extends hospitality in his name, and worships him in community with her family, in an honest, unflashy way.
Kome is a renowned midwife among her people and I have heard numerous stories from young women about how she has saved their lives, or the lives of their babies. Even now she is telling us about a night last week that she was woken up to go and help a girl in the throes of labor a few houses away.
As she talks I find myself thinking about the Hebrew midwives in Exodus chapter 1, the ones who secretly defied Pharoah's orders to kill all the baby boys they delivered. Kome is from a place not so very far from where those Hebrew midwives were once slaves; I suspect her experiences and techniques in midwifery even now are not so different from what theirs were. Long before we meet Moses, Caleb and Joshua, we are briefly introduced to Shiphrah and Puah, the first heroes of the exodus story.
They are heroes because they resisted a system that would lead to the death of the baby who would grow up to save his people. And the simple reason they were able to successfully disobey one of the most powerful men in the world at that time was because he never dreamed that they could possibly be a threat to his power. Women. Midwives. Slaves. Pharaoh ordered the murder of all male Hebrew babies, because he thought he knew where the real danger would come from. And yet these two women with perhaps the most feminine jobs imaginable were the ones who took the quiet and courageous first steps towards his undoing.
This obscure Sunday school story resounds with me in this moment not just because I'm sitting with a midwife. It strikes me because I am sitting in a company of women who, like those Bible heroes, are both decidedly overlookable and profoundly revolutionary. In the eyes of the world, they don't threaten much, but if you look carefully, you can see that they are shaking the very foundations of the empires of darkness.
One of them is Dahabaiya, the refugee wife of a drunkard and mother of six children, only three of whom are still living. She can't read worth a flip but she can memorize entire passages of newly translated scripture after hearing them only once and she will gently repeat every word of what she hears and believes to
anyone
who will listen. Neighbors, friends, strangers, her abusive husband. When she prays with inexplicable joy and power I hear stones cracking.
Another is Aarti, the single Indian missionary who moved to this place just a few months after the conflict that drove my family away. She spends long days walking into the camp, when it's safe to, tirelessly learning what is at least her fourth language so that she can share God's story with people who have never heard it before. She sacrifices much by choosing to live here. Today, for instance, her niece is being buried back home. But she will not be at that funeral because she is here. In grace-filled obedience, she chooses here.
There is also Magboula, the fiery friend who moments ago leapt off of the bicycle she is brazenly riding to crush me in an equally unconventional hug. She was abandoned by her husband shortly after her newborn died last year. Now she works with an organization that does trauma healing and she makes home visits in her own community as a kind of lay counsellor, walking with other refugee women though their own terrible griefs.
Dawa sits here too and is talking about how, against the advice of her neighbors and family, she is wrestling out forgiveness for the people who broke her little girl's leg in a terrible accident not too long ago. They were people from the wrong tribe, the other side of a terribly violent conflict. People very en vogue for hating. But instead she's choosing forgiveness. Every day I take the fire out of my heart and lay it down. Even though my family doesn't understand why, I do it. I know it is the right thing.
There is even my own teammate and close friend, Nadine, who has left her own ministry for the week to come on this trip with me. In another life she was an English teacher and the wife of a Mexican baseball player. In this life she lives in a mud hut and is helping translate the Bible into a language that has never had it before. When this trip is over I am going home to my family in urban East Africa. She will slip across a Northern border to do a literacy training with a Muslim people group in a place that has a very long history of being bombed.
I sit in the mess of it all with women so extraordinarily ordinary they couldn't possible threaten the powers of this world. They bear all manner of names: refugee, uneducated, divorcee, barren, rejected, poor. And yet they quietly defy the pharaohs of war, poverty, grief, religion and racism as they usher the Kingdom of God into places that have never known it before. They forgive, heal, teach, sacrifice, feed and love against the grain and in doing so are midwives to the Gospel still slipping painfully out of the womb, wet and vulnerable and so very new. But being born to grow and change everything.
Unlike Shiphrah and Puah, I can't list these women's actual names. They live in places still bound enough by empires of the world that it is simply safer not to. But they are a reminder to me, to us all, that the heroes of the story are often those we could never dream would be a threat to the Kingdoms of the world. Their power – our power – comes in weakness, in brokenness, in revolutionary simplicity.
Understanding that changes the way we see each other, the way we see ourselves, and the way we see the world.