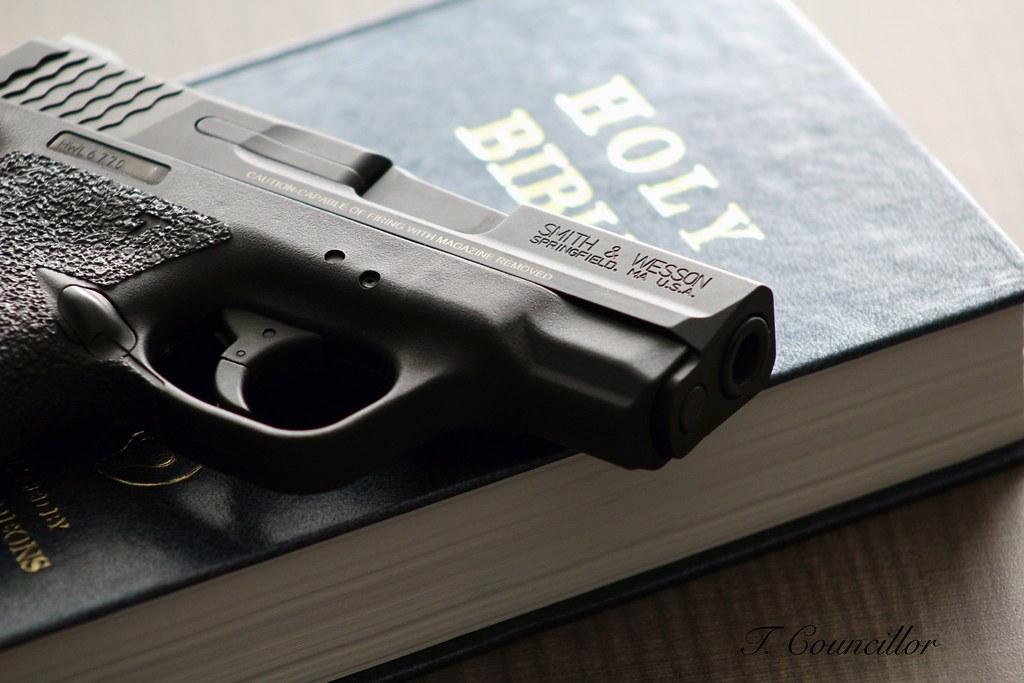 Guns.
Guns are at the forefront of America's attention once again due to a recent surge of mass shootings in El Paso, TX and Dayton, OH.
Mass shootings are indeed a problem in America. We have them more frequently than any country in the world. And while people will offer different theories as to why this is, one very clear correlation stands out, and that is the sheer volume of easily accessible firearms within the United States.
The right to bear arms is sacrosanct to many Americans. To them, the Second Amendment guarantees the safety of their family from intruders and the safety of society itself from tyrannical government.
We Americans trust in God. We also trust in our guns. Sometimes, it's hard to tell which we trust in more. Except it isn't.
Even still, I don't believe guns are the main issue when it comes to the phenomenon of mass shootings in America. I'm conservative enough to believe in the right to bear arms, and I'm progressive enough to believe in the need for common-sense gun control measures that go well beyond what passes for the norm in most states today.
So, I think addressing this crisis at the policy level is important. Yes. It needs to be done, like, yesterday.
But like most of the problems facing society, the root of the issue lies beneath the surface and often goes overlooked. In the case of mass shootings, that root is the prevailing myth of redemptive violence.
The Myth of Redemptive Violence
The myth of redemptive violence is an idea as old as civilization itself. Every nation-state is founded upon it. Popular conceptions of justice are informed by it. Even our theology has been tainted by it.
The myth of redemptive violence is the idea that we can make the world right by killing the bad guys.
I know it's hard to understand. It's hard to see a different way. But the principle of power-over is the lifeblood of the world system. It is what we all come out of the womb grasping for — control over our fellow human beings. If we don't learn to deny this impulse – if we are not born again to a new and living way – then it ultimately comes to define almost everything we do.
This myth pervades everything from religion to politics, and it is baked into the American psyche in surprising ways, not least of which is the way we trust in our guns. The way we believe with all of our hearts that the answer to a bad guy with a gun is a good guy with a gun.
But guns aren't the problem. Power is the problem. The underlying myth is the problem. And in this particular instance, at least, it's killing us in a way that shocks us.
The Upside-Down Rule of God
Jesus proposed a way of life that ran counter to the myth of redemptive violence.
It wasn't about guns or swords, it was about what those weapons symbolized and signified. It was about where your trust lies and how you relate to other people.
"You see how the rulers of the world exercise authority over you," Jesus said (Matthew 20:25). In other words, you know how it's done.
The world system is a hierarchy. It's about one having power over another, who has power over another, who has power over another. Most people wouldn't know how to exist without this pecking order.
What's more, Jesus said, is the way some rulers even do it as "benefactors." They claim to rule for the good of the people.
But the Gospel calls bullshit on all such pretension. As George MacDonald said, "It is not in the nature of politics that the best men should be elected. The best men do not want to govern their fellow men." I dare you to apply that rule to your favorite politician in the next election cycle and do your best to wrestle with the cognitive dissonance.
You call it anarchism; I call it Christianity. The world calls it foolishness because there is no place for such wild considerations in its belief system. Wherever the myth of redemptive violence prevails, the rule of God is unfathomable. And rightly so, because the Kingdom of Heaven does not mesh with the wisdom of this age.
It's upside-down.
Not Revolution, but a New Creation
Don't call it a revolution, though. That word has been spoiled by too many people grasping for power over their fellow human beings.
Christ neither proposed nor embodied a way of life that involved taking power from one group to give to another, to "balance the scales" of justice. If power-over was his goal, he could have taken it from the hand of the devil in the desert.
No, it's not a revolution of the existing social order that we're after. That's not the goal of the Gospel. Rather, it's a new creation altogether. A new kind of building with a new cornerstone whose foundation isn't laid in blood.
That is what Christ-crucified represents, at least by my lights.
If I could add anything to the national conversation about guns and mass shootings, then, it would be this basic recognition of the ingrained principle on which our society is founded.
It's not just the bad guys, it's the good guys too
The shooter in El Paso allegedly believed a certain story about immigrants. He saw them as his enemy and the enemy of his people. And what does the myth of redemptive violence say to do with your enemies?
Kill them. If you can get rid of them, your problem will be solved and the world will be a better place. That's the story he was telling himself, and it was a lie.
Let me be clear: We must condemn white supremacy, racism, and hatred without hesitation. And we must call to account our rulers who inflame such destructive attitudes with their reckless speech.
But we've also got to risk the dissonance that comes from acknowledging that it's not just the bad guys who live by this myth, it's the good guys, too. And it's the myth itself — this grasping for power on which our society is built — that is the problem.
So yeah, we desperately need to enact policy reforms that keep guns out of the hands of hateful people. But we need more than that. We need to see deeper into this phenomenon. We need to confront the myth of redemptive violence itself.
Of course, it can be discouraging to admit that both Democrats and Republicans believe in and practice the myth of redemptive violence. Nonetheless, it's true. The system in which they seek to rule over (I mean, serve) you and me is built upon it. They can't deny it and keep their jobs at the same time.
The answer's gotta come from somewhere else. It's gotta come from a people who see into the meaning of Jesus' vision of the rule of God.
It's gotta come from a people who have re-entered the womb and been born again to the second naivete.
It's gotta come from a people who've given up their desire for power over their fellow humans and are no longer seeking to change the world by ruling it.
I'd like to say it's gotta come from the Church, but I'm afraid that word has been spoiled too.
What can I say, then? God help us.