Gifts can come to us in different ways and forms. Some refer to gifts as presents, some "awards", or even recognition for a job well done can be considered a form of gift. Then there's the "just because" gift, whatever form, my definition is a little different, and after reading this perhaps you'll agree! Let's just say I received a "gift" from a higher source… A gift from above!
Back in October, we had lost our little boy, Chewey, our 14 year of Shih Tzu. He was my very first long term pet, one that was always by my side. My grief was unusually heavy, I had suffered a few losses within the last year and his death really hit home hard. My husband and I were barely able to function the first few days afterwards. All I could envision was my little boy, closing his eyes and taking his last breath. I had made him a promise from the first day I had set my heart to his, that I would never let him suffer.
As this memory set in, I turned and suddenly blurted out, "Brad, I feel that we're getting another dog". Brad, shocked at what I had just said replied, "We are?" and laughed nervously. He really didn't know what I was thinking, all he could see were the tears streaming down, like a dam that had finally let go, and all I could do was sob as I said it.
I told him that I had a very strong premonition, the reason for blurting that out, however, it didn't make any sense to bring another pup into our home because we were still grieving our loss.   We couldn't possibly ever replace him, no other dog really could! Talking our way out of this altogether, we agreed that it was just a great fantasy, however, in all due respect to our family pet, we would just leave well enough alone.
Things seemed to fall back into place as we were getting used to our new routine of "no Chewey" in the morning, afternoon, evening, just no Chewey! We had started accepting the fact that this was indeed the best thing for him as there would be no more suffering.
A few weeks had gone by when we received a call from Sara, the lady at the "doggy dressers" who groomed our Chewey. She had learned that Chewey had gone over to Rainbow Bridge and offered her condolences. I thanked her telling her that the dog she had bred was indeed the most amazing dog I had ever owned, and started to tear up. She didn't say much until I started apologizing for my emotions; I still found it difficult to talk about him and asked her how she had found out.
With a bit of nervousness, Sara said "Listen, I really need to say this, but I don't know how Jay, so I'm just going to say it. My mother and I have a dog that we're unable to show or breed and because he has a bit of a anxiety problem, we thought that perhaps you might be interested in taking him as a family pet. He's amazing and I'm sure you're going to fall in love with him! We know you just lost your little Chewey because the vet mentioned it when we were there yesterday. We know it's a little soon, but we think you'd be the perfect family for him."
For some reasons, I felt there was a reason for this, and repeated what Sara had just said to Brad, who gave me the greatest little smirk! We immediately made arrangements to see the dog the next week. For some reason, we both knew that this was some kind of sign.  I think it was the longest wait we had ever experienced!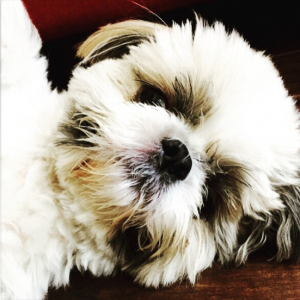 There he was, 10 lbs soak and wet, sauntering over to where we had been standing outside. As Sara approached us, she called out to us, "Jay, Brad, this is Sgt. Carter." Leashed and by her side, he was the cutest little dog we'd ever seen, half the size of our Chewey, with a great big attitude and heart to match. You couldn't help but fall in love with him. Tough looking perhaps, but you could tell there wasn't a tough bone in his body… he was just so full of love, that's what he was!
We immediately knew that we would have a big decision to make, because we had already fallen in love with him, but wanting to be fair to Sgt. Carter, we wanted to make sure that we didn't adopt him just to fill a void or to have false expectations of him. After all, he deserved a good and loving family. We left with an agreement to call her back within a week to give her our decision.
The week was filled with fantasies, and questions of all kinds entered our minds; the thought of having another little one around us, depending on us for every single thing was something we took very seriously.  The decision had been made!  We were adopting Sgt. Carter!
We called Sara and made arrangements to pick him up a week later.
The day had finally come and we were ready, like expectant parents! We had thought of everything; from bedding, bowls, food, right down to a Toronto Maple Leaf Sweatshirt for cold winter days. Sgt. Carter was visibly happy to see us when we arrived, and Sara was armed with papers, photos, bags of food and loads of toys.
She took me aside as Brad socialized with Sgt. Carter, going over his documents and discussing his diet. She assured me that if things didn't work out, I was to call her and she would make sure to take care of the matter. Going over the documents, I started reading Sgt. Carter's birth certificate. It was quite different from the ones we were accustomed to, so Sara immediately offered to go over it, outlining specifics in layman's terms so that I could get a better grasp of "breeder's" terminology.
As I glanced down, there it was, right in front of me:  three very specific things!! Tears of joy streamed down my face, and I waived to get Brad's attention. Accompanied by Sgt. Carter, Brad walked over to the back of the room where I had been going over the papers with Sara. We immediately locked eyes after I pointed out 3 specific dates.
Sgt. Carter's birthday matched my father's birthday;
Sgt. Carter's registration date matched the date of my mother and father's wedding anniversary;
Sgt. Carter's last award was won on my son's date of birth.  The ribbon's inscription:  "In It to Win It".  An affirmation I had repeated to Brad only a few days earlier in reference to some goals that I had set for myself!
It was evident and clear!  This dog was indeed a gift, the influence of my family in spirit who had a passion for dogs and a desire to heal our hearts. They had sent little Sgt. Carter into our lives!  The signs were all there.
I believe that gifts can come to us in different ways and forms, and I can assure you that ours certainly did!  We just love and treasure our little GIFT!!!  A GIFT FROM ABOVE!
Cover Photo Credit:  Sgt. Carter by Jay Lane