Eyes betrayed her nervousness even though her smile was warm.  Ava was young, perhaps late 20′s, and I invited her to come in. Climbing the stairs she stopped suddenly to turn and look down toward me and said, "I've had readings before, but not like the reading I'm going to get today."
"What do you mean?" I asked, a little puzzled.
As we continued upstairs, she began telling the story about her friend who referred her to come visit me for a reading. Specific words I said to her friend, and all the things I had said during the reading had changed her friend's life for the better. Going on, she hoped to have some kind of relief from the reading and insights I would provide. Even so, she remained skeptical of life after death, and the spirit world.
Naturally, I hoped to be able to help her, and deep down I knew that I could. The energy inside me was eagerly waiting to jump in to the situation and show me what was troubling her. Feeling and sensing the rising energy excited me more.
We sat together at my reading table and I gave the usual spiel before I started. I explained my background, my own near death experience, when suddenly, I stopped and blurted out, "I'm supposed to tell you about the pizza party, or a pizza day. I'm just supposed to tell you. There are birthday hats and pizza boxes everywhere!  Can you relate?"
She looked at me shocked for a moment, and suddenly broke down completely, crying uncontrollably over what I had just said. She apologized profusely as she wiped her eyes, all the while unable to stop crying. Giving her time, she gradually composed herself and said, "Thank you, oh my God, now I believe!"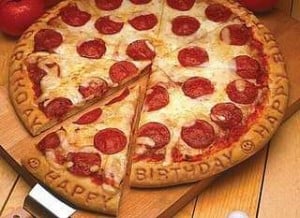 As she continued wiping away her tears, she told about her father who was accidentally killed on her birthday.  She shared that as he left for work that fateful day, she remembered his final words:  "It's Pizza Party Day darling!  It's my special little girl's birthday!  When I come home from work, we're ordering any kind of pizza you want."
I had opened myself up completely to the love she lost, her father!  He never did come home that day, but he made sure that his little girl heard his message of love and peace that she so badly needed.
Ava was finally able to accept and come to terms with his death.  Her gift was the validation of his love, the affirmation that he was still watching over her, a "special delivery from Heaven", a birthday wish from the other side.