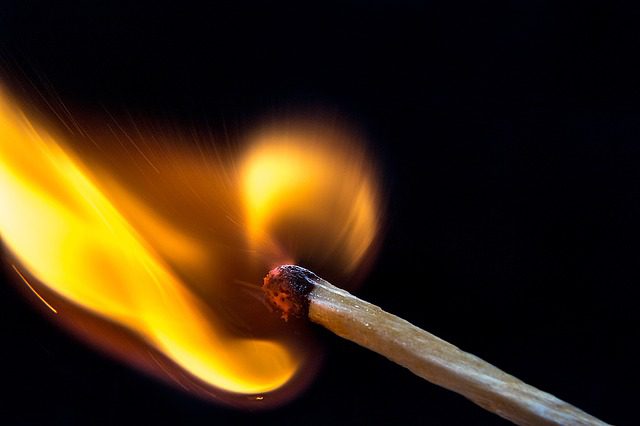 For a long time now I've been very aware of my need to die to myself, take up my cross daily, and follow Jesus. It's the foundation for the Christian life, it's essential for discipleship, and it's the core of the Gospel message that Jesus came and died to bring us.
But lately, I've been focused mostly on my side of this equation instead of on the entire process. Mainly, what I've been missing is the perspective of the exchange that takes place.
When I die to myself it's not merely a death of my will or pride, it's the catalyst for a chemical reaction whereby my life is lost so that the life of Christ can fill me up and replace my selfishness with his sacrificial love for others.
What's been missing is the emphasis on the life of Christ being formed in me. This is what the phrase above, which God spoke to my heart last week, means: Focus on the flame (the power of Christ), not the burning stick (your death to self).
What I need most is the life of Christ. I don't receive it by holding on to my life but by letting go of it.
After thinking about this for a long time, I woke up one morning with this phrase in my head:
"Focus on the flame, not the burning stick."
At first I didn't know what to make of it, but the more I thought about this, the more I realized that it was exactly what I needed to hear. I was focusing too much on my death [the burning stick] and not on the new life that Christ wants to create within me.
If my focus is only on my own death, or weakness, I might end up missing the wonderful gift that comes from the chemical reaction.
In my spiritual life there should always be a constant exchange of energy, like an internal nuclear reactor inside of me. On one end it is burning up my flesh and bringing death to my flesh, but at the same time it is converting that death into the life of Christ within me. The exchange in me is one of constant death being traded in for eternal life. And what's more, the catalyst of this nuclear reaction is the resurrection power of Christ at work within me.
Paul says it this way:
"We always carry around in our body the death of Jesus, so that the life of Jesus may also be revealed in our body. For we who are alive are always being given over to death for Jesus' sake, so that his life may be revealed in our mortal body." – (2 Cor 4:10-12)
"Therefore we do not lose, though outwardly we are wasting away, yet inwardly we are being renewed day by day. For our light and momentary troubles are achieving for us an eternal glory that far outweighs them all. So we fix our eyes not on what is seen, but on what is unseen. For what is seen is temporary, but what is unseen is eternal." – (2 Corinthians 4:16-18)
My role is simply to surrender to Christ and allow Him to work both the crucifixion of my flesh and the resurrection life of Christ within me.
My prayer lately has been simply this: "Please Jesus come live and breathe in me today. Help me to embrace the death that the Gospel brings to my flesh so that I can experience the life of Christ that springs up from within by your Spirit."
Let's not focus on our effort to die to ourselves. Instead, let's just experience the beautiful life of Christ that comes when we let go and trust in Jesus to transform us into people who are like Him.
-kg
**
Keith Giles is the author of several books, including "Jesus Untangled: Crucifying Our Politics To Pledge Allegiance To The Lamb."
He is also the co-host of The Heretic Happy Hour Podcast.