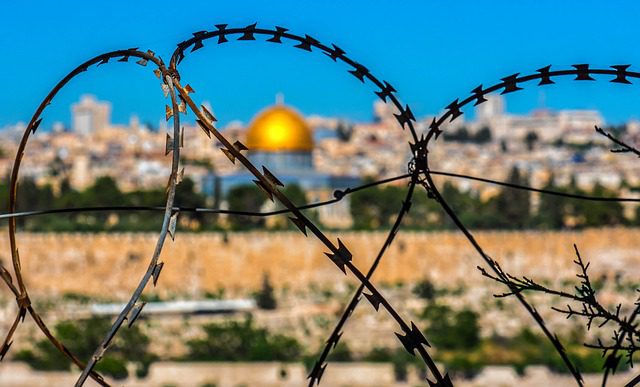 When the President of the United States, under the leadership of his Dispensationalist Christian Vice President and his End Times Obsessed Secretary of State, declares Jerusalem the capital of Israel and invites one notoriously Christian Zionist Televangelist and one infamously anti-Jewish Christian Pastor to speak at the dedication ceremony for the new US Embassy in that city, you might be wise to ask a few questions.
Like, why is the guy who said Jewish people were going to burn in hell up there? Why is this move in any way a step in the right direction? Why did Israel shoot 61 unarmed people dead the same day? Why didn't the US Government condemn this violence?
Here's the fact: Toxic Dispensationalism, Nationalism, and Zionism are ruling American politics and the Church. What could go wrong?
A lot.
For one thing, Evangelical Christians could be deluded into thinking that somehow God is very pleased with all of this. [He isn't]
They could start to think that when they read about Israel in their Bible that it's referring to the same Israel where their country just opened a new Embassy. [It's not]
They might start to believe that all of this moves us one step closer to the prophesied Second Coming of Jesus. [It does not]
They might also start to believe that God loves America, and the secular nation of Israel, more than Palestine, and Iran, and North Korea. [But that's not true]
American Christians might also start to believe that God gave that land to the Jewish people. But, according to God, He did not give land to anyone. God said:
"The land must not be sold permanently, because the land is mine and you reside in my land as foreigners and strangers." – [Lev. 25:23]
The Apostle Paul told us that every promise made to Abraham was not made to his descendants, but to Christ:
"Now the promises were made to Abraham and to his seed. It does not say, "And to seeds," referring to many, but referring to one, "And to your seed," who is Christ." – [Galatians 3:16]
Here's the deal: When God promised the land to Abraham, it was so that Abraham and his Seed, could be a blessing to all nations. Christ is the fulfillment of that promise. Through Christ, all the nations of the earth are blessed. His Kingdom is made up of people from every tribe, and tongue, and nation.
In Christ, there is no longer any Jew or Gentile. All are one in Christ.
This means that when the most powerful Empire in the history of our planet seeks to favor one people group over another and turns a blind eye to the oppression of millions of people – many of whom are followers of Christ – it's not pleasing to God. In fact, it's Anti-Christ.
Because God is not for Israel. He is for people who live in Israel. God is not for Palestine. He is for people who live in that place. God is not for America. He is for people who were born there.
Or, as the prophet Isaiah phrased it:
"All the nations are as nothing before him, they are accounted by him as less than nothing and worthless." [Isaiah 40:17]
So, God is not for tribalism or nationalism. God is not for "them", because to God there is no "them". There is only us.
That means God is for everyone.
Besides, as a follower of Jesus, if you can't imagine what it would be like if your own son or daughter, or husband or wife, or mother or father, were one of those 61 people shot dead in Palestine during a peaceful protest, then you might not understand what Jesus means when He says, "Whatever you have done to the least of these, you have done it unto me."
Let's crucify our politics and our nationalism. Our God does not take sides. We are either on His side, or we are on our own.
**
Keith Giles is the author of several books, including the forthcoming "Jesus Unbound: Liberating the Word of God From the Bible", available July 4th, 2018.
He is also the author of the Amazon best-seller, "Jesus Untangled: Crucifying Our Politics To Pledge Allegiance To The Lamb", and co-hosts the Heretic Happy Hour Podcast on iTunes and Podbean. He and his wife live in Orange, CA with their two sons.
Please, join me at one of these upcoming events:
*Jesus, the Bible and the Holy Spirit Conference with Jon Zens, Tom Atkinson, and Keith Giles, on May 18-20 in Seattle, WA. Register here>
*The Nonviolent Love of Christ: How Loving Our Enemies Saves The World, with Joshua Lawson and Keith Giles on Saturday, June 16 in Portsmouth Ohio. Register here>
*Crucifying Our Politics with Keith Giles on June 24 in Cleveland, OH. Register here>
BONUS: Unlock exclusive content including blog articles, short stories, music, podcasts, videos and more on my Patreon page.