Over the weekend I spend 3 days debating "Jesus, the Bible and the Holy Spirit" with a few dozen other people in the forest outside of Seattle, Washington.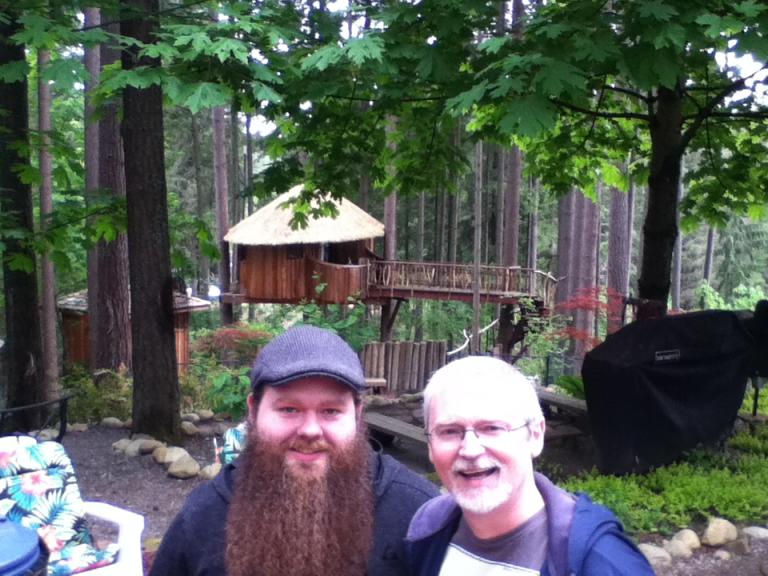 Several of the other speakers at this conference maintained that the Bible was the only possible way for anyone to know who Jesus is. Why? Because, as one of them put it: "Everything I know about Jesus came from the Bible. I've never heard God's audible voice. I can't have a seance to contact Jesus. So, the Bible is how God speaks and how I know who Jesus is."
So, to put it another way: "My experience with Jesus comes from a book. Therefore, I trust my experience with a book rather than trusting in other experiences without a book."
Here's the irony: Christians argue that the Bible is the only way to know Christ because that is their experience. So, they are basing their argument against trusting in our experience on their experience of trusting a Bible [which encourages us to experience Christ].
Isn't that weird?
Think about this: Right now there are dozens of stories coming from Muslims in the Middle East about how Jesus is appearing to them in visions and dreams. Because of this, many of them are turning to Christ.
Is this really happening? I believe it could be true. But, even if it's not, several of these same people at the conference I just attended do believe it's real. At least twice I heard people referring to these Muslims who are having visions of Jesus and turning to faith in Christ.
Now, let's think about this for a second. Imagine going to the Middle East ten years from now and entering a Church filled with former Muslims who all came to Christ after seeing Jesus in a vision or a dream. What would they say if you asked them, "What's the main way that Jesus speaks to us today?" or "How can we know anything about Jesus?" what would you think they'd say?
If their experiences of coming to Christ were all based on a vision or a dream, then we should expect them to answer, "Visions and dreams are the primary way God communicates to us today. I wouldn't even be a Christian or know anything at all about Jesus if it weren't for dreams and visions. Sure, the Bible is great! But everything I know about Jesus came through an actual encounter with Jesus."
See? That's the problem. We tend to limit everyone's experience or encounter with God based on our own experience or encounter. If we primarily came to Christ by reading a book [or by being taught from a book], then we will become convinced that the book is the best and only way to know anything about God.
But, if we primarily come to know Christ by encountering him personally through a dream or a vision, we're likely to become convinced that experiences from God are best [and only?] way to know God.
Of course, our faith in Christ is about so much more than knowledge of God. It's not about gathering information about God. Our faith in Christ is supposed to be based on a relationship with the Divine.
God, in Christ, has come near. This is what "Emmanuel" means. "God with us" is one of the names of Jesus. He is with us right now.
Jesus emphasized that eternal life was defined by our intimate "knowing" of God in a way that births new life, the way an intimate encounter between a man and a woman conceives something brand new within.
Try to keep in mind:
The Word of God is not a book. The Word of God is Jesus.
The Word of God speaks to you. The Bible is silent.
The Word of God lives within you. The Bible is not alive.
The Word of God will never leave you. The Bible can be misplaced.
The Word of God suffered and died on a cross. The Bible isn't breathing.
The Word of God loves you. The Bible doesn't love anyone.
If we're going to read the Bible, let's actually pay attention to what it teaches. The Bible never points us to itself. The Bible points us to Christ. The Bible also teaches that we can – and should – experience God for ourselves.
The Bible also teaches us to listen to the voice of God and learn to follow the Holy Spirit who leads us into all truth.
You can know Christ through your Bible, yes. But you can also know Christ the way you know an actual person. You can experience Christ, right now. You can hear His voice. You can know His thoughts. You can experience His love. You can know His peace.
I invite you to move beyond the Bible to experience Jesus for yourself. So does the Bible.
**
Keith Giles is the author of several books, including the forthcoming "Jesus Unbound: How the Bible Keeps Us From Hearing the Word of God", available July 4th, 2018.
He is also the author of the Amazon best-seller, "Jesus Untangled: Crucifying Our Politics To Pledge Allegiance To The Lamb". He is the co-host of the Heretic Happy Hour Podcast on iTunes and Podbean. He and his wife live in Orange, CA with their two sons.
Please, join me at one of these upcoming events:
*The Nonviolent Love of Christ: How Loving Our Enemies Saves The World, with Joshua Lawson and Keith Giles on Saturday, June 16 in Portsmouth Ohio. Register here>
*Crucifying Our Politics with Keith Giles on June 24 in Cleveland, OH. Register here>
BONUS: Unlock exclusive content including blog articles, short stories, music, podcasts, videos and more on my Patreon page.