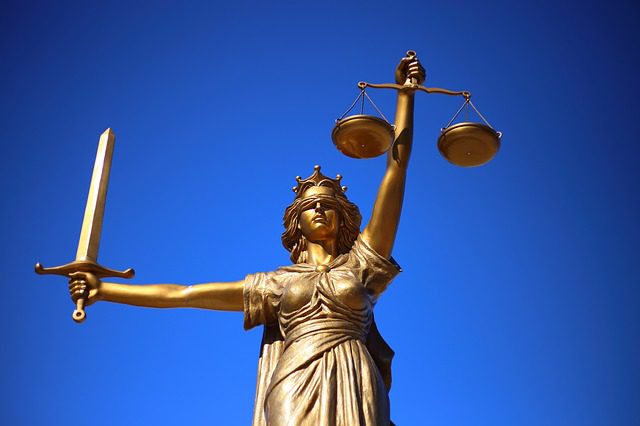 Today was the perfect storm of Christians praising the Law of Moses, I guess.
First, a friend on Facebook posted a statement about how "Romans 13 is clear: violators of the Law will suffer the consequences" in reference to how immigrant children are being torn from their parents. [More on that in a moment].
Then, another friend made a comment about how America needs to get back to 'an eye for an eye' and 'a life for a life' if we want to solve our gun violence problems. [A statement that makes zero sense, but underscores the same way of thinking as the post above].
American Christians really love the Law. We want to post the 10 Commandments in every courthouse. We want to hold everyone to that Old Testament Levitical standard [not ALL of it, or course. We still love shrimp, lobster and cheeseburgers, but we would really LOVE to go back to stoning rebellious teens who weary baggy pants or vape, and put homosexuals to death, for example].
This is very troubling to me.
Why? Because, first of all, it says that Christians in America have not yet fully understood or accepted the Gospel of Christ. If they had, they wouldn't keep running back to the Law or the 10 Commandments for direction….they'd be running to Jesus.
But, they realize that if they were to run to Jesus they'd have to listen to Him say, "Neither do I condemn you" and "Your sins are forgiven" and "I desire mercy, not sacrifice", among other things.
Jesus is just too merciful and kind and forgiving and loving. [Eww]
We much prefer a God who is angry, wrathful, full of righteous indignation, judgment, and good, old-fashioned condemnation.
The second reason this troubles me is that it means those who are NOT Christians start to believe that this IS what Jesus is all about. So, not only do Christians not understand who Jesus was, or what Jesus was all about, those who need Jesus most are being told that Jesus is no different than Zeus, or Molech who demands worship, has no patience for unbelievers and is swift to punish, smite and reject any and all who dare oppose His majestic power.
This is not who Jesus is. It is not who God is either.
Jesus told us to refer to God as our "Daddy" – our "Pappa" – or "Abba". God, according to Christ, is a patient, kind, loving Father who longs to hold is in His arms, place us in His lap, laugh with us, play with us, and delight in us. Because He loves us. Because we are His children. Because He is a good Father who loves to give good gifts to His kids.
So, how do we respond when a Christian wants to return to the Law? What do we say when Romans 13 is held up as if it's our standard for justice?
Here's how I responded when my friend argued that "Romans 13 was clear….":
I said, "Romans 12 is even more clear:
"Love must be sincere. Hate what is evil; cling to what is good. 10 Be devoted to one another in love. Honor one another above yourselves.11 Never be lacking in zeal, but keep your spiritual fervor, serving the Lord. 12 Be joyful in hope, patient in affliction, faithful in prayer. 13 Share with the Lord's people who are in need. Practice hospitality.
14 Bless those who persecute you; bless and do not curse. 15 Rejoice with those who rejoice; mourn with those who mourn. 16 Live in harmony with one another. Do not be proud, but be willing to associate with people of low position. Do not be conceited.
17 Do not repay anyone evil for evil. Be careful to do what is right in the eyes of everyone. 18 If it is possible, as far as it depends on you, live at peace with everyone. 19 Do not take revenge, my dear friends, but leave room for God's wrath, for it is written: "It is mine to avenge; I will repay," says the Lord. 20 On the contrary:
"If your enemy is hungry, feed him;
if he is thirsty, give him something to drink.
In doing this, you will heap burning coals on his head."
21 Do not be overcome by evil, but overcome evil with good."
See, 1 Corinthians 12 is what Paul wrote for those who follow Christ. Romans 13 was all about the Empire and the State. We should never get those two things confused. Ever.
It's times like these that I remember how Paul marveled at the Galatians who were so eager to return to the Law, even though the Gospel of Christ had set them free.
In Galatians 4:8-11 Paul says:
"Formerly, when you did not know God, you were slaves to those who by nature are not gods. But now that you know God—or rather are known by God—how is it that you are turning back to those weak and miserable forces? Do you wish to be enslaved by them all over again? You are observing special days and months and seasons and years! I fear for you, that somehow I have wasted my efforts on you." 
Sometimes I feel the same way: Like I've wasted my efforts on people who claim to have heard and understood the Gospel of Christ, and yet still somehow want to remain under the Law of Moses, which Paul said was vanishing, fading, only brought death and was abolished in Christ.
How long before Christians in America have the ears to hear what the Spirit has been saying to the Churches for the last 2,000 years?
We are not under the Law anymore. We are under the New Covenant of Christ where love is our only rule and reconciliation and transformation are our only goals.
How long? Hopefully, not much longer. Because what the world needs most today are people who are fully convinced that the Gospel of Jesus really is the best – and only – hope for our world.
**
Keith Giles is the author of several books, including the forthcoming "Jesus Unbound: How the Bible Keeps Us From Hearing the Word of God", available July 4th, 2018.
He is also the author of the Amazon best-seller, "Jesus Untangled: Crucifying Our Politics To Pledge Allegiance To The Lamb". He is the co-host of the Heretic Happy Hour Podcast on iTunes and Podbean. He and his wife live in Orange, CA with their two sons.
BONUS: Unlock exclusive content including blog articles, short stories, music, podcasts, videos and more on my Patreon page.