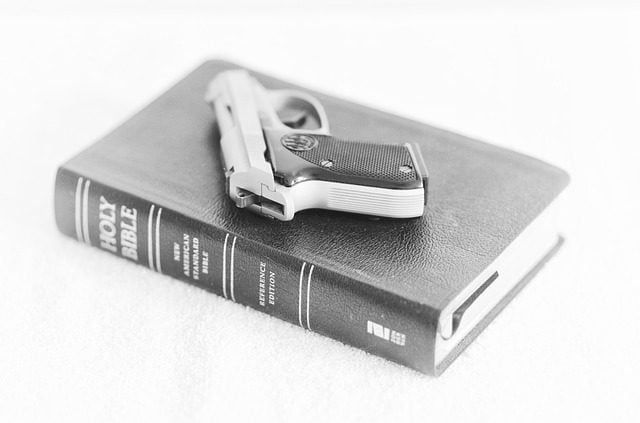 I recently participated in a debate over the topic: "Is Islam A Religion of Peace?", but I think we should be asking: "Is Christianity A Religion of Peace?"
Why? Because not only does the Bible have twice as many violent references as we find in the Quran – which involve commands about genocide and war, references to dashing babies against the rocks, commands to kill women and children, etc., but because, statistically, White Christians are much more dangerous to Americans than Muslims.
Don't believe me? Here are the Top 10 Christian Terrorists of the last 50 years:
1) Timothy McVeigh (who was an active member of the Christian Identity Movement) blew up the Federal Building in Oaklahoma City in 1995, killing 168 people -including children who were in the day care center – and injuring over 600 others.
2) Dylan Roof, a Christian young man who was a member of an Evangelical Lutheran Church and who entered a black church in Charleston, SC in 2015, and shot 9 churchgoers to death, saying he was there "to shoot black people."
3) Mark David Chapman, was a huge Beatles fan who, after converting to Christianity, could not get over the fact that John Lennon was guilty of blasphemy – for claiming that his band was "bigger than Jesus" – and ended up murdering him for this infraction in 1980.
4) Eric Robert Rudolph was a Christian terrorist who not only carried out the Centennial Olympic Park bombing in 1996, but also attacked an abortion clinic and a lesbian nightclub because of his Christian beliefs.
5) Robert Lewis Dear, in November 2015 committed the Colorado Springs Planned Parenthood shooting, in which three were killed and nine injured. He also praised another Christian Terrorist Group, the Army of God, saying that their attacks on abortion clinics were "God's work". Dear's ex-wife said in court documents pertaining to their divorce that Dear "claims to be a Christian and is extremely evangelistic…[and] is obsessed with the world coming to an end."
6) Mark Anthony Conditt, the 23-year-old responsible for the recent series of bombings in Austin, Texas, was part of a conservative survivalist group called Righteous Invasion of Truth, "a Bible study and outdoors group for homeschooled kids, created and named by the kids and their families that included monthly activities such as archery, gun skills and water balloon fights."
7), 8) and 9) – In 1996 three men—Charles Barbee, Robert Berry, and Jay Merelle—were charged with two bank robberies and bombings at the banks, a Spokane newspaper, and a Planned Parenthood office in Washington State. The men were anti-Semitic Christian Identity theorists who believed that God wanted them to carry out violent attacks and that such attacks would hasten the ascendancy of the Aryan race.
10) Peter James Knight – On 16 July 2001, he walked into the East Melbourne Fertility Clinic, a private abortion provider, carrying a rifle and other weapons and took hostages with the intent to kill all 15 employees of the clinic. Knight, according to the psychiatrist who examined him, "interpreted the Bible in his own unique way and believed in his own brand of Christianity."
And I could very easily go on to mention other Christian Terrorist groups like:
*Joseph Kony's Lord's Resistance Army, in Uganda.
* Anti-balaka groups in the Central African Republic –  Committed several massacres in 2014 against Muslim civilians, killing hundreds and forcing thousands of Muslims to flee the country. Other sources report incidents of Muslims being cannibalized and forcibly converted to Christianity.
*In China the Eastern Lightning Cult or Church of the Gospel's Kingdom, is responsible for dozens of riots, attacks, and murders, since 1998.
* Manmasi National Christian Army (MNCA), a Christian extremist group operating in North East India that  2009, was charged with forcing Hindus to convert at gunpoint. They also desecrated temples by painting crosses on the walls with their blood.
* The National Liberation Front of Tripura (NLFT), is a terrorist group  in India that seeks the secession of Tripura, North-East India, and has engaged in terrorist violence motivated by their Christian beliefs, including forced conversions on Buddhists and other tribespeople.
* The Nationalist Socialist Council of Nagaland (NSCN) is also a Christian Naga nationalist militant group operating in North India.
* The Walisongo school massacre is the name given to a series of attacks by Christian militants on 28 May 2000 upon several predominantly Muslim villages in Indonesia as part of a broader sectarian conflict in the Poso region. Officially the total number killed in the attacks is 165.
I could keep going, but I think you get my point.
So, is Islam a violent religion? Maybe. But Christians are just as violent – if not more so.
Especially if you look at their religious texts.
Which is exactly what a recent project by data analyst and research marketer Tom Anderson aimed to do, and it turns out that, of the three books – The Hebrew Old Testament, the Christian New Testament, and the Islamic Quran – the Old Testament is the most violent text of all, with approximately 5.3% of the text referring to "destruction and killing". (Note: The Quran was the least violent text with just 2.1% and with the New Testament sandwiched in the middle with 2.8%).
So, according to Anderson's findings, the popular notion among Westerners that Muslims subscribe to a particularly violent faith is false. 
Indeed, as he concluded, "of the three texts, the content in the Old Testament appears to be the most violent."
Maybe it's Christians we should be most afraid of?
Did you know? According to an FBI analysis of every U.S. terrorist attack between 1980 and 2005, the vast majority of them – over 94% – were carried out by someone who was not a Muslim.
In fact, between 2001 and 2015, more Americans were killed by homegrown right-wing white extremists than by Islamist terrorists, according to a study by New America, a nonpartisan think tank in Washington, DC.
What's more: Since Trump took office, more Americans have been killed by white American men with no connection to Islam than by Muslim terrorists or foreigners.
Here are just a few of the attacks that have occurred in 2017:
Dear Christians: We have a huge blind spot when it comes to violence. 
As much as we want to believe that we are a peaceful religion, the painful reality is that we are just as violent – if not more violent – than other religions.
Not only that, we tend to believe that a white Christian terrorist can't actually exist, Yet this flies in the face of everything that has happened in U.S. History over the last few hundred years.
According to a PRRI survey: "White evangelical Protestants are the most likely (87%) to disown Christian terrorists who claim to be acting in Christianity's name. However, they are among the least likely (44%) to say the same about terrorists who say they're Muslim."
In other words, white evangelicals find it very easy to believe that Muslim terrorists exist, but instantly dismiss – and quickly forget – all the numerous Christian terrorists who have blown up buildings, shot hundreds of people, or driven cars into crowds of people in the name of Christ. 
Case in point: There was a time in American History when almost half of the Christians in this country went to war with other Christians over the power to own black people as slaves. This "Civil War" killed 624,000 people, and after the war, many Christians resorted to organized terrorism. As author Jonathan Wilson-Hartgrove documents in his book, "Reconstructing the Gospel: Finding Freedom from Slaveholder Religion", the era of reconstruction was marked by several Christian terrorist attacks, such as the Colfax massacre that took place on Easter Sunday in 1873.
BOTTOM LINE: Christians need to be more concerned with their own violence before they start to worry about the violence of other religions.
What's more: the violence of a religion or a religious book is no indication of the violence of a person within that religion.
Of course, to proclaim that Christians are violent simply because their Bible contains twice as many violent references as other texts, like the Quran, is an unfair assumption.
In the same way, to proclaim that Islam is a violent religion based on the actions of a very few of them is equally unfair.
To accuse a peaceful Muslim man or woman of something that they are not guilty of – being bloodthirsty and violent – based on a few texts in the Quran is foolish, and un-Christlike.
Islam is as peaceful as those who practice it faithfully. And out of the 1.8 billion Muslims in the world today, 99% of them are peaceful.
Can we say the same of Christians?
At the very least, let's not judge everyone based on the actions of a few.
Or, as one wise man once said, let us "treat others as we ourselves want to be treated."
Better yet, let's get the plank out of our own eye before we attempt to take the speck out of our Muslim neighbor's eye.
Wouldn't you agree?
**
Keith Giles new book "Jesus Unbound: Liberating the Word of God from the Bible", is available now on Amazon and features a Foreword by author Brian Zahnd.
He is also the author of the Amazon best-seller, "Jesus Untangled: Crucifying Our Politics To Pledge Allegiance To The Lamb".
Keith also co-hosts the Heretic Happy Hour Podcast on iTunes and Podbean. He and his wife live in Orange, CA with their two sons.
JOIN ME IN BIRMINGHAM, ALABAMA: Sept. 15 at "Proactive Love: How Loving Our Enemies Changes Everything". Register HERE>
BONUS: Unlock exclusive content including blog articles, short stories, music, podcasts, videos and more on my Patreon page.