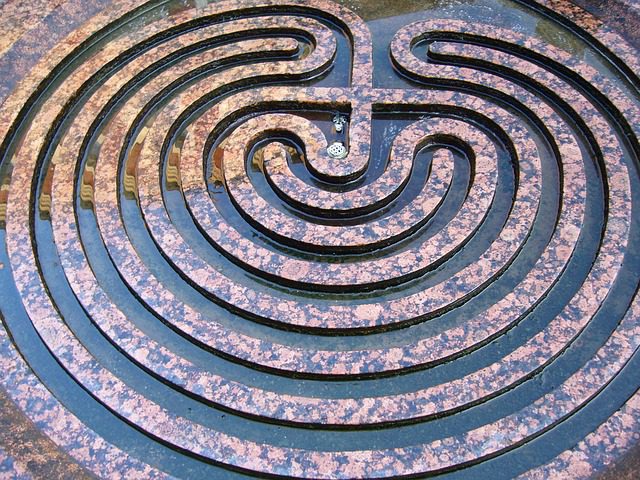 My wife and I recently celebrated our 29th wedding anniversary. On the card she made for me was a heart-shaped labyrinth and on the inside she wrote:
"I found out that labyrinth's aren't supposed to be difficult or confusing, but simply about the journey to the center. This spoke to me as far as our relationship together and with God. We are travelling to the center, or the heart, and that alone is a blessing. What a sweet gift to walk this journey with you."
That little idea has stayed with me over the last few days. It's reminded me that the secret of life is enjoying the passage of time. The point of the path is to walk it, not to necessarily arrive somewhere, but to really appreciate the walk itself.
Too often we forget that the things that bring us joy are already here. Life is wonderful simply because it is life. As my Dad often reminds me, "Getting old may be painful, but it beats the alternative."
I was also reminded of a quote by Watchman Nee which says: "Most Christians spend all of their lives trying to get into a room they are already in."
I'm not sure exactly what he meant by that, but to me, it speaks to our desire to make God proud, or to please Him, or to prove to God that we are true believers, or whatever. But God already loves us more than we can hope or dream or imagine. There's no way to make God love us more, or less. God's love is always on; full-blast, 24/7.
One of my favorite verses in the Bible is 1 John 3:1 which says:
"See what great love the Father has lavished on us, that we should be called children of God! And that is what we are!"
I think I love this for two reasons: First, because it uses the word "lavished" to describe how God has loved us. I love that image of God just sloshing out the love to us and spilling it everywhere, overflowing our cup, and dripping it all over the table.
Secondly, I love this verse because it affirms that God is our Father and that we are God's children. Then it re-emphasizes it once more: "And that is what we are!" [with the exclamation mark appearing twice for added impact].
We are God's children. God's love for us is unimaginably huge, and awesome, and grand, and overflowing, and extravagant, and audacious, and radically inclusive. We cannot ever escape the love of God. Nothing can take it away. Nothing can slow it down. Nothing can come against God's love. God's love never fails.
So, as you walk this daily path of life, try to remember that you're already in the room you're trying so hard to break into. God already loves and accepts you more than you know.
Try, also, to remember that the point of this path is to enjoy the journey, and to appreciate the people in your life you get to share it all with.
The great news is: You and I will only ever know what its' like to draw nearer to God. From this moment and onward into eternity, we will only ever experience more of Christ – not less. Because God lives within us. God promises never to leave or forsake us. God has declared that nothing will ever separate us from this love. We are being drawn nearer and nearer – deeper and deeper – into communion with God.
There is not end to the labyrinth of God's heart. It continues on forever and forever. This is why we need an eternity to know God more.
So, sit back and enjoy the journey. It's going to be a long one, but I promise it will never be boring.
**
Keith Giles is a former pastor who left the pulpit 11 years ago to start a church that gives away 100% of the offering to the poor in their community.
His new book "Jesus Unbound: Liberating the Word of God from the Bible", is available now on Amazon and features a Foreword by author Brian Zahnd.
He is also the author of the Amazon best-seller, "Jesus Untangled: Crucifying Our Politics To Pledge Allegiance To The Lamb" with a Foreword by Greg Boyd.
Keith also co-hosts the Heretic Happy Hour Podcast on iTunes and Podbean. He and his wife live in Meridian, Idaho.
BONUS: Want to unlock exclusive content including blog articles, short stories, music, podcasts, videos and more? Visit my Patreon page.