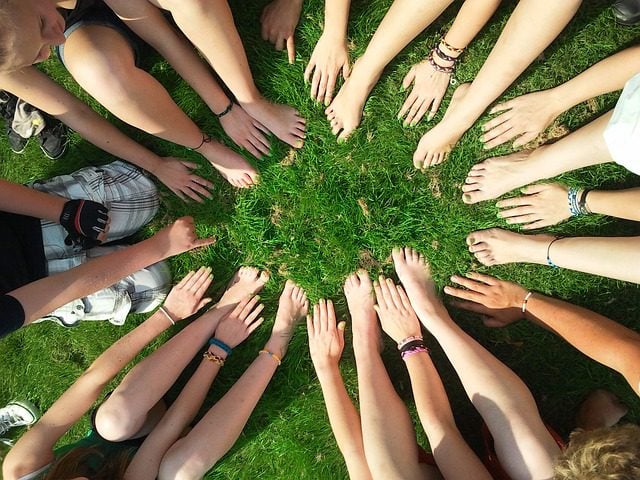 Someone once said that if you want to save something, you first have to destroy it. This was more in the context of art or fashion, mind you, but it does have applications in a few other areas. Like, the Church, for instance.
Church as we know it is really more of a recent development in Western culture. It honestly bears very little resemblance to what the original Christians used to practice about 2,000 years ago in Palestine and the surrounding Roman Empire.
Today, we can't imagine Church without a senior pastor who has a seminary degree and does all the speaking once a week during an hour-long service where a rock band plays sing-along worship songs at full volume with the digital projection screens displaying the lyrics alongside the main stage in the warehouse-sized building with the big sign out front.
Every single one of those things would be completely foreign to every Christian for the first thousand years of church history. Except for the senior pastor thing. That probably started after a few hundred years, but before that, no one person did all the teaching or talking, and there was certainly no senior pastor in Corinth, or Thessalonica, or Ephesus, or Antioch, etc.
Want proof? Notice how Paul never wrote any letter addressed to the senior pastor – or even to pastors plural. Every epistle is written to "the church in…" whatever region it existed. The church – the people who followed Christ – were responsible for practicing the 58 "One Anothers" which set the Body of Christ apart from every other institution around it.
The ekklesia – or the assembly – was truly comparable to an organism with dozens, even hundreds, of interconnected and interdependent parts. This is why Paul used the metaphor of a Body in 1 Corinthians to describe how the church functioned. There was one "Head" to this "Body" and it was Christ (not the senior pastor). Every single person was gifted by the Holy Spirit to provide the ministry the rest of the Body needed. Rather than have all of these gifts rest on one single person, or even on a small paid staff of ministers, the early Christians each had a purpose, role and gifting that was essential to the life and growth of the Body.
This meant one amazing thing: Everyone was essential. No one was superfluous or unnecessary.
Like our own bodies, every organ and member was valued and necessary for the entire body to remain healthy and strong. If your liver or one of your kidneys stopped functioning, your entire body would know it – and feel it – deeply.
What's more, whenever Paul did talk about pastors [plural], as in Ephesians 4:11-13, it was only once, and even then the point wasn't that those with certain gifts did all of the work of the ministry. On the contrary, Paul says that God gave apostles, prophets, pastors, teachers and evangelists to the church "to equip his people for works of service" and this was "so that the body of Christ may be built up until we all reach unity in the faith and in the knowledge of the Son of God and become mature, attaining to the whole measure of the fullness of Christ."
So, the early Christians saw themselves as ministers of the Gospel. They were the priesthood – all of them combined. This is where we get the concept of the Priesthood of All Believers from, although most of us have no idea what it really means or how to actually walk it out.
That's because no one really preaches about it – in our new one-teacher-senior-pastor system – and because even if someone did explain it to us, church as we know it today makes it completely impossible to operate as a Body as Paul describes in 1 Cor. 12.
So, if we wanted to actually BE the Church that operates like Paul describes in 1 Cor. 12 – you know, the Body of Christ – then we'd have to destroy Church-as-we-know-it and start over with something totally brand new. (At least, "new" to us, anyway).
It's like that other famous saying: "If you want something you've never had before, you'll have to do something you've done before."
Most of us have never used our spiritual gifts to edify an entire room full of other people before. Most of us have no idea what a gathering would look like without a senior pastor telling us all what to do, or what to think, or how to read the Bible.
Frankly, the idea of coming together to be the church like this scares the living crap out of most people. What if we get off track? What if someone tries to lead us into heresy? What if it's too hard? Or too boring?
Not everyone is ready for this. Most Christians probably love their home church, and are quite happy with their senior pastor, and their rocking worship band, and their super-cool youth pastor, and the comfy chairs that all face the same direction. They like the sermon and a song version of Sunday morning Christianity. For them, it isn't broken so they're not looking for anyone to fix it.
But, for a few people, like me, this is not good enough. Church as we know it just isn't cutting it anymore. There is an itch that cannot be scratched by sitting and listening to one person operate in their gifting while the rest sit silently and nod. For us, church is not a spectator sport. It's something to be experienced and fully participate in on a daily [not a weekly] basis.
Those who yearn for something closer to what they read about in the book of Acts, or Corinthians, may have already left their traditional weekly church service. They just can't sit still for that any longer. Some of them may have already found a few others who are also curious about how to BE the Body of Christ rather than just attend a Church. Others are still searching and praying for the chance to actually experience this Body Life for the first time.
Me? I'm lucky enough to have experienced this for the last 11 years of my life. But, after a recent move to a new state, I'm really missing this reality and longing to find others nearby who are hungry to have a meeting with Jesus and not just one about Jesus.
If you're looking for something like this, I'd recommend starting off by either searching for like-minded people on sites like MeetUp.com, or joining a few Facebook Groups like the one I admin for [Organic Church Movements] or possibly the Unchurching group run by my friend Richard Jacobson. Once you're connected there, you can start asking around to see if there are a few others near you who are looking for the same thing.
If that doesn't work, you just might have to start with just yourself and your spouse, and possibly your kids. Keep praying and searching for others to be added to your number.
I have to believe there are more people out there who are hungry and thirsty for something like this. We just have to find one another.
Until then, be patient, keep praying, and trust that Jesus will build His ekklesia as He promised.
**
Keith Giles was formerly a licensed and ordained minister who walked away from organized church 11 years ago, to start a home fellowship that gave away 100% of the offering to the poor in the community. 
His new book "Jesus Unbound: Liberating the Word of God from the Bible", is available now on Amazon and features a Foreword by author Brian Zahnd.
He is also the author of the Amazon best-seller, "Jesus Untangled: Crucifying Our Politics To Pledge Allegiance To The Lamb" with a Foreword by Greg Boyd.
Keith also co-hosts the Heretic Happy Hour Podcast on iTunes and Podbean. He and his wife live in Meridian, Idaho, awaiting their next adventure.
BONUS: Want to unlock exclusive content including blog articles, short stories, music, podcasts, videos and more? Visit my Patreon page.