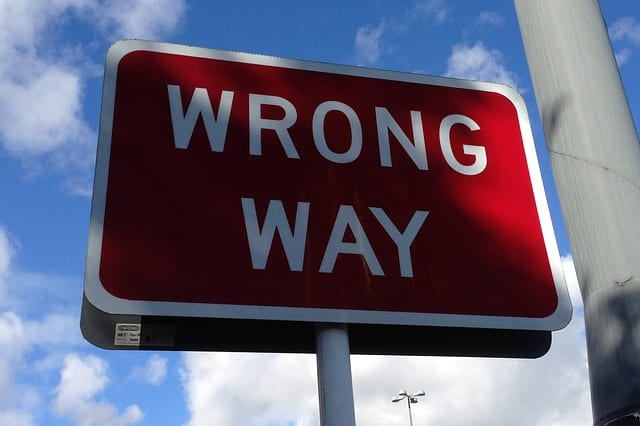 Professor Lee Ross has done a lot of work in conflict resolution, promoting dialog between various groups in places like Northern Ireland and in the Middle East where he worked with both Palestinians and Israelis.
Here's what he noticed about those who stand on either side of an argument:
"People on both sides are always interested in meeting with those from the other side," he says. "But why do they want to meet? Because they want to explain to the other side how things really are, and they think that if they do that the other person will become easier to deal with in the future. If that doesn't work then it just proves that those on the other side aren't objective or reasonable. What I have never experienced in 40 years of doing this is people who say "I really want to meet with the other side because I think I have things wrong" or "I think I'm biased and I want to meet with the other side so they can set me straight." I've never, ever had the experience of even a single individual tell me that."
Notice that he says that he has never experienced people from the other side wanting to talk to those they disagree with so they can see where they themselves might be off?
That's the problem. No one is willing to admit the possibility that they are wrong about something. No one is willing to confess that they are capable of having anything new to learn from the other side.
It's no different in our churches. As long as we refuse to admit that we have something to learn, we will never learn anything, and we'll never be at peace with others, especially if we think they are the ones who need to learn something from us.
Most of the time, we start from a place of assuming that all of our convictions and thoughts and beliefs are correct. This is why we cannot help but correct those who disagree with us, because they are, of course, wrong.
As my friend Joshua Lawson puts it: "The funny thing about my worldview is that it's always right, no matter how many times it changes."
What we need to do is to recognize the authenticity of the other person. We need to admit that they are as sincere in their beliefs as we are in ours. We need to, honestly, love them as we love ourselves and consider them better than ourselves and worthy of love and respect, regardless of their viewpoints or doctrines.
It doesn't mean we have to blindly accept everything they say as the Gospel. But it does mean we at least need to start from the assumption that we may have something to learn, and maybe this conversation could be an opportunity to grow in our understanding.
If nothing else, it could be an opportunity to mature in our faith and our expression of Christlike love for another human being.
If we emphasize what we have in common – which in the Church is our love for Jesus – rather than hammering on what separates us, we have a better chance of really learning something about one another. And who knows, we might possibly even experience a new insight for ourselves in the process.
What do you think?
**
NOTE: This post was inspired by a podcast at "You're Not So Smart".
Listen to the original interview with Lee Ross here>
**
Keith Giles was formerly a licensed and ordained minister who walked away from organized church 11 years ago, to start a home fellowship that gave away 100% of the offering to the poor in the community. Today, He and his wife live in Meridian, Idaho, awaiting their next adventure.
His new book "Jesus Unbound: Liberating the Word of God from the Bible", is available now on Amazon and features a Foreword by author Brian Zahnd.
He is also the author of the Amazon best-seller, "Jesus Untangled: Crucifying Our Politics To Pledge Allegiance To The Lamb" with a Foreword by Greg Boyd.
Keith also co-hosts the Heretic Happy Hour Podcast on iTunes and Podbean. 
BONUS: Want to unlock exclusive content including blog articles, short stories, music, podcasts, videos and more? Visit my Patreon page.