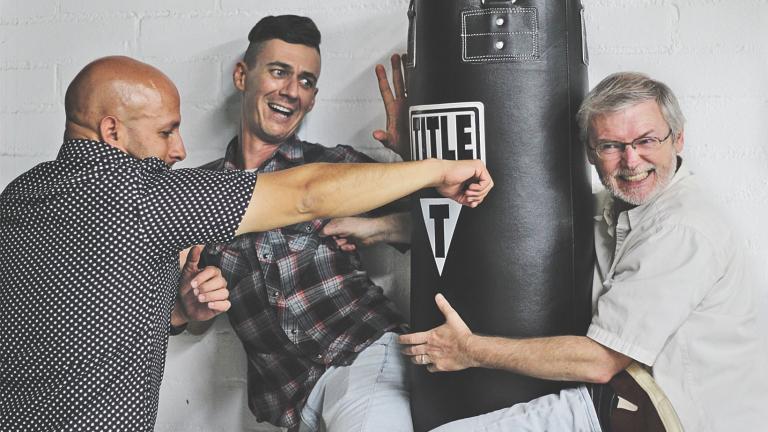 One of the things I love most about the Heretic Happy Hour Podcast [which I co-host with two other authors] is that every episode we get to model what it looks like for Christians who disagree to actually listen to, respect and genuinely love one another – even when we disagree on some very fundamental doctrines and ideas.
For example, one of my co-hosts, Jamal Jivanjee, believes that Christ is in everyone, that Jesus never talked about himself, and that Mary Magdalene had more intimate revelation about Christ than Paul or the other Apostles did.
I believe none of those things.
Jamal also wrote a book a few years ago called "Free to Love" that I completely disagreed with, and I even wrote a pretty harsh critique of that book – both on my personal blog and on Amazon. He and I even had a video conference call about it where we tried to hash out our differences on the specifics. But, in the end, we both remained unconvinced of the other's views.
Fast-forward a few years and now he and I are co-hosting a podcast together. How can that be?
Honestly, when I first started this podcast with Jamal and Matthew Distefano, I got private messages from several friends wanting to know why in the world I would do a podcast with Jamal. "He's the guy whose book you thrashed," they said. "How can you work with him knowing that he teaches things you don't agree with?"
Turns out, Jamal got almost the exact same sort of messages from his friends that wondered how he could possibly work with someone like me who had publicly criticized his book.
Here's the deal: I never criticized Jamal. Even in the actual review of the book, I spent a very large amount of time at the very beginning of the article stressing that I loved Jamal and that I was not against him as a person. My critique was not of Jamal, it was about the ideas in his book that I didn't agree with.
Want to know something even more awesome? Our co-host Matt had no idea about any of this. He never detected any tension between us or suspected that there was anything like this in our past. We even had to record a special episode of the podcast just to explain it.
I love that. Why? Because it proved that Jamal and I were not pretending to love one another and respect one another, in spite of our differences. We really did love one another and mutually agreed to set those differences aside in order to work together.
Here's the scoop: I have learned so much from Jamal over the years. I don't agree with a lot of what he says, but at the same time, I've actually been very blessed to listen to him share his thoughts and insights.
I'd like to think Jamal would say the same of me, and of Matthew.
In a similar way, I have another friend, Chuck McKnight, who also blogs here on Patheos, and I've quoted him quite extensively in my last two books. He's a brilliant thinker, an insightful theologian, and an excellent writer. I'm so honored to know him and to call him my friend.
But Chuck has also shared a lot lately about being Polyamory and that's something I honestly have to admit I don't understand. Not at all.
Chuck and I are currently writing a book together based on his excellent blog series on The Beautiful Gospel of WHEAT. So far, it's been an amazing experience and I cannot wait to publish this and share it with everyone.
But, if I'm honest, there was a moment when I wondered if co-writing a book with Chuck might be a bit dangerous for me because of the association it might create between us. I had to take a moment to consider the implications of putting my name alongside his on the cover of a book. But, to be honest, I didn't hesitate very long. Here's why: Because I love Chuck McKnight and I respect him and I do not doubt his heart for a moment. So, just because he and I have different views on things, it's no reason to break away from him.
When I published "
Jesus Untangled: Crucifying Our Politics To Pledge Allegiance To The Lamb
", author Greg Boyd was kind enough to write my Foreword. In my earliest interviews about the book, people asked me if I embraced Open Theism the way Greg Boyd did. They were looking for guilt by association. As if I couldn't love and respect Greg as an author and embrace some of his ideas while rejecting others.
Bottom line, we don't have to agree on everything to work together, or to listen to and learn from one another.
Now, this isn't always a two-way street, unfortunately. For example, I quite often recommend the teaching, books and ministries of people like Steve Gregg and Jon Zens and a few others, who do not agree with me on everything. In fact a few of those have outright called me a heretic and warned people to stay away from me. That's unfortunate, but it doesn't change the way I feel about them, or their ministry. I still love their books and continue to support their work.
As far as it depends upon me, I will love and respect my brothers and sisters in Christ – even if they disagree with me, or if I disagree with them.
How can we possibly learn anything if we only associate with people who agree with us?
Answer: We can't.
We have to be open to listen to new ideas, and to love and embrace people whether or not they espouse ideas we find agreeable.
If we can learn to do this, I think we'll start to grow in maturity, and quite honestly, set a better example to the world of what it looks like to love one another as Christ loved us.
**
Keith Giles was formerly a licensed and ordained minister who walked away from organized church 11 years ago, to start a home fellowship that gave away 100% of the offering to the poor in the community. Today, He and his wife live in Meridian, Idaho, awaiting their next adventure.
His new book "Jesus Unbound: Liberating the Word of God from the Bible", is available now on Amazon and features a Foreword by author Brian Zahnd.
He is also the author of the Amazon best-seller, "Jesus Untangled: Crucifying Our Politics To Pledge Allegiance To The Lamb" with a Foreword by Greg Boyd.
Keith also co-hosts the Heretic Happy Hour Podcast on iTunes and Podbean. 
BONUS: Want to unlock exclusive content including blog articles, short stories, music, podcasts, videos and more? Visit my Patreon page.