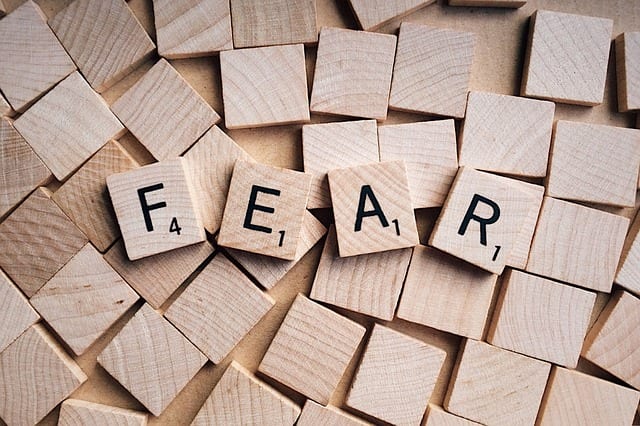 "And he said to the human race, "The fear of the Lord—that is wisdom, and to shun evil is understanding." (Job 28:28)
"Now let the fear of the Lord be on you." (2 Chronicles 19:7)
All throughout the Old Testament scriptures, we see this idea of the Fear of the Lord invoked as a metaphor for observing the Lord's commands, or observing the Law.
It's important for us to understand that the idea was not so much about literally having a sense of terror concerning the idea of God, but more about the notion of having reverence for God's wisdom and taking the commandments of God very seriously.
Unfortunately, most of us have grown up being told that we must literally fear God and that if we do not, then we are not only foolish, we are probably not really one of God's children.
This is nonsense.
First of all, this idea of fearing God is largely an Old Testament concept. The phrase appears 21 times in the Bible, and only one of those references is in the New Testament. All the others are found in the Old Testament, and as already mentioned, have more to do with reverence for God's law than actual feelings of fear towards God.
Another way to understand how often we have misunderstood this phrase is to observe how God reacts to those who literally fear Him.
Over and over again in both the Old and the New Testament we have examples of God appearing to people – either in the form of angels, or in visions or dreams – and in pretty much every single case the very first words spoken are: "Fear not!" or "Do not be afraid."
For example:
"After this, the word of the Lord came to Abram in a vision: "Do not be afraid, Abram. I am your shield, your very great reward." (Gen. 15:1)
God heard the boy crying, and the angel of God called to Hagar from heaven and said to her, "What is the matter, Hagar? Do not be afraid. (Gen. 21:17)
"That night the Lord appeared to him and said, "I am the God of your father Abraham. Do not be afraid, for I am with you…" (Gen. 26:24)
"But the Lord said to him, "Peace! Do not be afraid. You are not going to die." (Judges 6:23)
"This is what the Lord says— he who made you, who formed you in the womb, and who will help you: Do not be afraid…" (Isaiah 44:2)
"Do not be afraid, Daniel." (Daniel 10:12; 19)
"The angel said to the women, "Do not be afraid…" (Matt. 28:5)
"But the angel said to him: "Do not be afraid, Zechariah; your prayer has been heard." (Luke 1:13)
"But the angel said to her, "Do not be afraid, Mary; you have found favor with God." (Luke 1:30)
"But the angel said to them, "Do not be afraid. I bring you good news that will cause great joy for all the people." (Luke 2:10)
"When I saw him, I fell at his feet as though dead. Then he placed his right hand on me and said: "Do not be afraid. I am the First and the Last." (Rev. 1:17)
Now, why do you think this is?
Isn't it because God realizes that we are prone to fear Him and that this isn't the way God wants us to relate to Him?
Why else would the very first words spoken by God or His messengers be: "Fear not!"
Maybe it's related to what the author of 1 John tells us about fear:
"There is no fear in love. But perfect love drives out fear, because fear has to do with punishment. The one who fears is not made perfect in love." (1 John 4:18)
So, on one level, fear may have its purpose. Fear of punishment for disobedience may keep you performing a certain way, but it's a poor excuse for a relationship.
Now that Christ has come and revealed who the Father really is, we can relax and realize that there is no need to fear our Abba. He is patient, and kind, and merciful, and full of infinite love for all of His children.
Once we recognize that we are already loved and accepted by God, there is no longer any reason to fear. Now, we can start to relate to God the way God has always wanted: Love!
If you're still standing in fear of God, you should know that this is not the way God wants it to be. God would say to you exactly what He said to every other person He has ever revealed Himself to: "Fear not!"
You are loved. There is no fear in love.
The fear of the Lord may be the beginning of wisdom, but the love of God is the beginning of life in Christ.
**
Keith Giles was formerly a licensed and ordained minister who walked away from organized church 11 years ago, to start a home fellowship that gave away 100% of the offering to the poor in the community. Today, He and his wife live in Meridian, Idaho, awaiting their next adventure.
His new book "Jesus Unbound: Liberating the Word of God from the Bible", is available now on Amazon and features a Foreword by author Brian Zahnd.
He is also the author of the Amazon best-seller, "Jesus Untangled: Crucifying Our Politics To Pledge Allegiance To The Lamb" with a Foreword by Greg Boyd.
Keith also co-hosts the Heretic Happy Hour Podcast on iTunes and Podbean. 
BONUS: Want to unlock exclusive content including blog articles, short stories, music, podcasts, videos and more? Visit my Patreon page.