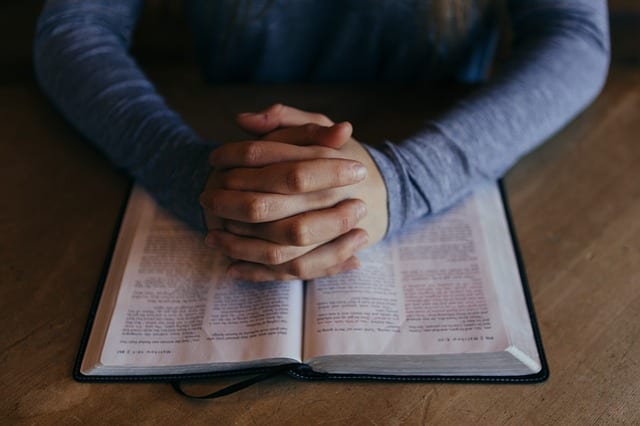 I don't know about you, but I'm in a very uncertain place, these days. I moved to a new state. Took a new job. Lost that job. And now I'm trying to figure out why were are here, and what we should do next.
I have a lot of pretty big, and scary, unanswered questions.
Maybe you can relate?
Are you unsure of what to do with your life? Are your worries about your kids keeping you awake at night? Are you wondering whether or not to make that big career change? Are you trying to decide whether to buy that new house, or to wait for a better time?
Chances are, you are probably in some phase of your life where you're not sure what to do. In those moments, what should you do? Where should you go for wisdom?
I would suggest that, if you're looking for wisdom about these types of questions, the last place you should go is to the Bible.
In fact, I have never gone to the Bible for wisdom about what to do about something in my life. Not once.
Do you want to know something funny? The reason I don't turn to the Bible for wisdom is because the Bible tells me not to.
So, ironically, by not turning to the Bible for wisdom, I am actually following the wisdom of the Bible.
[Insert sound of gears grinding in Evangelical Christian brains everywhere].
See, if you need wisdom, the best place to turn – according to the Bible – is to Christ.
The Bible never points us to the Bible. The Bible always points us to Christ.
That's why, in the Bible, we read things like:
"If any of you lacks wisdom, you should ask God, who gives generously to all without finding fault, and it will be given to you" (James 1:5)
"But when he, the Spirit of truth, comes, he will guide you into all the truth." – Jesus (John 16:3)
"My sheep listen to my voice; I know them, and they follow me." – Jesus (John 10:27)
"As for you, the anointing you received from him remains in you, and you do not need anyone to teach you. But as his anointing teaches you about all things and as that anointing is real, not counterfeit—just as it has taught you, remain in him." (1 John 2:27)
What's more, Jesus urged us not to search in the scriptures for life, but to come directly to Him. [See John 5:39-40]
So, here's why I don't ever go the Bible when I need wisdom – because the Bible tells me to go to God directly.
Instead of going to the Bible, try going on your knees. That's where you'll find true wisdom for your daily life. Not the Bible.
**
Keith Giles was formerly a licensed and ordained minister who walked away from organized church 11 years ago, to start a home fellowship that gave away 100% of the offering to the poor in the community. Today, He and his wife live in Meridian, Idaho, awaiting their next adventure.
His new book "Jesus Unbound: Liberating the Word of God from the Bible", is available now on Amazon and features a Foreword by author Brian Zahnd.
He is also the author of the Amazon best-seller, "Jesus Untangled: Crucifying Our Politics To Pledge Allegiance To The Lamb" with a Foreword by Greg Boyd.
Keith also co-hosts the Heretic Happy Hour Podcast on iTunes and Podbean. 
BONUS: Want to unlock exclusive content including blog articles, short stories, music, podcasts, videos and more? Visit my Patreon page.