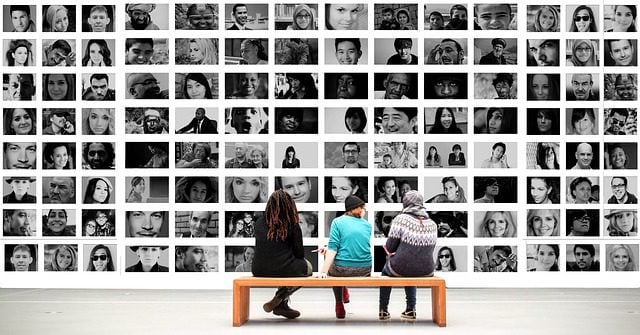 I'll admit, this is a concept that has taken me a long time to accept; the idea that Christ is in literally everyone – yes, even those who have not accepted Christ as personal Lord and Savior.
My objections weren't anything novel. I pushed back by quoting verses from the Bible that seemed to support the concept that Christ was ONLY in those who were intentionally "Christian," but then I started to notice that there were also plenty of verses in the same Bible that actually taught that Christ really WAS in everyone, regardless of their faith.
One of those verses is this one:
"…Christ is all, and is in all." [Col. 3:11]
And this one:
"Truly I tell you, whatever you did for the least of these, you did unto me." – Jesus [Matt. 25:45]
Now, yes, there are also plenty of verses [as I've already said] that appear to suggest that Christ is only truly alive in those who profess Christ, or follow Christ, in an intentional way.
But recently I came across a concept that I think really reconciles these two competing concepts.
In his book, "The Universal Christ," Richard Rohr kicks things off by sharing a story from a Catholic mystic named Caryll Houselander who talks about an experience she had where she suddenly saw Christ in everyone around  her. One amazing thing she shares in that testimony is an image I really loved about how Christ is in everyone, even the most base of sinners, where in them Christ is dead and they are His tomb where Christ is to be potentially risen.
That really floored me.
I love that idea of Christ being in everyone, but for some Christ is dead and waiting to be resurrected in them.
Still, Christ is in them, as the verses above affirm. In the case of those who have yet to recognize Christ in themselves, Christ is dead, or dormant, and waiting to be inevitably resurrected within them.
Isn't that beautiful? I love that picture.
This is how we can see Christ in everyone we meet – regardless of their faith, or their background, or even their behavior – [because let's be honest, even those who profess to be in Christ are not always very "Christlike" in their actions].
This is how we can see Christ in those we serve – the poor, the prisoner, the outcast, the marginalized.
This is how we can see Christ in the sinner, the liar, the murderer, the rapist, the violent, the adulterers, etc.
Christ may not always be evident in that person at that moment we regard them, but Christ is within them, nonetheless.
Christ in us is what all Creation is waiting to see revealed.
If we look for Christ in others, we may have the Grace to see Christ.
But, we have to want to see Christ in others. We have to be looking. We have to be open to the possibility.
Are we?
**
Keith Giles was formerly a licensed and ordained minister who walked away from organized church 11 years ago, to start a home fellowship that gave away 100% of the offering to the poor in the community. Today, He and his wife live in Meridian, Idaho, awaiting their next adventure.
*Woodstock, GA – July 27-28 "Unleashing the Word of God" [With Richard Murray] – FREE!