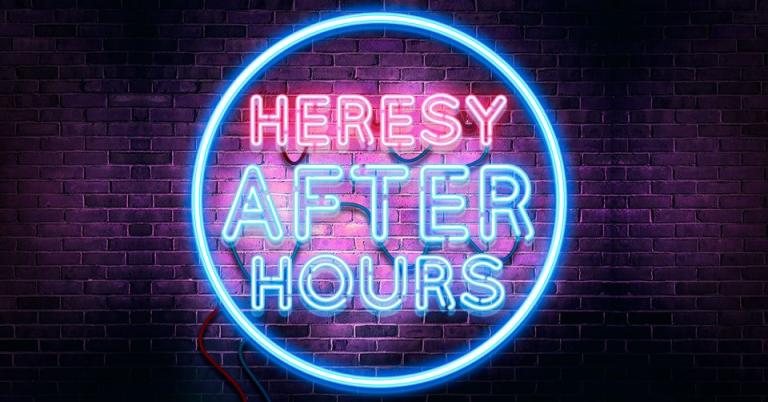 Almost 2 years ago, I started a little podcast with two other guys – Jamal Jivanjee and Matthew Distefano – called "The Heretic Happy Hour" podcast.
Honestly, at the time, we were just having fun sharing our different views on theology, ekklesiology and Christianity in general. We laughed. We cussed. We mocked conventions. We tipped over sacred cows and we did our best to question everything we knew about God, Jesus, the Bible and everything in between.
Along the way, we've interviewed many "Heretics" like Bart Ehrman, Rachel Held Evans, Nadia Bolz-Weber, Bishop Carlton Pearson ["Come Sunday"], John Fugelsang, Brad Jersak, Brian Zahnd, Peter Enns, Richard Rohr, and so many others, about why people call them heretics, what led to their deconstruction process, and where they find themselves now on this journey of faith.
What we didn't know was just how important this little podcast would become to so many people in so short a time.
Almost overnight we started to receive messages, voicemails [yes, we have a Hotline you can call 24/7 and leave a message or send a text at 240-343-7379], and comments from people who wanted us to know how this podcast had helped them survive toxic Christianity.
Some were dramatic. These included notes from people who were seriously considering suicide before listening to our conversations about doubt, faith and deconstruction. Others were funny, and still others were sad – like when pastors let us know that they are "heretics" because they doubt eternal hell or the inerrancy of scripture, or penal substitutionary atonement theory – and they fear that one day their congregations my discover this and they may lose their jobs.
Along the way, we've had fun created t-shirts, and even throw pillows, to go along with our vibe, and we set up a Patreon page [because that's just sort of what you have to do these days if you have a podcast], and of course, a Facebook Group.
However, that Facebook Group grew just as quickly as our podcast did. About the time we hit over 100,000 downloads of the podcast, our group on Facebook was over 1,500 members strong – and just a bit out of our control.
So, after a few private strategy sessions, we decided to create a new Podcast-exclusive Facebook Group tied to our Patreon page where conversations can be specifically focused on episodes.
In addition, we also decided to transition our existing group into a more open-ended discussion about Deconstruction, without necessarily being tied to the podcast.
This new, open-ended Deconstruction Facebook Group is called Heresy After Hours and we've invited people like Jason Elam [The Messy Spirituality Podcast], Seth Price [Can I Say This At Church? Podcast], Zack Krater [Bros, Bibles and Beer Podcast], and several others to help us nurture the conversation.
Our hope is to open this up to include a wider variety of voices who can help us understand what it means to question our faith without losing our minds, or our connection with God, in the process. Even if some of us do lose that connection, our hope is to provide a safe place for people to continue to ask questions, seek truth and find community along the way.
If you're currently going through deconstruction in your faith, this is a great place to come and find community [online] with others who are wrestling through some of the same ideas that you are working through, too.
Join the group HERE.
**
Keith Giles was formerly a licensed and ordained minister who walked away from organized church 11 years ago, to start a home fellowship that gave away 100% of the offering to the poor in the community. Today, He and his wife live in Meridian, Idaho, awaiting their next adventure.
Upcoming Event: July 27-28 "Unleashing the Word of God" [With Richard Murray] – FREE! – Woodstock, GA