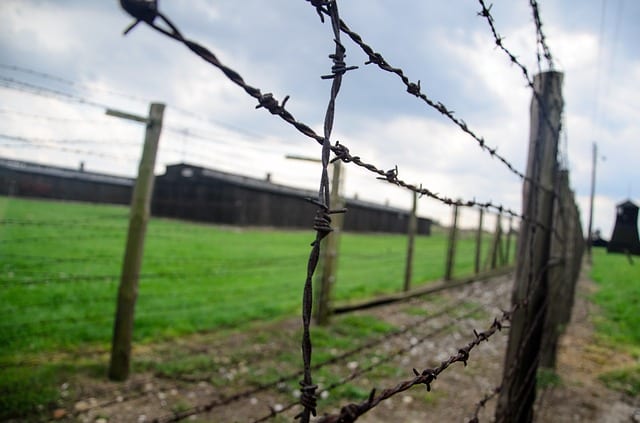 In the current season of the Netflix series, "Comedians In Cars Getting Coffee", Jerry Seinfeld hosts outspoken atheist Ricky Gervais on the show. In this two-part episode, Gervais makes a joke that goes something like this:
"A man who survived the Holocaust dies and goes to Heaven. When he gets there he tells God a joke about the Holocaust and God says, "That wasn't funny", to which the man replies: "I guess you had to be there."
And, as brilliant and layered as that joke may be [and I do admit it is quite profound in many ways], the essential point Gervais makes in the joke is that God skipped out on the Holocaust and did nothing to stop any of it.
It's not an uncommon charge against the Almighty. But, as I was mulling over the joke in my head last night I realized that I had an answer for Ricky Gervais; one that may not satisfy him, but it did at least give me some perspective on the question: Where was God in the Holocaust?
For me, I think someone who actually spent time in a Nazi Concentration Camp during WW2 is best suited to answer Ricky's question.
Perhaps someone like Corrie Ten Boom, for example. She and her sister, Betsie, spent time in 3 different Nazi Camps, including Scheveningen, Herzogenbusch, a political camp, and finally to the Ravensbrück, a women's labor camp.
They were arrested and imprisoned there, not because they were Jews but because their family had protected, hidden and emancipated dozens of Jewish people who were fleeing the Holocaust, by opening up their home and providing a safe place where they could take shelter from the authorities who were after them.
For Corrie, God was not absent from those concentration camps. Far from it. To her, God was imprisoned there alongside her and the others who were held there against their will.  In fact, Corrie's sister Betsie encouraged her whenever she was losing her faith that "There is no pit so deep that He [God] is not deeper still."
Now, I get it. Ricky and others want God to intervene. They believe that if God is not useful for stopping the evils that men do, then God is of no use to men at all.
But, this does not change the fact that these evils are done by men and women like us, not by God: We kill others. We torture others. We ignore the poor. We turn a blind eye to suffering. We – and we alone – are the ones who "allow" suffering in our world.
God's part is to meet us in this suffering. God's promise is to walk with us through the valley of the shadow of death. God makes sure we do not suffer alone. He says "I will never leave you, nor forsake you."
We make the suffering. God meets us in that suffering and comforts us through it.
I agree, there's nothing funny about suffering, or torture, or concentration camps. There is nothing funny about  detention centers filled with children who have been separated from their parents; nothing funny about thousands of innocent civilians bombed to death by US Military drones in the Middle East; nothing funny about hundreds of thousands of homeless people sleeping in the cold.
But, to fully understand this, perhaps you'd have to be there.
I know God is there. But maybe God is wondering where we are?
**
Keith Giles was formerly a licensed and ordained minister who walked away from organized church 11 years ago, to start a home fellowship that gave away 100% of the offering to the poor in the community. Today, He and his wife have returned to El Paso, TX after 25 years, as part of their next adventure. They hope to start a new house church very soon.
SAVE 50% ON SQUARE 1: Round 2 of "Square 1" starts Jan. 13, 2020. This 90 Day Online Course helps those who want to move from Deconstruction to Reconstruction of their Christian faith. Learn more HERE
Limited Time Offer: Save $80 on Author's Academy. 
Learn how to become a full-time author and crack the code for building your platform and marketing your books online. Details 
HERE.