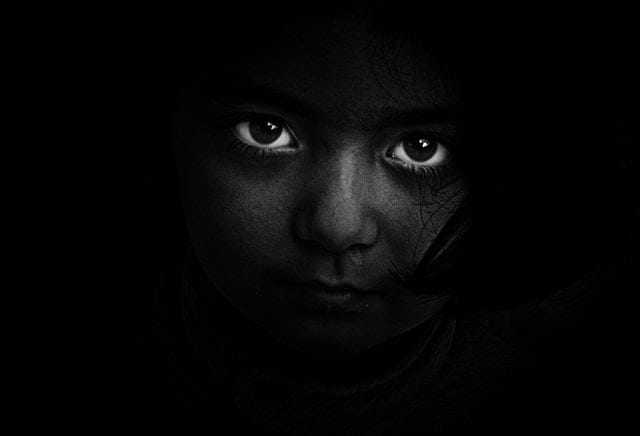 Christians have a unique problem. We know some verses of scripture so well that we can't see clearly what it really says.
For example, the Lord's Prayer. Even non-Christians I know can recite the words, "Our Father, who is in Heaven; Hallowed be your Name. Your kingdom come, your will be done on Earth as it is in Heaven. Give us this day our daily bread…" etc.
But repeating the words from memory isn't the same as understanding what is being said. The familiarity we have with the passage can actually become a barrier that prevents us from really seeing and receiving the truth that Jesus wants us to practice.
So, let's try to see this passage (Luke 11) through new eyes.
Jesus begins by instructing us to remember that God is "Our Abba" or "Our Papa." Instead of using a formal title to refer to God, Jesus uses the intimate word "Abba". Literally, He is telling us to address God as "our Papa."
In short, He wants us to start off with the realization that God loves us dearly.
And, please notice, that we are encouraged to begin by acknowledging that God is "Our" Father…not "My" but "Our". This means God is the Father of everyone, not just Christians. We are all children of the same God. That makes us all brothers and sisters.
Next, he instructs us to meditate on the Holiness of God. We're commanded to pray that the Name of God be reverenced and held in the highest esteem, but only after we have first understood that God loves us as His children. This reminds me of the verse in 1 John which says:
"See what great love the Father has lavished on us that we should be called the Children of God! And that is what we are!" (1 John 3:1)
After this, Jesus asks us to pray that God's perfect will be accomplished here and now: "Your Kingdom come on Earth as it is in Heaven."
Then we get to the petition part. This is where things get interesting.
Notice: Jesus does NOT tell us to pray for "MY daily bread" or to "forgive MY sins" or "Lead ME not into temptation." Instead, what does Jesus say? He instructs us to pray this way:
"Give US our daily bread…"
"Forgive US our sins…"
"Lead US not into temptation…"
This is a prayer for one another. It's an instruction to pray for our brothers and sisters in Christ. Certainly we are included in the "Us" but we are not the subject. We are only included because we are members of His Family. Remember: He is OUR Father.
The beginning of the prayer is about God – He loves us. He is our Father. We are His Children.
The rest of the prayer is about community – Feed us. Forgive us. Protect us. Lead us.
This is how Jesus wants us to pray. He wants us to begin by taking the time to remember who God is – and who we are – and then he wants us to take the time to lift up one another, and to remember we all share the same physical needs, spiritual needs, and emotional needs.
In other words, Jesus wants us to continually pray persistently this prayer – because we need to remind ourselves constantly that God loves us, that God is our Father, and that we belong to one another.
Jesus wants us to pray persistently for one another – because we're all weak and we all need to remember that our brothers and sisters need food, and forgiveness, and protection.
So, this realization is especially relevant for the time we live in now. As we isolate ourselves from one another, as we practice this social distancing, let us not forget that we are all in this together. We are all children of a God who loves us. We are all brothers and sisters. We should pray to remind ourselves of this, and to lift one another up daily to consider the well-being of everyone around us.
Bottom line: The Lord's Prayer is a reminder of our connectedness. It's a prayer of community. It's about realizing that we are not alone, and we cannot survive alone. We need one another. We belong to one another.
Everyone is a member of your family. Everyone is related to you.
"Am I my brother's keeper?", you may ask, and the answer is a resounding, "Yes!"
So, when you pray, be sure to remember that God is "Our" Father, not merely yours. And this same Father of all desires that you and I remember one another in our prayers. Do we all have our daily bread? Have we all received our forgiveness – from God and from one another? Are we all considering the needs of our community?
This is how we survive the next few weeks, and quite honestly it's how we survive as a species. Love is our only hope. Maybe it's time we started to take this a bit more seriously?
**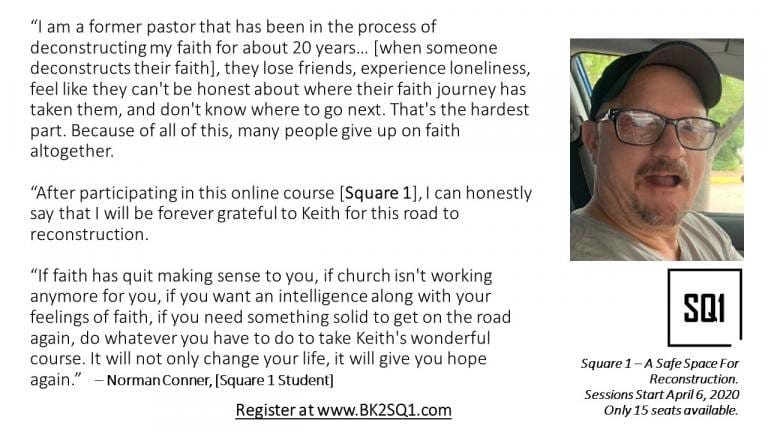 Deconstruction is painful. Reconstruction isn't easy. If you need someone to help you walk through it step-by-step, this 90 Day Online Course is for you.
Save 50% on Round 3 of Square 1 for a limited time. Course starts April 6. Only 15 seats available.
Learn more and Register HERE
Keith Giles was formerly a licensed and ordained minister who walked away from organized church 11 years ago, to start a home fellowship that gave away 100% of the offering to the poor in the community. Today, He and his wife have returned to El Paso, TX after 25 years, as part of their next adventure. They hope to start a new house church very soon.
Want Keith to come speak at your church or in your home town?
Send an invitation
HERE