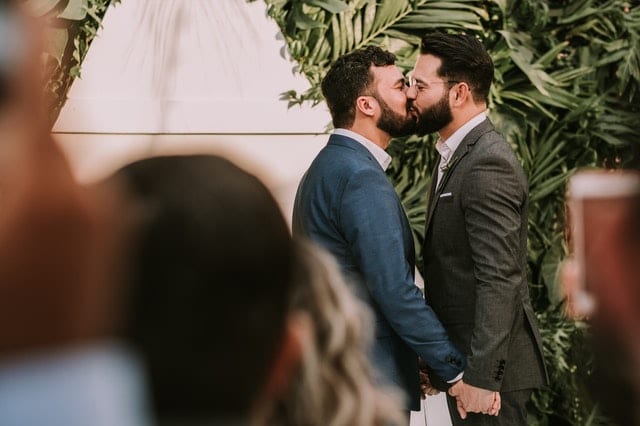 It's probably one of the most ironic things about the entire Bible: Everything is leading up to one massive global same-sex wedding where Jesus will take the Church as His Bride and everything will culminate in the world's largest same-sex [multi-sex] wedding feast of the Lamb.
It's true. Just read Revelation 19:6-9:
The Marriage Supper of the Lamb
6 Then I heard what seemed to be the voice of a great multitude, like the roar of many waters and like the sound of mighty peals of thunder, crying out,
"Hallelujah!
For the Lord our God
the Almighty reigns.
7 Let us rejoice and exult
and give him the glory,
for the marriage of the Lamb has come,
and his Bride has made herself ready;
8 it was granted her to clothe herself
with fine linen, bright and pure"—
for the fine linen is the righteous deeds of the saints.
9 And the angel said to me, "Write this: Blessed are those who are invited to the marriage supper of the Lamb." And he said to me, "These are the true words of God."
Yes, I know, this is all very symbolic language. But it's still the case that Jesus will "marry" himself to the Bride of Christ which is at least 50% male.
Christian men – who incidentally run the Church almost exclusively – tend to avoid this topic.
Why? Because it makes them feel a bit queasy, to be honest. They don't like the fact that they are considered "The Bride of Christ" and that Jesus will be their "Husband" in the afterlife.
This reference in Revelation 19 isn't the only scripture that emphasizes this arrangement either. Just look at what the Apostle Paul says in Ephesians 5:31-32
"For this reason a man shall leave his father and mother and shall be joined to his wife, and the two shall become one flesh. This mystery is great; but I am speaking with reference to Christ and the church."
Notice how Paul uses the imagery of a husband and a wife engaged in an intimate encounter to describe how Christ and the Church are to "become one flesh"? Yeah, that's a little creepy for many Alpha Male pastors and Bible teachers who want to identify themselves as strong leaders with authority.
So, where do Paul and John get this intimate marriage imagery from? Jesus, of course.
In the Gospel of John, Jesus says this:
"Now this is eternal life: that they know you, the only true God, and Jesus Christ, whom you have sent." (John 17:3)
See that word "know" that Jesus uses here? It's not the word in the Greek for "knowledge" or "information." Nope. It's the word "ginōskō" and it's the same word used to describe how a husband "knows" his wife so that she can conceive new life within herself.
In other words: It's the term for sexual intimacy.
Yep. Jesus says here that eternal life is when we have such an intimate encounter with God and with Jesus that we conceive something new within our spirit.
So, let's be clear: The Bible is not squeamish about describing an intimate relationship between God and men [or women]. This connection isn't sexual, of course, but it does challenge some of our notions about sexuality and gender identity in ways that are quite fascinating to explore.
For example: Part of what makes some men uncomfortable about this sort of language – where they will "marry" Jesus and become the "Bride of Christ" – stems from the underlying assumption that God is male. But, as we've discussed here on this blog several times, God does not have a penis.
In fact, God has no gender at all. If anything, when the scriptures describe how God created men and women, it says He made them in His image – both of them. So, both Adam and Eve [and Steve] are made in the image of God.
Or, we might say that is not genderless but gender-full. God isn't male or female, but men and women both express the nature and character of God in their maleness and femaleness. Without both expressions of the image of God, the image of God is incomplete.
This is why Jesus was so radically feminist. He honored women, allowed women to sit at his feet and become disciples [just like the men], and commissioned the first women apostles to go and preach his resurrection to the men who didn't believe them at first [because they were women].
Sadly, this pro-female ethic of Jesus was very quickly squashed by later Church Fathers who allowed their patriarchal notions to override and silence everything that Jesus – and Paul – did to honor women, include women as pastors, prophets, evangelists, apostles, teachers and deacons in the early Church. [And this is proven true in early Church history as well].
This same patriarchal system is what's keeping women from praying or preaching in many churches today. It's also what's preventing our LGBTQ+ brothers and sisters from an equal seat at the table, sadly.
But, like it or not, the New Testament authors affirm the notion that everyone in the Body of Christ today is also the Bride of Christ – both men and women – and one day everything in history will culminate in one very large, public and unapologetically scandalous wedding ceremony where Jesus will look into the eyes of several billion men (and women) and say "I Do!" as he takes them to be His Bride.
Deal with it.
**
Keith Giles and his wife, Wendy, work with Peace Catalyst International to help build relationships between Christians and Muslims in El Paso, TX. Keith was formerly a licensed and ordained minister who walked away from organized church over a decade ago to start a home fellowship that gave away 100% of the offering to the poor in the community. Today he is the author of several best-selling books, including "Jesus Undefeated: Condemning the False Doctrine of Eternal Torment" which is available now on Amazon.