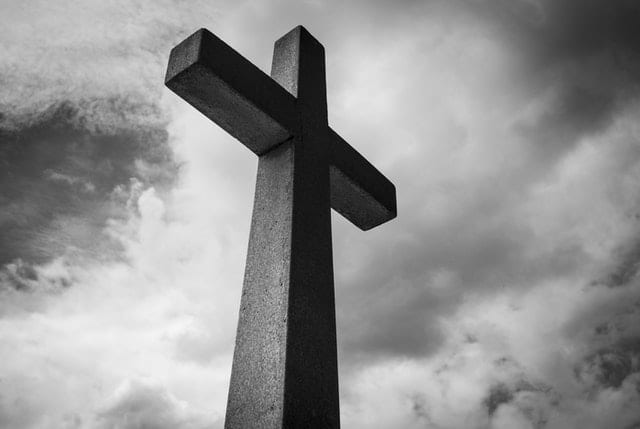 Honestly, I think at least once a week I hear someone invoke the phrase, "This is why Jesus died on the cross" or ask the question, "Why did Jesus have to die?" or some other variation of the concept.
Here's the thing: Jesus did NOT have to die on the cross.
In other words, God did not require Jesus to be crucified to fulfill some mystical prophecy.
However, it is clear that the death of Jesus was expected from the very beginning. So, whereas we might say that Jesus didn't need to be crucified [specifically], it was inevitable and necessary for Jesus to die [or to taste death].
How do we know this? Because once Christ became flesh, death became inevitable. Once Immortality became clothed with Mortality; once the Incorruptible took on Corruptibility; Once God became Man, death was a foregone conclusion. It couldn't have ended any other way.
The decision for Christ to take on flesh indicated an intention to experience death, one way or the other.
So, once the Incarnation took place, the death of Jesus was already in play. Just as everyone one of us who is born must one day taste death, so, too, did Christ agree to die simply by virtue of being united with us in our mortal bodies.
And, I would argue, that the death of Christ – no matter how it had taken place – would have resulted in the salvation and transformation of all mankind, with or without the cross.
The plan all along was for Christ to become incarnate in a body of flesh so that the seed of immortality could be planted into the soil of mortality [death] and the resurrection power of Christ could forever liberate us from the power of the grave.
As Jesus phrased it: "Truly, truly, I say to you, unless a grain of wheat falls into the earth and dies, it remains alone; but if it dies, it bears much fruit." [John 12:24]
So, it was always the plan for Christ to die. This is how the power of death was broken. The resurrection life of Christ invaded the realm of death and turned it inside out. The light of the world descended into the depths of outer darkness and illuminated it from within.
Or, as Paul phrases it in the inverse here in 1 Corinthians 15:
"For this perishable must put on the imperishable, and this mortal must put on immortality. But when this perishable will have put on the imperishable, and this mortal will have put on immortality, then will come about the saying that is written, "Death is swallowed up in victory. O death, where is your victory? O death, where is your sting?" The sting of death is sin, and the power of sin is the law; but thanks be to God, who gives us the victory through our Lord Jesus Christ." [1 Cor. 15:53-57]
See, because Christ the imperishable one took on perishable flesh, and because the immortal one became mortal, we [the mortal ones] are qualified to take on immortality [now that we are all "in Christ" and Christ is now in us].
Whether Jesus had died from cholera, or typhoid fever, or old age, or yes, by the hands of men who nailed him to a Roman cross, is irrelevant. Regardless of the "how", the "what" was always in full view: Christ became flesh and experienced death so that we could put on immortality and share in the life of Christ forever.
Paul says as much in the very same chapter of 1 Corinthians:
"But now Christ has been raised from the dead, the first fruits of those who are asleep. For since by a man came death, by a man also came the resurrection of the dead. For as in Adam all die, so also in Christ all will be made alive. " [1 Cor. 15:20-22]
So, Christ knew he would die from the start. But how he would die wasn't inevitable, or even contingent upon the success of his mission. Once Christ took on mortal flesh everything was set in motion.
To be clear, God did not send Jesus to be crucified. We [humans] decided that Jesus would die in this way. But there was nothing magical or specific about crucifixion itself that accomplished God's plan. Christ's obedience, even unto death on a cross, is what mattered most.
Over the years I think too much has been made about the cross, specifically, as if drowning Jesus would've thwarted the entire salvation operation, or as if food poisoning would've been insufficient for us to have counted his death as a victory over sin and death.
We chose the cross as the means of Christ's death. Peter and the other Disciples say it over and over again:
"…this Man, delivered over by the predetermined plan and foreknowledge of God, you nailed to a cross by the hands of godless men and put Him to death." Acts 2:23
" but put to death the Prince of life, the one whom God raised from the dead, a fact to which we are witnesses." Acts 3:15
"The God of our fathers raised up Jesus, whom you had put to death by hanging Him on a cross." Acts 5:30
"Which one of the prophets did your fathers not persecute? They killed those who had previously announced the coming of the Righteous One, whose betrayers and murderers you have now become;" Acts 7:52
What we did was kill Jesus.
What God did was to raise him up again.
We crucified Jesus.
God did not.
Certainly, Jesus knew that he would most likely be crucified by the Roman authorities. That wasn't hard to guess. Even Plato predicted, hundreds of years prior to Christ, that a truly righteous man would be beaten and crucified if we ever got our hands on him. [See Plato's Republic, Book II.360-61]
So, while the death of Christ was inevitable, his crucifixion was not.
The answer, then, to the question, "Why did Jesus have to die?" is answered simply: "Because he became human at his Incarnation."
But the answer to the question, "Why did Jesus die on the cross?" is answered by admitting that our reaction to Christ's innocence, righteousness and radical love was to nail him to a cross.
Yes, Jesus died "for our sins" in that it was our sins that nailed him to the cross. But, even as we were in the process of nailing him there, his forgiveness was instantaneous and complete. "Father, forgive them, for they know not what they do."
In Christ, we are reconciled to God. In Christ, our sins are not being counted against us. In Christ, we experience freedom and newness of life.
Our choice was to crucify. His choice was to love and forgive.
**
FREE DOWNLOAD: The e-book "Unraveled: More Thoughts On Christian Entanglement" by Keith Giles is available now as a free PDF. If you'd like a FREE download of the entire 85-page book, you can grab one HERE
Keith Giles and his wife, Wendy, work with Peace Catalyst International to help build relationships between Christians and Muslims in El Paso, TX. Keith was formerly a licensed and ordained minister who walked away from organized church over a decade ago to start a home fellowship that gave away 100% of the offering to the poor in the community. Today he is the author of several best-selling books, including "Jesus Undefeated: Condemning the False Doctrine of Eternal Torment" which is available now on Amazon.