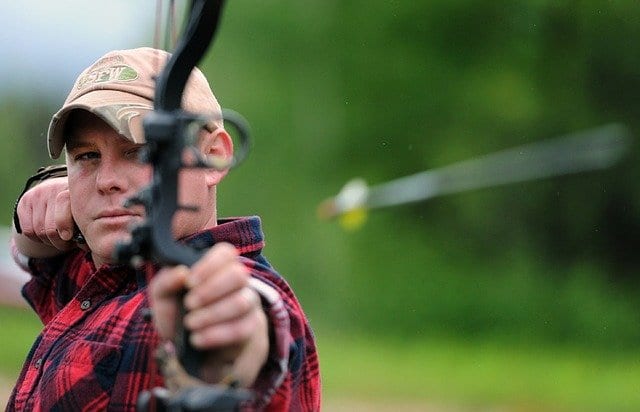 We often think of sin as "missing the mark", but I want to us to think about sin in this way for a moment. Or better yet, I think we need to re-think how we look at sin in this way.
For example, we often say that sin is to "miss the mark" in the sense that the "mark" is total perfection. Since we all fail to be perfect or "sinless", then we are all doomed. But I think that's the wrong way to think of it.
Here's why: Would it be sinful for a giraffe to fail to read French? Would it be sinful if an otter couldn't play Jeopardy? Of course not. But why? Because reading French isn't something any giraffe can do. Therefore, it's not "missing the mark" if a giraffe can't do it.
Looking at the verse in Romans that informs our assumptions about sin as missing the mark might help:
"For all have sinned and fallen short of the glory of God." [Romans 3:23]
So, what is "the glory of God" that we have fallen short of?
This is the key.
If we look at references to "the glory of God" in the scriptures we'll see early on this amazing verse in Exodus:
"I cry out to you with everything that is in me: show me your glory, …God answered his cry and revealed His glory to him [Moses], this is what our God is like: He is merciful, he is gracious, he is long-suffering, and He is abundant in goodness and truth." [Exodus 33:18-19]

Wow. Did you see it?
Moses asks to see the Glory of God and God's response is to how him His goodness, grace and compassion [or mercy].
So, if the Glory of God is essentially the goodness, grace and mercy of God, then if we have fallen short of the glory of God we have simply failed to be like God; full of goodness, kindness, grace and mercy towards others.
That's a far cry from being "perfect", unless you understand that Jesus redefined the Holiness of God, or "being perfect as God is perfect", as exactly the same thing: to express kindness and compassion to everyone, even our enemies. [See "How Jesus Redefined The Holiness Of God"]
Putting these ideas together, we can see that "falling short of the glory of God" is not failure to be sinless. It's a failure to express the goodness, kindness, mercy and grace of God to one another.
In other words, it's not a sin for a giraffe to fail at algebra, but it IS a sin for a giraffe to fail at being the giraffe she was always intended to be.
To put it another way, it's not a sin for us to fail at perfect sinlessness. But it is a sin to miss the mark of being Christlike as we were created to be.
Over the weekend as I was discussing this topic with our Square 2 group, one of our friends said this: "What if we are the glory of God?"
We all had to stop and catch our breath as she said it.
Slowly it started to sink in.
She was right.
We are all created in the image of God. God is love. Therefore, we are all intended to reflect the glory of God – our identity in Christ – and whenever we fall short of that, then we've failed to live up to our true self; our true nature, as children of God.
Then it just kept getting better. Hours later the group kept messaging one another and posting in the private Facebook group thinks like:
II Cor. 3:18 And we all, who with unveiled faces contemplate the Lord's glory, are being transformed into his image with ever-increasing glory, which comes from the Lord, who is the Spirit.
John 17:22 I have given them the glory you gave me, that they may be one as we are one.
AND this:
"The other cool thing about this is, about two weeks ago, I texted a friend and asked them "what does that even mean, the Glory of the Lord." I was kinda asking it in somewhat of a snarky manner, not towards him, but just in general, as in so many "movements" the Glory of the Lord is prophesied, and honestly, it's like it has become a catch phrase for certain evangelical prophetic movements (I could name so many). I was fed up with it back then and for some reason it sickens me when I hear it now because it just means NOTHING. It feels empty and pointless. BUT THIS…. that WE are God's Glory, it is sooooo life giving and compassionate. I was driving through a Walmart parking lot and I saw a lady, and it hit me "She IS the glory of the Lord" ❤️ It's just healing and will help me with people I struggle with, also."
AND this…
"…because Christ has forgiven our sins, we are now free to be who we were always created to be in Christ – sons and daughters of God who reflect the glory of God by the ways we show love and mercy and grace and compassion!"
AND this…
"What if sin is simply unbelief in the love God has for us? Repentance is changing the mind. Sin is having thoughts that need to be changed? God woos us into His Love, it's on Him/Her just as it is our responsibility as parents to reassure our love to our children. I'm handing the "bow [and arrow]" to Him now!"
What's more, if we go back to that original passage in Romans 3, we'll see just above that verse a long list of things that we have all done in our sinfulness, and that list is the exact opposite of the "glory of God" we are called to manifest: love, kindness, compassion and mercy.
So, while we may have [in the past] fallen short of this glory of God, the good news is that now, because Christ has removed our sins from us forever, we are all capable of reflecting the glory of God in our lives today!
We are not "sinners" but children who reflect the glory of God our Father.
Halleluiah!
Rather than focus on being sinless – which isn't even the goal or the point of this passage – we can, instead, focus on being the beloved children of God who are now empowered to fully reflect the glory of God by producing the fruit of love, joy, peace, patience, kindness, gentleness and self-control.
We are not giraffes failing to speak French. We are not sinners failing to reach some perfect state of sinlessness.
We are children of God who are learning to reflect the glory of God by simply resting in the fact that we are God's children and God is our loving Father. We are learning to abide in this reality so that our lives can fully reflect God's glory.
Once we saw sin as missing the mark of perfection the way an archer misses a target that is a thousand miles away and behind a tree. Today, we understand that missing the mark and "falling short of the glory of God" equals failing to be who I already am in Christ.
This means that taking up the bow and arrow now simply means learning to rest and abide in Christ. It means learning to realize my identity is based in the fact that I am one who is already loved, valued and treasured by God.
This means I can begin to produce the good fruit of love, joy, peace, patience, kindness, gentleness and self-control as I abide in Christ.
There was a time when we fell short of this glory. But that time is past. Today we are among those who understand that God is Love and all who live in Love live in God and God lives in them.
This is good news, my friends.
This is very, very good news.
**
NEW ONLINE COURSE: Starting Sept. 7 I'll be leading a new 3-week online course called "Rethinking the Second Coming of Christ: Exposing Dispensational Rapture Theology". Learn more and register HERE>
Keith Giles and his wife, Wendy, work with Peace Catalyst International to help build relationships between Christians and Muslims in El Paso, TX. Keith was formerly a licensed and ordained minister who walked away from organized church over a decade ago to start a home fellowship that gave away 100% of the offering to the poor in the community. Today he is the author of several best-selling books, including "Jesus Undefeated: Condemning the False Doctrine of Eternal Torment" which is available now on Amazon.