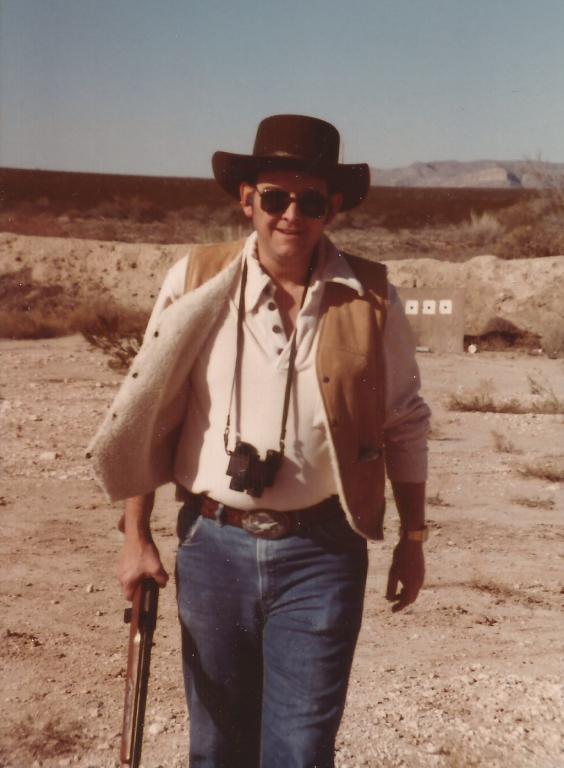 I don't know about you, but I really hate it when you go to a Funeral or a Memorial Service and they stand up and say things like, "He was always happy" or "She never complained about anything" or "He always made everyone laugh", because we all know that's not true. No one is every "always" anything.
Now, my Dad could be the sweetest, kindest, most thoughtful and encouraging person you've ever want to meet. But he could also be the most infuriating, aggravating, difficult and stubborn son of a gun the world has ever known.
You know, just like you, and me, and everyone else.
But, I want you to know, I loved everything about him. Because he was all of those things, and so are we, and so am I.
I loved the good and the bad. The happy and the sad. The aggravating and the inspiring.
The other thing about services like this is how impossible it is to summarize someone's life in a 20 minute eulogy – especially someone like my Dad.
It can't be done.
So, I'll just try to hit the highlights for you. It should only take a few hours or so.
Mom and I were talking a few weeks ago about Dad and she said, "There were peaks and there were valleys. I choose to remember the peaks and forget the valleys."
I think that's good advice. So, in the time we have now, I'll do my best to share just a few of those peaks with all of you today.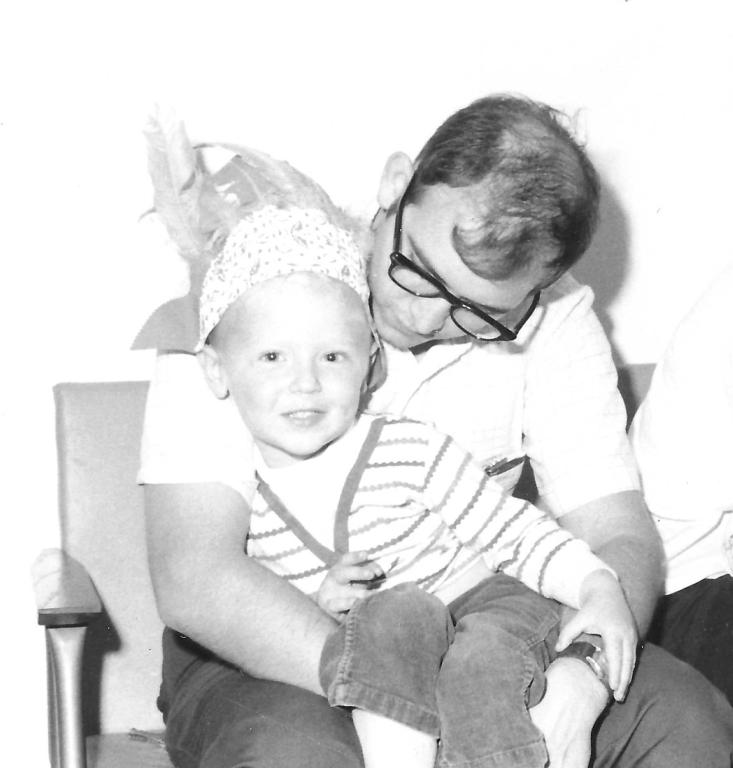 One of my very first memories was of holding my Dad's hand as we crossed the downtown square in Brownsville, TN. In my memory, Dad's hand was so big, and mine was so small, I was really holding on to his finger, which filled up my tiny hand. He said, "Would you be my buddy?" and I said, "Yes, Dad. I'm your buddy and you're my buddy."
That was our secret name for one another: "Buddy"
Some of you may not know that my Dad went by more than one name. His full name was "Thaddius Eugene Giles", so some people called him "Eugene," and some called him "Gene" and his family called him "Butch" for some reason.
I just called him "Dad."
Mom reminded me that, when she and Dad first got married, they had everything: A new house, a new car, a truck, a camper, good jobs, and everything was wonderful – until it all seemed to fall apart.
Mom and Dad nearly got divorced, and soon after they reconciled, Dad took a transfer and we moved to Texas when I was very young.
We ended up in a little border town called Eagle Pass, TX. Dad worked across the Rio Grande in Piedras Negras, Mexico at the Sarkes Tarzian TV Tuner plant. He was the plant manager.
We looked around for churches. Nearly became Mormons. Worse than that, we nearly became Methodists.
Eventually, we found the Lighthouse Freewill Baptist Church and their pastor, Vance Link, from North Carolina made us feel right at home.
That was the little church where we all 3 got saved and baptized at the same time. I'll never forget that day. The water in the baptistry had the biggest cockroaches I've ever seen in my life. We here too happy and filled with the joy of Christ to care.
You probably don't know that my Dad used to sing gospel songs on the radio station. When we moved to El Paso, he became a Deacon, first at Tigua Baptist Church in the Lower Valley where my friend, Ben Vincent's Grandfather was the pastor at the time. He also later served as a deacon here at Cielo Vista church for several years.
When Mom and Dad bought the house they're living in today, they both felt like it was a miracle; a gift from God. So, my Dad was determined to give that house back to God as a "Thank You" – they hosted youth bible studies, home groups, small groups and various other Bible studies over the years.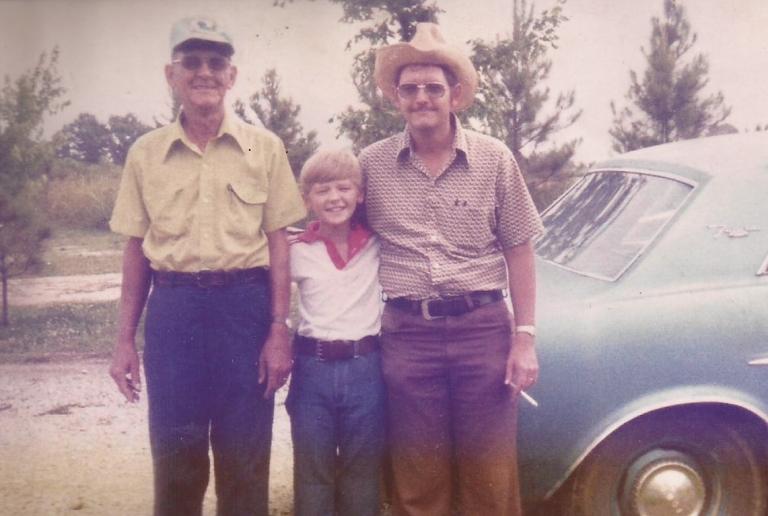 No matter how many times I told him, or wrote it down in a Father's Day, Birthday, or Anniversary card, my Dad never believed he was a good Father. "You must be thinking of someone else," he'd say.
So, let me tell you some stories and I'll let you all decide.
My Dad trusted me to make good decisions, even though he had no reason to. I can remember one night when, as a Senior in High School, I wanted to go to a party and stay out after midnight with my friends. My Dad looked me in the eye and said, "Son, you're almost a man now. I'm not going to tell you what to do. I just want you to know that if you do go to that party and stay out all night, your mom won't go to sleep until she hears you come home."
He let me make up my own mind. He gave me the situation and trusted me to do the right thing. When I got home a bit earlier that night, I felt more like I was becoming a man – not because I had stayed out late goofing off with my friends, but because I had made the adult decision to consider the needs of others rather than my own.
Dad also really pushed me to go to college. He wanted so much for me to be the first Giles to get a Bachelor's Degree. A few years later, after I got that degree, I learned just how wise that decision was for me at the time.
Isn't funny how much smarter your parents get once you leave home?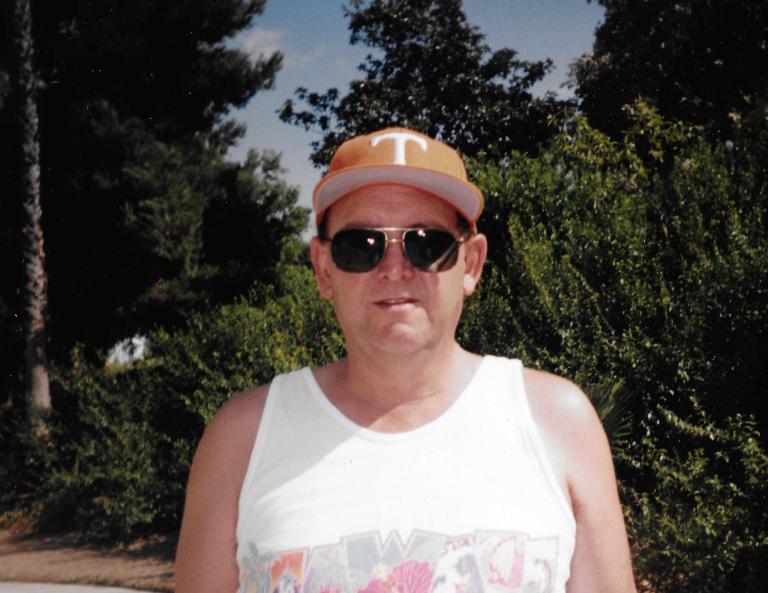 The day before I got married, my Dad gave me some advice. He said, "Treat her like a Queen and you'll always be the King of your castle."
I'll also never forget the day my Dad helped me to write the resume and cover letter that he knew would likely take me away from El Paso to a job in California where we lived for over 25 years.
I was grateful to him for that, and I knew it wasn't an easy thing for him to do.
My Dad had a lot of great sayings. I know he probably picked them up from the radio, or tv shows, or movies he watched growing up. But to me, they were Dad's sayings.
The one's I can say out loud in a Church are:
"When you don't do nuthin' you can't stop and rest"
"I can be bought, but I'm not cheap"
"I was better, but I got over it"
"Good stuff Maynard!"
"A hundred years from now, who will care?"
"How can you save money by buying something?"
"I used to be fast. Now I'm only half-fast"
"He doesn't stand the chance of a fart in a whirlwind."
And one of my favorites: "That is slicker than snot on a doorknob"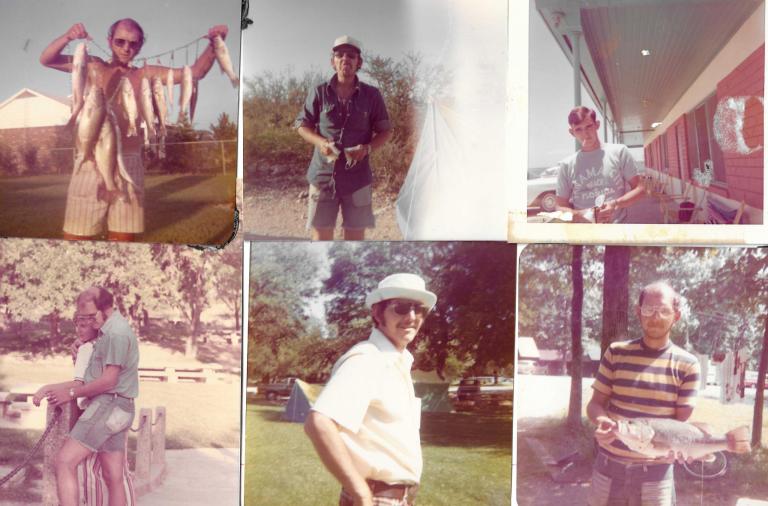 My Dad also used to tell some great stories. One of my greatest regrets was never sitting down to record those for my kids and potential grandchildren someday. I loved hearing him talk about the time he caught a wild squirrel and kept it as a pet until it bit him one day; about the time he saved up his paper route money to buy a scooter, and one day taking a short cut through a neighbor's yard only to discover someone had recently put up a new clothesline that knocked him off his scooter. Later, he hit a mailbox riding that same scooter while delivering papers and broke his collar bone. He tried to hide it from his mom for about a week but eventually she found out and all he cared about was that she not take away his scooter.
He told me stories about driving with his dad in his delivery truck the time the brakes went out coming down a mountain and how they were so happy when the reached the bottom of the hill without dying, only to hear a train whistle and realize they about to cross paths with the Southern Pacific express a few yards ahead. Obviously, they made it, but just barely.
My Dad used to race cars. He had an old police cruiser that he tricked out and after beating everyone he knew in his county, he heard about a guy down the road who had never been beat. So, my Dad drove down one Saturday, challenged him to a drag race and then, just before they had to be on the line for the drag race, he quickly changed his back tires to these heavy snow tires that had metal spikes on them. He dug a hole in their new tarmac at the jump, but he still beat the guy to the finish line. They paid him, but also invited him never to come back again.
Dad loved to fish. I hated it. But, I still made an effort to go out on weekends with him to Amistad Lake, or Elephant Butte, or Caballo Lake to fish.
On one trip my Dad had me driving his bass boat while he sat at the very front casting his reel in a lightning storm. The waves were bouncing us up and down. The wind was nearly blowing us off the lake. Dad kept yelling back to tell me to get us closer to the shoreline of this little island. I would hit the gas to move us closer, the waves would swell back so high we could see the bare rocks under the shoreline, and then everything would swell forward again and I'd have to throw us into reverse to keep the boat from slamming into the dirt. "Get Closer!" Dad kept yelling and I kept wondering if this was how I was going to die.
The second time my Dad tried to kill me, my Mom and Dad and I were camping together and another storm came up that was so strong our tent was literally beginning to float down the hill. So, around 3am Dad tossed me his keys and told me to start the truck while he and Mom gathered our stuff. I unzipped the tent, stuck my head out into the pitch black rain just in time to see a lightning bolt hit the ground between us and the car. When I jerked my head back inside, Dad looked me and said, "Why are you still here? It missed you, didn't it? After all, they say lightning never strikes the same place twice."
The third time my Dad tried to kill me, we were driving about 75 miles an hour down an unmarked road somewhere in the desert north of Montana in the middle of nowhere. Just as our little Ford Bronco topped the hill, we saw that the road had washed out just about 50 yards ahead. We had just enough time to skid to a stop if my Dad hit the brakes at the very moment. But, to my horror, he gunned the throttle and said, "Hang on! We're going in!" and – to this day I really don't know how – we managed to jump the 10 foot gap in the road and land on the other side without a scratch. When we came screeching to a halt, Dad looked at me and said, "Let's do that again!"
That's when I opened the door and got out.
You know, it's funny. I never realized how many of my best memories with my Dad were about flying in the face of danger.

One of the tamer things my Dad and I used to love to do was shoot pool together. I don't think I ever beat him. Maybe I'd win a game or two here or there, but most of the times we played pool together, Dad took the prize. Even the last time we went out playing together only a few months before he died, with his portable oxygen tank and his dementia, Dad still beat the snot out of me.
In fact, just above you'll see some pictures of my Dad shooting pool. Those are the last pictures I ever took of my Dad.
Now, I didn't know those would be the last pictures of him, of course. But, that's the way it goes, I guess.
When Wendy and I moved back to El Paso at the end of 2019, we had no idea that we would be here for the last year of my Dad's life. I am so grateful for that year we had together.
During the time when my Dad's dementia started getting worse, he stopped driving. Mom remembers how determined he was to let her learn to do everything for herself. He wouldn't pump the gas, or call the mechanic, or even go with her to the auto parts store when they needed something. As frustrated as she was at the time, she said she realizes now that he was preparing her for a life without him.
But, since he didn't drive, my Dad used to handmake cards for my Mom every holiday. He was always very romantic; holding Mom's hand, telling her how much he loved her and how beautiful she was. He always said that, out of all of those Ferrell girls, he got the pick of the litter. I think he was right.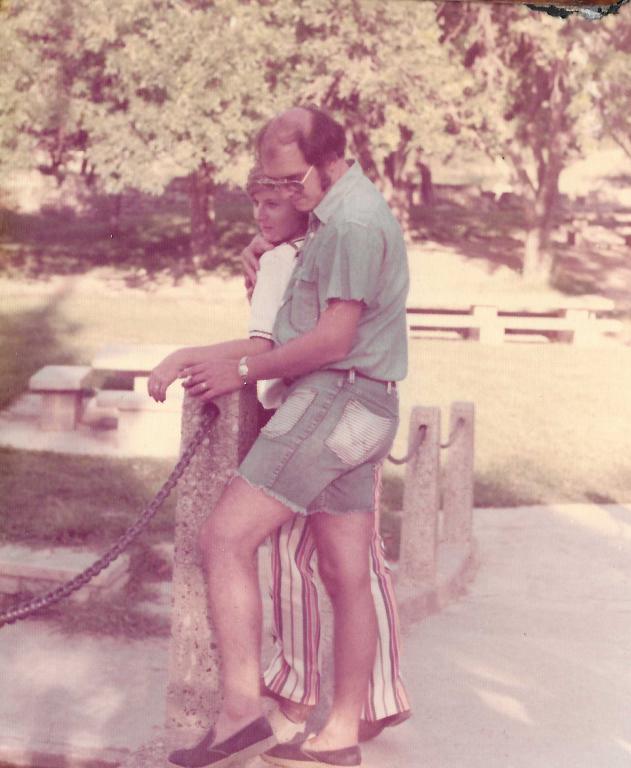 You wouldn't know it from the way my Dad acted, but he had a lot of pain in his life. His parents divorced when he was in Technical School and didn't even tell him they had moved, so when he came home for Christmas their house was empty and he had to call his older sister to get the news.
A few years later, his very best friend Moose died from a sudden brain hemorrhage only a few days before Mom and Dad's wedding.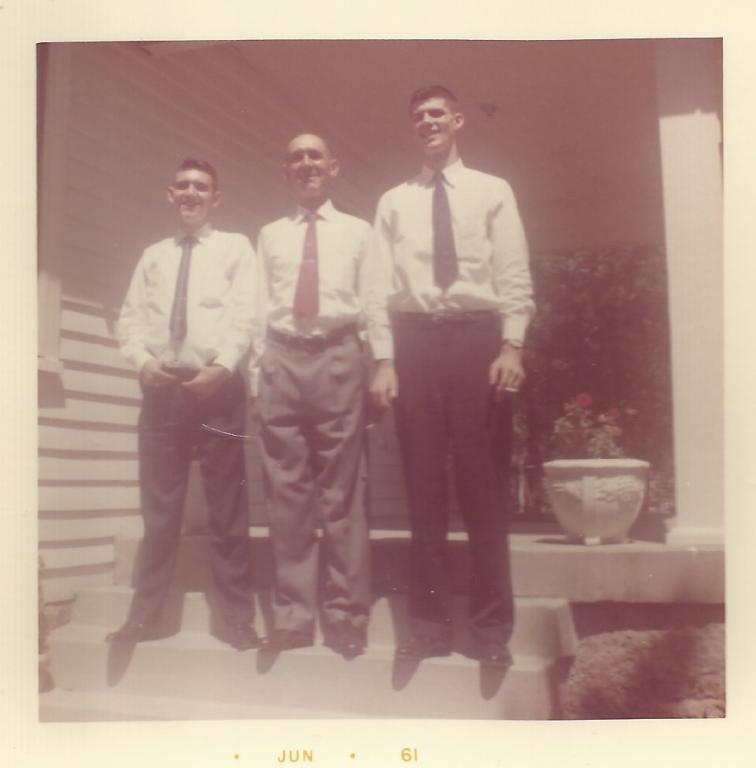 Still, Dad kept a lot of that pain to himself. Instead, he tried to make other people smile and that made him happy, too.
One of the most remarkable things I've discovered recently about my Dad is how much of an impact he made on so many people. The other day we went to a Chinese restaurant down the street where Mom and Dad used to go often. When Mom told the waitress that Dad had died, she broke down into tears.
When the guy from the company where Dad got his oxygen supplies from came to remove the equipment, he cried and told Mom how much he always loved visiting our house because my Dad made him laugh. "I always left your house in a better mood because of Gene," he told my Mom.
I'm very grateful for the last few days we had with my Dad. He had spent 10 days in the hospital for pneumonia, and when they sent him home he was worse than when he went in. But, we thought he was going to get better after a few days of rest.
During those 2 days, I got to wash my Dad's feet, and he wanted a shave so I got to shave his face with a razor. It was as if I was preparing him for his journey into the next life.
The night before he died, he made a point to take my hand, look me in the eye and let me know how much he loved me, and how proud he was of me and what I'd accomplished with my writing and my books.
He told Mom that he was happy and that he loved her.
The morning he died, Dad sat up, took a drink of water, took off his oxygen line, put on his glasses, and fell backwards.
For us, that meant falling back on to the bed, but to him, I think he fell back into the arms of Jesus. That's where he is right now.
There's a verse in the Bible that says: "To be absent from the body is to be at home with the Lord."
I want you to know he's fishing with his Dad, and laughing with his sister Faye and his Mom, and his best friend Moose.
He's more alive today than he's ever been before.
If you knew my Dad, you also know that he loved Jesus with all of his heart. His faith in God was what gave him strength and joy when he needed it most.
If Dad could speak to us now, he would want you to know that he is not gone. He is more alive today than he has ever been.
When Dad closed his eyes here for the last time, he opened them again for the first time in the next life.
Right now, my Dad is in the glorious presence of the One who would rather die than live without him.
Dad is resting now, breathing deep and free the air of Heaven. Full of joy, free of pain, dancing in the presence of God and looking forward to the day when he will see all of us again.
In the Gospel of John, Jesus assures us:
"I am the resurrection and the life. Anyone who believes in me will live, even after dying. Everyone who lives in me and believes in me will never ever die."
"Don't be troubled. You trust God, now trust in me. There are many rooms in my Father's home, and I am going to prepare a place for you. If this were not so, I would tell you plainly. When everything is ready, I will come and get you, so that you will always be with me where I am."
In the letter to the Church in Rome, the Apostle Paul wrote this:
"I am convinced that nothing can ever separate us from the love of God. Neither life or death; neither angels nor demons. Not the future, nor the past. Neither height nor depth. No, nothing in all creation will ever be able to separate us from the love of God that is revealed in Christ Jesus our Lord."
So, even as we shed our tears of sorrow here today, we hold on to the blessed hope that this is not the end. Not for Gene Giles, and not for any of us.
We are all connected to one another, and to God through Christ who loves us with a love that is higher, wider, longer and deeper than anything we could ever imagine…a love that will never let us go, and a love that nothing – not even death – could ever separate us from.
This is not the end. This is not the final Farewell. We will see our dear friend, and husband, and father, again one day very soon.
For now, we are grateful for the life he shared with us, for the joy he brought into our lives; for the laugher, and the memories we will always treasure whenever we think of him.
Treasure those feelings, even if it hurts a little. That big hurt speaks to an even bigger love. And that love will never end. That love will never die. Because, as it says in 1 John 4:16, "God is love, and all who live in love live in God, and God lives in them."
One day our sorrow will be replaced with joy. Our sadness will give way to rejoicing. Our broken hearts will be made brand new again in the presence of God.
That's where my Dad is right now. He is more alive today than he has ever been before.
Again, the Apostle Paul assures us in 1 Cor. 2:9 "No eye has seen, no ear has heard, and no mind has imagined the things that God has prepared for those who love him."
Dad's eyes are seeing these things now. His ears are hearing and his imagination is filled with all of these beautiful things that God has prepared for him in advance.
One day we'll see those things, too. One day, and it won't be long now, our ears will hear and our minds will experience these glorious and beautiful sights and sounds where the God who is Love welcomes us into their Presence, forever.