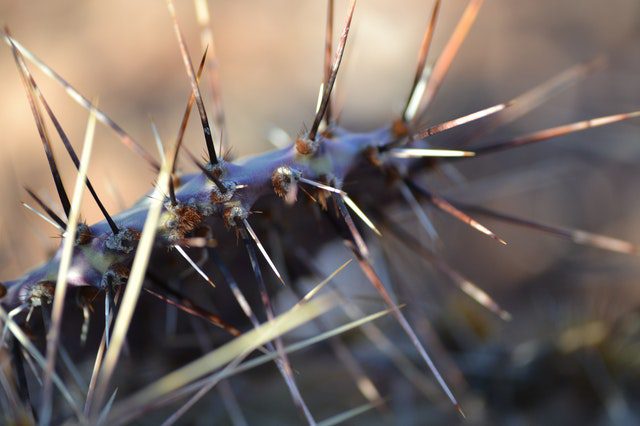 For some reason, people have made a big deal about Paul's mysterious "thorn in the flesh" over the last few decades.
There are those who are convinced that his thorn was code for his inner struggle with homosexuality. Others are convinced it was some sort of spiritual/demonic attack. Still, others argue that it was a reference to the Jewish authorities who did everything to make his ministry as difficult as possible.
I don't believe any of those theories are true. In fact, I find almost zero evidence for these, but to be honest, I'm not very interested in arguing very much about it.
However, the other day a dear friend asked me about this and when I gave him my answer he suggested that a blog post on this topic might be helpful [or at least "interesting"] to more people than I might think.
So…in the interest of sharing some trivial insight into this question, here's what I believe Paul's "thorn in the flesh" really was.
We have two big clues when it comes to answering this question.
First, when Paul writes the ending to his epistle to the Galatians:
"See with what large letters I use as I am writing to you with my own hand." [Gal. 6:11]
Note that this is Paul's first epistle, chronologically, and yet already early on in his ministry he lets us know that his eyesight isn't so great. This is why, as he writes the final salutation in his letter, he makes note of the fact that his eyes are too weak for him to see his own handwriting.
This is significant.
Our second clue is also found in the epistle to the Galatians where Paul makes this very odd statement:
"What then has become of your blessedness? For I testify to you that, if possible, you would have gouged out your eyes and given them to me." [Gal. 4:15]
Notice here that Paul seems to make another reference to his eyesight. This time insinuating that the disciples in Galatia were so concerned about his failing vision that, if they could, they would taken out their own eyes and given them to Paul. Why? So he could see clearly again.
None of this should surprise us if we remember how Saul of Tarsus become the Apostle Paul in the first place: He was knocked to the ground after seeing a blinding light in the noon-day sky and then suffered blindness for three days until he was healed by another disciple, with something like scales falling from his eyes in the process. [See Acts 9:16-17]
So, Paul's eyes were a constant reminder of his conversion, and his calling, into the work of the Gospel the peace. Much like how Jacob's hip was knocked out of the socket after wrestling with God all night, Paul's eyesight continued to be a "thorn in the flesh" for him that he prayed would be removed from him on 3 different occasions. Each time the answer came back: "My grace is enough for you."
Let's look a bit closer at the actual passage where Paul mentions his "thorn in the flesh" for some context:
"So to keep me from becoming conceited because of the surpassing greatness of the revelations, a thorn was given me in the flesh, a messenger of Satan to harass me, to keep me from becoming conceited. Three times I pleaded with the Lord about this, that it should leave me. But he said to me, "My grace is sufficient for you, for my power is made perfect in weakness." Therefore I will boast all the more gladly of my weaknesses, so that the power of Christ may rest upon me. For the sake of Christ, then, I am content with weaknesses, insults, hardships, persecutions, and calamities. For when I am weak, then I am strong." [2 Cor. 12:7-10]
Whatever this "thorn in the flesh" was, Paul says it was something that was necessary "to keep me from becoming conceited", or to help him remain humble. I think struggling with his eyesight might fit the bill, here.
We are also told that this "thorn in the flesh" allowed him to "boast all the more in my weakness" because Paul realized that this weakness in his flesh was – somehow – a catalyst for the power of Christ to be revealed in him.
In other words, it's when people see our weaknesses, they give glory to God because they realize that whatever influence or power or authority we have is not from within ourselves but from the inner spirit of Christ that works through us, in spite of our frailty.
Or, as Paul phrases it elsewhere:
"But we have this treasure in jars of clay, to show that the surpassing power belongs to God and not to us. We are afflicted in every way, but not crushed; perplexed, but not driven to despair; persecuted, but not forsaken; struck down, but not destroyed; always carrying in the body the death of Jesus, so that the life of Jesus may also be manifested in our bodies. For we who live are always being given over to death for Jesus' sake, so that the life of Jesus also may be manifested in our mortal flesh. So death is at work in us, but life in you." [2 Cor. 4:7-12]
Honestly, I struggle a bit with this way of thinking. At one time this sort of made more sense to me, but lately I'm bristling at the notion that God "allows" or "brings" suffering to us for any reason.
Rather, I tend to look at it in the sense that, in everyone's life, "Sh*t Happens", and that, when it does, God works with us and through us to bring good out of that suffering.
But, this doesn't mean that God is the author of our suffering, or that God "allows" it to remain. It simply means that, whatever struggle we endure, we never endure it alone. God's Spirit surrounds us, the presence of Christ dwells within us, and together we work [or discover] the "good" that might possibly come from our struggles.
NOTE: I covered more in-depth in this article: "Does God Work All Things Together For Our Good? Not Exactly."
So, for me, the question of Paul's thorn in the flesh is most likely his failing eyesight which was a constant reminder for him of that day on the road to Damascus when he first encountered the risen Christ who blinded him, transformed him, and set his life in a new direction.
You may disagree. If so, that's okay. It's not something I really care to debate about. Maybe I'm wrong. Maybe I'm right. At the end of the day, what difference does it really make? [None].
Hopefully, this article stimulates your thinking or inspires you to think a little deeper about suffering, weakness, and how good can come from our deepest wounds.
If so, then that is what might make this worth sharing with all of you.
**
A few years ago, I came to the realization that I was more "American" than "Christian" and – with the help of the Holy Spirit – I began to slowly untangle my faith from my politics. That's when I wrote "Jesus Untangled: Crucifying Our Politics To Pledge Allegiance To The Lamb" which was published the same day Donald Trump was inaugurated as President of the United States.
Since that time, the American Church has become even more entangled than I could have ever dreamed, and the divide between families, churches and neighbors has only grown more toxic and hateful.
What can we do?
Well, I have a few thoughts about this and if you're curious about how we can find common ground again, I invite you to join me for a 3-week online course starting October 4th.
Jesus Untangled is based on my best-selling book of the same name and offers deeper insights and practical resources for identifying the reasons why our faith communities and relationships are so deeply divided along political lines, and – best of all – shows us a clear way out of the tribal nationalistic ways of thinking into a more Christlike way of relating to one another.
I really hope you'll join us for this Jesus Untangled course. Our nation and our churches are in desperate need of healing, today. We need all the healing we can get.
**
Keith Giles is the author of the best-selling "Jesus Un" series of books available on Kindle and Paperback at Amazon HERE>
He's also the co-host of The Heretic Happy Hour podcast, the Peace Catalyst Podcast, and the new Imaginary Lines podcast.
He lives in El Paso, TX with his wife, Wendy.