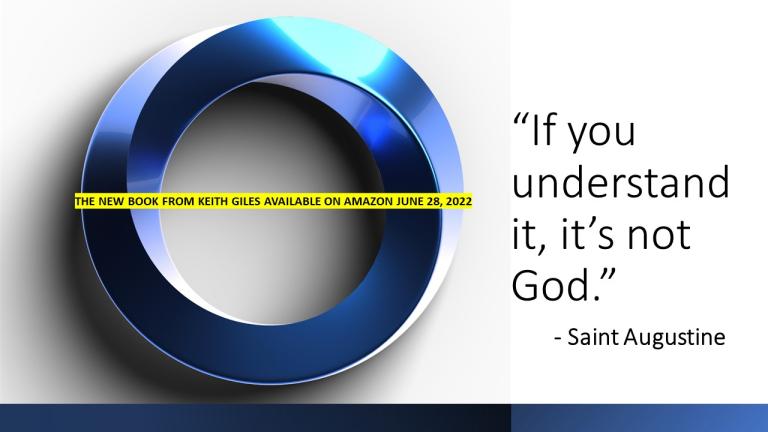 EMBRACING THE MYSTERY
NOTE: The following is taken from my notes for a sermon preached at First Presbyterian Church of El Paso, TX on June 26th, 2022]
When it comes to Theology, we need to admit that we're talking about a Being who, by definition, is beyond all human comprehension.
The problem is when Theologians say, "God is being who transcends every possible definition, and now please sit back and allow me to describe God to you in exquisite detail."
It's absurd!
IT'S LIKE DISSECTING THE BIRD, TRYING TO FIND THE SONG…I KNOW IT'S IN THERE SOMEWHERE!
This is the wrong way to approach theology.
If God is truly a Being beyond all human comprehension, or "knowing", then we must honestly approach the topic – not from a place of certainty – but from a place of sincere uncertainty.
As my friend Kenneth Tanner recently posted:
"If you would be a theologian or pursue any kind of wisdom, get comfortable saying these sentences: I don't know. It's complicated. I was wrong. … I just haven't sat with it long enough to help you. I do not have the words to describe what I am seeing. Let me think about that … "
In other words, the opposite of FAITH is not DOUBT – it's CERTAINTY.
Because once you begin to talk about the Divine Source of all things in our Universe you must humbly admit that you don't really know very much about what you're talking about.
So, rather than talk about all that we "know" about God – which is as close to zero as we could possibly imagine…
Let's instead try to talk about all that we DO NOT KNOW about God – because that is something we can talk about endlessly.
This is the important shift I want to encourage us to make when it comes to the way we approach God: not from a place of certainty, but from a place of awe, and wonder, and mystery.
"God doesn't fit into our boxes, so we shouldn't spend a lot of time arguing about our boxes" – Richard Rohr
For a long time now, so many of our Christian teachers and leaders have tried to convince us that the Gospel is about having the right information about God; as if there will be some Cosmic quiz in the afterlife that everyone must pass correctly to enter into God's eternal presence [there won't be, btw].
We've been told to act as if our faith is about having all the right answers about God – as if the Gospel were all about having the right INFORMATION.
But, that's not what it's about, my friends.
It's not about INFORMATION – It's about TRANSFORMATION.
Now, of course, we all want to KNOW God, and we all desire to KNOW the Truth. It's how we were created. It's how we're wired.
We love a good Mystery, don't we?
Jesus even seems to suggest that our search for Truth is a Divine prerogative: "You shall know the Truth, and the Truth shall set you free!", as he says.
But, what if "KNOWING" God, and "KNOWING" the Truth wasn't about having the correct theological ideas or information about God?
What if Jesus was talking about a totally different way of KNOWING God?
Well, according to what Jesus says in the Gospel of John, I believe that's exactly the case:
IN JOHN 17:3 JESUS SAYS: "NOW THIS IS ETERNAL LIFE: TO KNOW GOD AND YOUR SON WHOM YOU HAVE SENT"
Jesus doesn't use the Greek word for KNOWLEDGE or INFORMATION = Epistime
He uses the Greek word GINOSKO which is the same word you would use to describe how a man, on his wedding night, would "know" his wife so that she might conceive new life within.
THIS IS THE KIND OF "KNOWING" WE ARE INVITED INTO – TO HAVE A SCANDALOUS "INTERCOURSE" WITH GOD THAT CONCEIVES A NEW LIFE – A TRANSFORMATION – WITHIN US.
When it comes to theology, one thing I believe should bring us great joy and excitement is the realization that there is more of Christ to know than any of us could ever imagine.
God is greater than our imaginations. God is bigger than our thoughts. God is more wonderful than we could ever comprehend. God is beyond definition, description, explanation or understanding, and yet God is never beyond our ability to know.
Why? Because knowing God is more about experience, connection and intimacy and less about information, facts or data.
If we look at the way Jesus taught his disciples, we'll see evidence of the way God entices us to engage our curiosity without offering a set of doctrines about certainty.
Jesus primarily spoke to people by telling parables or stories.
In all of the Gospels, Jesus only ever explained one or two of those parables.
All of the rest are left wide open for us to ponder, question and wrestle with the various possible meanings.
This is a strange way to communicate precise theological details, isn't it? In fact, it's the worst possible way I can imagine if your goal is to communicate unquestionable doctrines and essential information.
BUT, it's the best and most wonderful method possible if your goal is to provoke imagination, inspire curiosity, and engage the hearts and minds of people who are curious about the profound MYSTERY of an Infinitely astonishing God.
This, I believe, is why Jesus told us,
"Unless you change and become like little children, you will never enter the Kingdom of God." (Matt. 18:3)
Children are full of wonder, and they LOVE to ask QUESTIONS, don't they?  Why? But Why? WHY?
Curiosity and wonder are the default setting in children. This is what Jesus encourages us to
return to as adults who seek his Kingdom.
Therefore, as Eastern Orthodox Bishop, Kallistos Ware reminds us,  
" … it is not the task of Christianity to provide easy answers to every  question, but to make us progressively aware of a mystery. God is not  so much the object of our knowledge as the cause of our wonder."
If there's any crisis in our faith systems today, it is our lack of wonder.
Certainty and dogmatism permeate our Christian institutions to the  very core. It is as if the Infinite God of wonder has been defined, measured, mapped, profiled, and fully explored by those outrageously finite creatures we call theologians.
No, we do not lack for certainty today. Our lack is in this area of childlike curiosity.
What God is constantly inviting us into is this beautiful journey of discovery – to search and find ourselves immersed in the endlessly deep well of God's infinite love – and it's in that place that we can hear the whisper of God in our hearts saying, "Come and know me…taste and see…SEEK, KNOCK, AND FIND!"
"If our religion is based on salvation, our chief emotions will be fear and trembling. But if our religion is based on wonder, our chief emotion will be gratitude." CARL JUNG
Jesus promised us there was more to know than we know. The Gospel writers affirmed that more was spoken than we have ever written down.
We should never stop searching. Never stop seeking. Never reach the end of our curiosity about God, Life, Truth, Wisdom, or Love.
We must try to fully embrace this endlessly unfolding Mystery of Christ. It is the river of living water that Jesus promised would flow from within us.
This is the abundant life that he said he came to show us. This is what it means to abide in Christ, as Christ abides in you.
Not a "knowing" of facts, but a "knowing" that evokes a deep intimacy that transcends knowledge, or vocabulary.
Never settle for a glass of certainty when you can become immersed in the endlessly unfolding ocean of mystery that is Christ.
All the God-breathed writings, and sayings, are to be received as the gifts of God to us. The Spirit of Christ is not limited to the Bible. The Canon is not closed. It will never be closed, but God's Spirit is always at work, always revealing, always enlightening, always breathing truth into us and the entire universe as it has for all eternity.
The truth is, it's all sort of a mystery, isn't it? The universe is unfolding. Deep calls to deep. All things are being made new. What we are is a mystery. What we will be is unknown.
After we die, where will go? What will happen next?
None of us really knows.
But that's okay, isn't it? I mean, how boring would it be if we knew how the story ended, or how it was all going to work out?
No one likes a predictable plot. We want to be surprised, amazed, maybe even shocked to discover how deep, and wide, and long the rabbit hole goes.
If anything, it should give us comfort to know that we don't have all the answers. It's okay to ask questions. It's even okay to have doubts.
WHAT I'VE FOUND EQUALLY ASTOUNDING LATELY IS WHAT SCIENTISTS ARE BEGINNING TO DISCOVER THROUGH THE FIELD OF QUANTUM PHYSICS: THAT EVERYTHING IN OUR UNIVERSE IS CONNECTED, THAT CONSCIOUSNESS PRECEDES THE MATERIAL WORLD, AND THAT SEPARATION IS AN ILLUSION – ALL OF WHICH OUR OWN FAITH SYSTEMS HAVE AFFIRMED FOR CENTURIES!
ONE QUANTUM PHYSICIST RECENTLY SAID: 'WE CAN NO LONGER DESCRIBE OUR UNIVERSE AS A GREAT MACHINE BUT MUST ADMIT THAT IT IS CLOSER TO A GREAT THOUGHT – OR CONSCIOUSNESS – AND THAT THE MATERIAL WORLD ARISES FROM THAT GREAT THOUGHT, NOT THE OTHER WAY AROUND.
WHAT'S FASCINATING IS HOW MUCH THEOLOGY AND QUANTUM SCIENCE IS BEGINNING TO OVERLAP AND CONVERGE, BUT YOU KNOW WHAT I'VE NOTICED?
THE SCIENTISTS ARE TALKING ABOUT THE SAME THINGS THE THEOLOGIANS ARE TALKING ABOUT BUT THEY HAVE SO MUCH MORE AWE AND WONDER AND CURIOSITY!
THEY'RE HAVING WAY MORE FUN THAN THOSE THEOLOGIANS!
YOU KNOW WHY? BECAUSE THEOLOGIANS THINK THEY'VE GOT IT ALL FIGURED OUT AND THE SCIENTISTS KNOW FOR A FACT THEY DON'T.
As we've already seen, however, theologians have no reason to be so certain about God. Especially when their own scriptures remind them of the fact that God is shrouded in mystery:
"For now we see as through a glass darkly, but one day we will know God face-to-face. Now, we only know in part, but soon we will know fully, even as we are fully known." (1 Cor. 13:12)
"[God] has made everything beautiful and appropriate in its time. He has also planted eternity [a sense of divine purpose] in the human heart [a mysterious longing which nothing under the sun can satisfy, except God]—yet man cannot find out (comprehend, grasp) what God has done from the beginning to the end." (Ecclesiastes 3:11)
In light of these things, I urge you to nurture your own sense of divine wonder and to cultivate your inner capacity to embrace mystery.
Curiosity may kill the cat, but it gives life to those who seek truth and abide outside the walls of certainty.
 I WANT TO CLOSE WITH THIS: In his amazing book Think Again, author Adam Grant, shares the story of how one Nobel-Prize-Winning Psychologist, David Kahneman, reacted when it was revealed to him that his assumptions were wrong:
"His eyes lit up, and a huge grin appeared on his face. 'That was wonderful,' he said. 'I was wrong.'
"Later, [when the author sat down with him for lunch and asked him about his reaction] … He said that … he genuinely enjoys discovering that he was wrong, because it means he is now less wrong than he was before."
"' … Being wrong is the only way I feel sure I've learned anything,' he said.
"When [the author] asked him how he stays in that mode, he said he refuses to let his beliefs become part of his identity … 'My attachment to my ideas is provisional. There's no unconditional love for them.'"
What an astounding perspective to have. It makes me wonder; do I have an unconditional love for my beliefs rather than an unconditional love for a God that defies my Theology?
What about my unconditional love for my fellow man? Or do I have unquestionable beliefs that prevent me from having an unconditional love for my neighbor?
Are people who disagree with me heretics? False Teachers? Enemies of Christ? Or, are they simply people who think differently—metanoia—than I do about a God that none of us can ever fully comprehend?
Clearly, there is more of our universe to know than we know. And even what we think we know, we cannot fully comprehend. We live in a mysterious universe that is more filled with wonder than we have ever before imagined.
DID YOU KNOW: The original ending of the earliest Gospel—the Gospel of Mark—ends with this startling admission:
"So, they went out and fled from the tomb, for terror and amazement  had seized them; and they said nothing to anyone, for they were afraid." (Mark 16:8)
What a way to end a Gospel, right? The disciples of Jesus find his  empty tomb. A "young man dressed in a white robe" [v.5] tells them that Jesus is alive, but they never see or encounter the risen Jesus.
That's in the newer, longer ending of Mark, and in the other Gospel accounts, but not in Mark's Gospel. Here, they find an empty tomb, hear from a young man sitting nearby that Jesus is alive again, and then their reaction is to flee from the tomb in terror and we're left with this faith-building nugget: "and they said nothing to anyone, for they were afraid."
Wow. That's a bit of a downer, isn't it? But the added ending isn't that much better because twice it makes the point that many who heard that Jesus was alive "would not believe it" (v.11), and "did not believe them." (v.13)
What this tells us is that, to those earliest Christians, doubt wasn't a sin, confusion wasn't uncommon and that amazement was par for the course.
We could use a little bit of that refreshing honesty today, I believe.
Admitting that we DON'T HAVE THE ANSWERS, or that we don't always believe, or that we doubt something about our faith shouldn't be a sign of falling away from Christ. It should be seen as evidence that we're walking in the same path as those first disciples; Unsure. Uncertain. Doubtful.
Yet full of amazement and wonder at the same time.
When Thomas doubted the resurrection, Jesus didn't mock him for wanting answers. He was blessed because he believed what he saw with his own eyes. His questions were valid. His doubts were reasonable. His skepticism was taken seriously.
Yes, Jesus did use this encounter as an opportunity to remind us that those who believe without requiring hard proof were blessed even more than those who believed because they found their answers.
Not because God wants us to have blind faith, but because faith itself was never really about seeing, or knowing.
It has always been about belief in spite of what you see, or don't see.
This is why I believe we need to embrace the beauty of mystery.
Because we follow a Messiah who taught by asking questions instead of giving answers.
Because we realize that the God we're after can't be understood by the sharing of information, but only by stepping into the vast ocean of Divine Presence so we can experience for ourselves the God who "TRANSCENDS KNOWLEDGE".
LET ME WRAP UP TODAY WITH TWO QUOTES:
First, from a wonderful song by Sean McConnell that says:
I USED TO SHAKE YOU LIKE AN 8-BALL – I USED TO SHOOT YOU LIKE A GUN – I USED TO HOLD YOU LIKE A HAMMER – TRIED TO NAIL DOWN EVERYONE.
I USED TO KEEP YOU IN A STEEPLE – I USED TO BIND YOU IN A BOOK – I USED TO TAKE YOU LIKE PRESCRIPTION, WITHOUT KNOWING WHAT I TOOK…
BUT NOW I JUST DON'T BUY IT ANYMORE – I'VE TRIED AND I'VE TRIED TO KNOW EVERYTHING FOR SURE
AND I FIND I KNOW LESS AS I COME TO KNOW YOU MORE – YOU'RE NOT WHO I THOUGHT YOU WERE –
PRAISE THE LORD!
AS ALBERT EINSTEIN ONCE SAID:
"THERE ARE TWO WAYS TO LIVE YOUR LIFE: ONE IS AS IF NOTHING IS A MIRACLE, THE OTHER IS AS IF EVERYTHING IS A MIRACLE."
I KNOW HOW I WANT TO LIVE MY LIFE. DON'T YOU?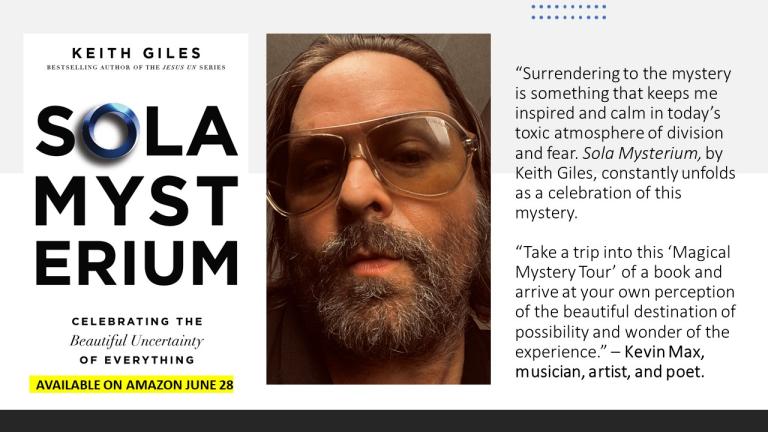 Keith Giles is the author of the 7-part best-selling Jesus Un book series from Quoir Publishing. Keith is also the host of Second Cup with Keith [a new solo podcast available now on the Ethos Radio App, for Apple and Android and on Spotify; and the Heretic Happy Hour Podcast [along with co-hosts Matthew Distefano, Dr. Katy Valentine, and Derrick Day], and the new Apostate's Anonymous podcast with Matthew Distefano.