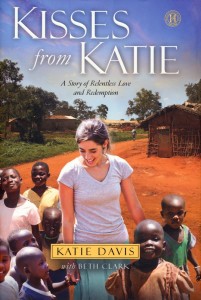 What would cause an eighteen-year-old old senior class president and homecoming queen from Nashville, Tennessee, to disappoint her parents by forgoing college, break her little brother's heart, lose all but a handful of her friends (because the rest of them think she has gone off the deep end), and break up with the love of her life, all so she could move to Uganda, where she knew only one person but didn't know any of the language? A passion to make a difference. Katie Davis left over Christmas break her senior year for a short mission trip to Uganda and her life was turned completely inside out. She found herself so moved by the people and children of Uganda that she knew her calling was to return and care for them. She has given up a relatively comfortable life—at a young age—to care for the less fortunate of this world. She was so moved by the need she witnessed, she's centered her life around meeting that need. Katie, a charismatic and articulate young woman, is in the process of adopting thirteen children in Uganda, and she completely trusts God for daily provision for her and her family.
Despite the rough conditions in which Katie lives, she has found a life of service to God to be one of great joy. Katie's children bring constant delight and help her help others by welcoming whoever comes to their door. As the challenges grow, so does Katie's faith and her certainty that what she's doing in Uganda, one person at a time, will have far-reaching rewards. It isn't the life she planned, but it is the life she loves.
To further her reach into the needs of Ugandans, Katie established Amazima Ministries. The ministry matches orphaned children with sponors worldwide. Each sponsor's $300/year provides schooling, school supplies, three hot meals a day, minor medical care, and spiritual encouragement. Katie expected to have forty children in the program; she had signed up 150 by January 2008; today it sponsors over 400. Another aspect of the ministry is a feeding program created for the displaced Karamojong people—Uganda's poorest citizens. The program feeds lunch to over 1,200 children Monday-Friday and sends them home with a plate of food; it also offers basic medical care, Bible study, and general health training.
Katie Davis is more than fascinating, she's inspiring, as she has wholeheartedly answered the call to serve.
Order it from Amazon.com, Barnes & Nobles, and Books-a-Million.
Praise for My Book
"When you think of what one young woman can accomplish by simply being open to God's call no matter the cost, you begin to ask questions like, Am I really open to God's will for my life? Through Katie's life, we're reminded how God can use ordinary people to do extraordinary things for Him. We simply need to be willing to be used."
—Rich Stearns, President of World Vision US, Author of The Hole in Our Gospel
"Scripture is filled with remarkable stories of children being used by God to accomplish His purposes here on earth. Kisses from Katie is another wonderful reminder that 'big' things for the kingdom do not come from age or experience, but as an overflow of a deeper love within. I highly encourage you to read this captivating account of obedience to God's call, and I challenge you to consider what you are doing to 'care for the least of these.'"
—Dr. Wess Stafford, President and CEO, Compassion International
"I was blown away when I first heard of Katie's incredible story. I'm excited many others will now have the opportunity to be inspired and challenged by it."
—Scott Harrison, Founder/CEO of charity: water
"With reckless abandon, Katie Davis followed her heart to care for orphans living in extreme poverty in Uganda. Her stories captivate the reader to take action, join her work, and make the world a better place for children—one by one."
—Senator William H. Frist, MD
"Katie Davis has the story that makes radio talk show hosts stop in their tracks and say with deep disbelief, 'No, she didn't.' But, yes, she did! At the age of nineteen, Katie Davis left the upper-middle-class life to move to Uganda, start a nonprofit organization, and begin the adoption process for thirteen daughters who needed a mother. Now she is the young dynamo of the gospel, bringing love and joy not just to her children but to an entire village and region. She is an inspiration and a testament to what God will do when one is willing to be used."
—Hugh Hewitt, host of The Hugh Hewitt Radio Show
"I was profoundly moved, challenged, and convicted as I read Kisses from Katie, and I came away wanting to know Jesus the way that Katie does. This is an honest and compelling account of one young woman's journey of obedience to a Jesus who loves the whole world, especially the forgotten and the marginalized. Jesus was the most revolutionary and subversive man who ever lived. Following Him should lead us to be graciously radical in His name."
—Mike Erre, author of Why the Bible Matters and The Jesus of Suburbia
"A breathtaking journey into the sorrow and beauty of abandon to Jesus Christ. Katie Davis is young, still learning daily how best to serve. Yet her reckless, Peter-like love calls the bluff of a Christianity that refers to Jesus as 'Lord' with only partial intent of doing what he says. This is not a book to read if you wish for your comfort, convenience, and control to remain undisturbed. But if you stand willing to act upon belief, here you will encounter the full heartache and joy that await any person who ventures near to God's heart through adoption and other ways of loving the orphan in distress."
—Jedd Medefind, president, Christian Alliance for Orphans
"Katie is one of the most courageous and inspiring young women I have ever met. She is a role model of what it looks to follow Jesus in the twenty-first century. Kisses from Katie will be one of those books you cannot put down. It will literally transform everything about you and guide the way for you to take your ordinary life and fashion it into something extraordinary."
—Tom Davis, author of Red Letters, Fields of the Fatherless, and Priceless
"As I read Katie's book, I felt like I was reading Amy Carmichael. As Amy did in her life, Katie shows Jesus to be amazingly wonderful not only in what she writes, but also in how she selflessly cares for the fatherless. If you want to love Jesus more and better understand his love for the least of these, read Kisses from Katie. She is for our generation what Amy was for hers: a hero in fulfilling God's call to care for orphans."
—Dan Cruver, director, Together for Adoption, author of Reclaiming Adoption
"Katie Davis is an inspiration to me as a wife, mom, and follower of Christ. Her devotion to the Lord and her love for His children challenge me to give sacrificially, serve selflessly, and live out my salvation with radical abandon!"
—Heather Platt, adoptive mother and wife of David Platt, author of Radical