So here I am writing on Patheos.com
As a long time fan of many of the writers here I have to say I'm quite honored to be able to be featured along with them. I also have to say, considering current events, what a hell of a time to start writing online again.
For those not familiar with me or my writing- pretty much anyone not my mother or wife- I'm a secular humanist living in the deep south of the United States. I have focused on humanitarian work and social activism throughout my life. I'm a lifelong resident of the state of Alabama and I was raised in the foothills of the Appalachians. When you're a skeptic at age 5 it's an interesting region to live. My Sunday school teachers certainly didn't care for all the questions. There was also the time I got into serious trouble for hiding in the baptismal during a game of hide and seek but, in my defense, there was a monetary prize and I was highly motivated- not unlike Joel Osteen I suppose. I've often said the only reason I don't have a mega church is because I have these things called morals and an incredible desire to be able to sleep at night. Moving on…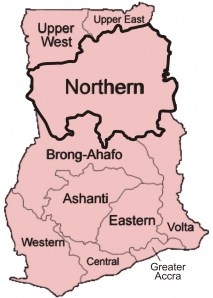 At this time I'm working in Ghana with the Humanist Service Corps  in camps of women accused of witchcraft. We are working inland in the Northern Region. The Humanist Service Corps exists under the umbrella of the Foundation Beyond Belief and is the only humanitarian organization in the world based on the tenets of secular humanism. I'll go into much more detail in a future post. I've been here since last July and I'll be working until July of 2017. I've left my wife and 8 year old son in the United States for a year but thankfully the technology allows me to text, call, and skype quite frequently. I am looking at the long game with my son as an example for him and, considering my wife is a specialist in childhood development, he is in good hands while I am away.
In my short time here I have met and had the privilege of working with many amazing people. Ghana has already become my second home and has allowed me to have a unique view of the events currently unfolding in the United States. The region where we are working is 90 percent Muslim. One of my teammates, Baako Alhassan, is a Muslim (Humanist Service Corps is open to believer and nonbeliever alike barring proselytizing) and he has become my best friend here. I've also grown quite close to a number of locals. To see the election of Trump and hear of a registry and wholesale ban on Muslim immigrants is quite troubling.
Regardless we will continue our work on women's rights here and keep our eyes toward the brighter days I know will come. In the meantime I'm sure most all of you will be like me and stand in unity over the darkest days of the next four years and work to fight for your civil rights and to support those who do genuinely fear for their future.
I wholeheartedly acknowledge my privilege as a cis white man. At this point my only fear is that for my wife who has a history of cancer. She would potentially face issues with insurance if the Affordable Care Act is overturned. My biggest concerns do lie with my LGBTQ and minority friends. I won't return until July of next year but I look forward to standing up to bigotry and hatred with you. I am buoyed by the resistance to the normalization of it I am seeing on news reports here in Ghana.
I want this space to, more often than not, tell the stories of the goodness and decency in humanity and I am hopeful many will share stories with me. This is just another chapter opening in my life and I do look forward to sharing it with you. Thank you for taking the time to read this!