(I am working from July 2016 to July 2017 in Ghana for the Humanist Service Corps. My focus is supporting the women who have been banished due to witchcraft accusations. They live in camps that provide a sanctuary for them.)
The human mind fascinates me.
I dream so lucidly and it seems I've transitioned to 4K high resolution since I've moved to Ghana. I take doxycycline as an anti-malarial so perhaps it is the medication. Last night I was talking to people in my dream that I haven't seen in 20 years. I was deep in a conversation as I was jarred awake and I immediately went from 18 to 38 and realized yet again I am 7,000 miles from home. In that haze of the morning we are forced to vividly remember things we've long since forgotten and logged into the caverns of our mind. Nostalgia is so thick it's almost like being in those moments again.
There was an television episode of Mad Men in which the main character uses the description of nostalgia to sell an advertising campaign to Kodak.
"…in Greek nostalgia literally means the pain of an old wound. It's a twinge in your heart far more powerful than memory alone."
As long as I can manage the moments of nostalgia- some that take me to the point of tears- I can get through a year away from home. I brought some memory cards with me to use in my digital camera. The other night I discovered numerous pictures of my 8 year old son Connor on one of them. It was a visit to a local park. He is two years old in them. I remember taking some of them and thinking one day, years from now, I will appreciate these. In my mind it would be when he is in his twenties not just 6 years later at 8 years of age. My heart hurt as I scrolled through the pictures.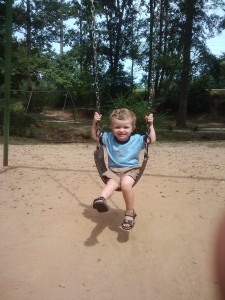 I'm coming up on the halfway point of my year here in Ghana. I have been able to deal with the fact I am away from my wife and son thanks to the technology that allows us to communicate. An interesting thing happens though. Whenever we talk it makes me miss home that much more. It's like taking a concentrated dose of homesickness. After our conversation it passes a great deal. It may be perfectly normal to most but I've never been this far away from home for this long.
It also doesn't help that today is the 4th anniversary of the shooting at Sandy Hook Elementary School. I've gotten to know a number of family members since the 26 Acts of Kindness movement and in some ways, when I look at my son, I have a form of survivors guilt. I cannot fathom the depths of their grief. I know the world is a chaotic place and the universe is indifferent to the suffering of mankind but when I walk by my son's room- specially decorated like a space station for him- with him bundled up in his big comfortable bed I can't help but wonder why we get to live such a comfortable life as others suffer so much in this world.
I've encountered children here lying on concrete floors shaking and sweating as their little bodies fight malaria. Many of the children here will never see adulthood for a variety of reasons. When they are born they face obstacles and challenges that, in a just world, no human should have to deal with. The world however, as we know it, isn't just or fair.
In those times I'm reminded why I am here and why I am doing the work I am doing. We should use our undeserved privilege to help others and I will raise my son to do the same thing.
My hope is that in putting myself out into the world I can also learn lessons to teach him as he grows.
People say to me that it must be a difficult thing to be so far from home for so long. I've had many people tell me how much they admire the effort I've made. I do appreciate that but I think the parents here are the ones to be admired. Culturally the relationships are different as the children grow older but the desire of the parents to see their children be healthy and thrive is no different. In one village I witnessed women scramble to get their children in the line for the vaccinations that were being given out. There is never a question of skipping them or opting out. The men and women here have witnessed children die of horrible diseases that are easily preventable but difficult to treat. They refuse to see it happen to their own children.
I find things that remind me of my family in many places and situations here. Mostly it's the love the people here have for their own children. I watch the mothers and fathers play with them at the bus stops, in the market, and walking down the street. The parents make silly faces and chase them and the babies run and giggle.
I think back to chasing my son around our first apartment and him stopping so I could catch him and tickle him. I remember my wife Jennifer sitting on the couch and smiling at the scene. I remember Connor's sweet little laugh and his smile. The memories are bittersweet and I feel a twinge in my heart. The pain of an old wound.