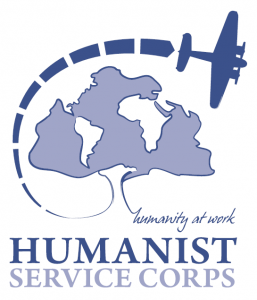 Join the Humanist Service Corps 2017-2018 team!
At this time I am serving as a volunteer for the Humanist Service Corps (HSC) in Bimbilla, Ghana working in camps of women accused of witchcraft. I can unequivocally say it has been both the most rewarding and challenging time of my life. It is a yearlong commitment that definitely requires a resilient person. It's not for everyone. However, for the right person it can be an experience of a lifetime. I am 5 months in and I have zero regrets about making the decision to apply for HSC. In fact I still feel incredibly lucky I was chosen. If you think you have what it takes and can be a valuable member of the 2017-2018 team read on! We are currently accepting applications for the 3rd year team.
First off what is Humanist Service?
What are the requirements and recommendations for applicants to the Humanist Service Corps?
Successful HSC volunteers see obstacles as part of the journey. They are:
excited by challenges and growth opportunities
comfortable with themselves and open to feedback
flexible/adaptable
willing to plug in where necessary
able to forgo creature comforts for long periods of time
self-reflective
patient
resilient
Ideal HSC applicants have a "do whatever it takes" attitude, as well as:
high emotional intelligence
strong interpersonal skills
a passion for relationship-building
an appreciation for HSC's unique approach to international service
experience adapting to new cultures and environments
relevant professional skills
All applicants must be 18 or older and available from June 2017 to June 2018. The deadline to apply is December 15th, 2016.
HSC volunteers provide a year of service (summer to summer) in support of grassroots organizations working to protect human rights and the environment. HSC provides work-related transportation, housing, travel costs, medical, evacuation, and travel insurance, and a monthly living stipend. Additionally, HSC organizes language classes, cultural orientations, and professional trainings so that volunteers are adequately prepared to perform in the field. HSC does not pay for visa and visa extension fees, vaccinations, malaria prophylactics, or food. (I have found my monthly living stipend to be more than enough for food. – Warren)
In the 2017-2018 volunteering cycle, the Humanist Service Corps will continue supporting women's rights organizations in Ghana's Northern Region. HSC volunteers will work to empower women and children by increasing access to healthcare, education, and jobs.
Volunteering with the Humanist Service Corps may sound like the opportunity of a lifetime, but it is not for everyone. Many people find that culture shock is a significant and sometimes insurmountable obstacle to their enjoyment and impact while abroad. Volunteers with pre-existing conditions should carefully consider which of their coping strategies and self-treatments may be unavailable or ineffective in new environments. Pre-existing conditions do NOT disqualify you from applying to HSC, but they can make it more difficult to have a fulfilling and effective volunteering experience.
If you apply to the Humanist Service Corps, please keep in mind that the selection process is designed to teach you about the Humanist Service Corps as much as it is designed to show us if you can make the adjustments required to find health, happiness, and meaning in Ghana. As you learn more about the Humanist Service Corps, we ask that you take seriously your responsibility to evaluate your suitedness for the program. No doubt you will want to present yourself as well as possible so as not to be cheated of this opportunity – that is natural. However, you cheat yourself, the program, and most of all the Ghanaian women and children we support if you put yourself in a situation where you will be miserable. Volunteers who are unable to complete their HSC commitments are required to repay HSC for up to the entirety of the program's investment in them.
If this interests you click here to apply!
I am always available for anyone who has any questions about the program. We currently have multiple projects going on in Ghana that include agriculture and educational training. I work on the reintegration team and we have been fortunate to have arranged for nine women to be removed from the camps and return home. I prepared myself mentally before I left the United States for Ghana. I knew I would face challenges along with the good experiences. I certainly have. There is a lot of down time and you have to be able to keep yourself occupied as well. I write so it's easy for me. I also love building relationships with new people. It's so easy to make friends in Ghana. This has been a life changing experience for me but I also find beauty in the most ordinary situations.
It's not easy at times but I personally am so happy I applied. The key is to be honest with yourself. If you look at this as a grand adventure you're going to be disappointed. That isn't to say you will not have adventures. I sat beside a sacred crocodile and had a photo made with it. I've visited a 600 year old mosque and went on a safari. In October we attended a football match between the Ghana National Team and Uganda. More often than not, though, it's been a lot of hurry up and wait. There will be lots of planning that won't necessarily lead to your intended outcome. That's where your personal coping strategies come into play. It also helps to be independent in keeping yourself busy outside of your projects. I do a radio show about football with a friend in Bimbilla and my teammate Baako and I attend matches at a local business that shows English Premier League and Spanish La Liga games on television. If you're a fan of football (soccer to you Americans) then you'll get as much as you can handle in Ghana!
It all comes down to this- It's what you make of it. If you choose to apply, good luck!
I can be reached at watidwell@mail.com or http://www.facebook.com/westpointbirder if you have any questions!