In the latest news of non-shocking news from the state of Alabama there is currently an effort underway to make it legal for churches to have their own police departments. This effort was initiated by Briarwood Presbytarian Church.  The church has two locations and oversees its own school, the Briarwood Christian School.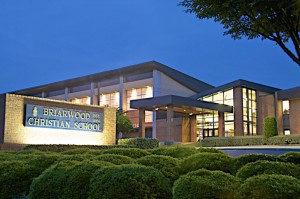 From the article on al.com:
"Briarwood Presbyterian Church and Briarwood Christian School want their own police department and a bill proposing it passed 9-2 in the House Public Safety Committee on Thursday, Briarwood's attorney said. The same bill passed last year but got to the governor late and never received a signature, said attorney Eric Johnston, who drafted the bill for the church. Johnston said he expects the bill to again pass both the House and Senate and believes Gov. Robert Bentley will sign it into law."
The church is claiming that there is a need for a full time police officer because they have so many events and they cannot depend on off-duty police officers to work all of them. They also claim there will be no patrolling of the neighborhoods and that the officer will only work the church and school properties. The church officials are using laws on the books that allow colleges to have their own police departments.
There are a number of concerning things about this effort but I question why their church and school events wouldn't be fine with simply hiring security guards. The al.com article references an event in the past that may explain the motivations for the church wanting a full fledged police force.
A couple of years ago the school was caught up in a major drug bust. No one really knows how many students were involved because the whole affair was
shrouded in secrecy
. The students are mostly white and come from affluent families. There were no major news reports at the time. It was, however, brought up in the debate over pushing the bill forward.
"Questions were raised in committee about a drug investigation at the Briarwood Christian School in 2015 and whether a private, internal police department would cover up a drug problem.
"No, it didn't have anything to do with that," Johnston said."
While the department at this time would be one full time police officer working for the church I don't see how simply hiring security guards isn't the answer. The church claims they'll pay the salary but it would be much simpler to contract with a local security service.
We are currently seeing the Alabamafication of America with the Trump administration so Alabama is upping the ante. Strap in. I'm sure the headlines coming from my state are only going to get more alarming. It's what we specialize in.
(image source briarwoodchristianschool.org)