I am currently working in Ghana in the Northern Region for the Humanist Service Corps. I will be here until July, 2017. In that time I'm documenting our life here through a series I'm calling The Ghana Diaries.
Since my last update a lot has changed. We have been evacuated from the town of Bimbilla to the town of Yendi due to a chieftaincy dispute between two factions. I was fortunately four hours away with my teammate Baako Alhassan when the fighting broke out. All of my other teammates except one were out of town as well. This has been a long simmering dispute in the Northern Region of Ghana that has lead to the deaths of people in 2014 and 2015. It's never been as bad as this last time however.
On February 7th, 2017 gun battles broke out all over the small town of Bimbilla. My team gathered in Yendi to regroup and we heard the casualty numbers slowly rise as the news trickled out of the area. The last report from Ghana media outlets said 11 were dead- 6 women, 4 children all under the age of four, and one man. The sad fact is that we learned that number was at best misinformed reporting or at worst an outright cover up. I was told by a friend in Bimbilla the number killed was much higher, even as many as 30 to 40.
We made a quick trip into Bimbilla on February 18th to retrieve our things. When I arrived I was told by a friend that the number killed was north of 50. I made a plan to go by the cemetery to investigate and I found a group of freshly dug graves in the northeast corner of the field. The cemetery is right across the road from our previous home in Bimbilla so all the new graves were immediately apparent.
I counted 46 graves I was certain were dug on the same day.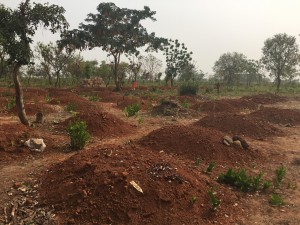 They were in a group of about 70 so the number could have been much higher. I stood there in the early morning dawn in what I considered a killing field. I was certain most of the victims were women and children. The early reports said families were targeted and pictures of the bodies had been leaked. I was shocked, however, to find that no new articles on the internet came close to the number actually killed. This writing is the only one on the internet that comes close to the true number of those that perished. In this world that shouldn't surprise me but it does. They'll be no facebook photo changes memorializing them, news stories ran endlessly on a loop, or articles posted on how terrible it all is. There will only be this article and the book I'll eventually write. I find that tremendously sad.
I understand it's bad PR for Ghana. I'll be the first to say Ghana is an amazing country with a vibrant culture and a love of peace. The Bimbilla conflict is the exception to the rule. However, no NGO is going to send in a group of people to work and volunteer who know the truth of the matter of what happened on February 7th, 2017.
I have written on Facebook and Twitter to the political leaders in Ghana about the truth of what happened and no one has responded. I will not let these people be erased from existence with little more that a shrug of our shoulders. They deserve better.
In Bimbilla the conflict has led to the closing of businesses, hospital workers fleeing, talk of shutting the small rural hospital down, and a surge of refugees to the town of Yendi where we are currently living.
In Bimbilla I found friendship and kindness. I found a giving and loving people. My heart breaks for all of the innocents and I worry for their future.