The great-great-grandsons of Confederate General Stonewall Jackson have written an open letter to the leaders of the city of Richmond. The have made it known that they support the removal of the statue of the General. Confederate General Robert E. Lee's great-great-grandson has also made it known that he is fine with the removal of the statues of his ancestor.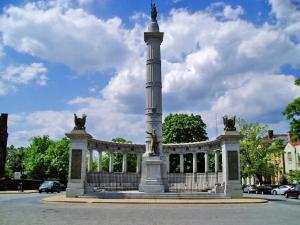 I was pleased to see this development as a number of people with specious claims to be direct descendants of the generals are making it known how angry they are to see the removal of all the confederate monuments.
"Dear Richmond Mayor Levar Stoney and members of the Monument Avenue Commission,
We are native Richmonders and also the great-great-grandsons of Stonewall Jackson. As two of the closest living relatives to Stonewall, we are writing today to ask for the removal of his statue, as well as the removal of all Confederate statues from Monument Avenue. They are overt symbols of racism and white supremacy, and the time is long overdue for them to depart from public display. Overnight, Baltimore has seen fit to take this action. Richmond should, too.
In making this request, we wish to express our respect and admiration for Mayor Stoney's leadership while also strongly disagreeing with his claim that "removal of symbols does [nothing] for telling the actual truth [nor] changes the state and culture of racism in this country today." In our view, the removal of the Jackson statue and others will necessarily further difficult conversations about racial justice. It will begin to tell the truth of us all coming to our senses."
They go on to tell of a family member they feel is much more worthy of a monument.
"In fact, instead of lauding Jackson's violence, we choose to celebrate Stonewall's sister—our great-great-grandaunt—Laura Jackson Arnold. As an adult Laura became a staunch Unionist and abolitionist. Though she and Stonewall were incredibly close through childhood, she never spoke to Stonewall after his decision to support the Confederacy. We choose to stand on the right side of history with Laura Jackson Arnold."
The great-great grandson of General Robert E. Lee, Robert E. Lee, V made his thoughts clear as well.
"Eventually, someone is going to have to make a decision, and if that's the local lawmaker, so be it. But we have to be able to have that conversation without all of the hatred and the violence. And if they choose to take those statues down, fine," Robert E. Lee V, 54, of Washington DC, told CNN.

"Maybe it's appropriate to have them in museums or to put them in some sort of historical context in that regard," he added.
This is not surprising as his namesake
was against the memorials himself
. Maybe we are actually reaching a time where these memorials will come down. Maybe then we can do something about the predominantly African-American high schools in the south that are still named for these generals.