In the aftermath of disasters most everyone finds themselves wanting to do something to help. Right now the Foundation Beyond Belief is doing a fundraiser that will benefit local nonprofits affected by the disaster in Texas as well as fund teams of volunteers to assist in the areas that were hardest hit.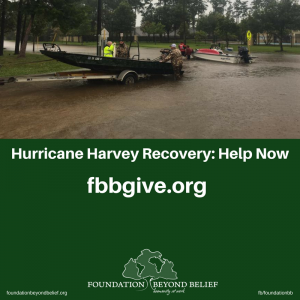 You won't find a finer group of caring individuals running an operation like this and I am certain they will make sure the funds are used in a responsible manner.
As a nonbeliever I proudly support and aid the efforts of Foundation Beyond Belief as a volunteer. I spent a year in Ghana volunteering for their division known as the Humanist Service Corps and in that time I learned of their disaster recovery efforts. They do wonderful work simply to do good for others and nothing else. Help out if you can!
DONATE HERE
(Featured image courtesy of Foundation Beyond Belief)