"I was leaving the South
to fling myself into the unknown . . .
I was taking a part of the South
to transplant in alien soil,
to see if it could grow differently,
if it could drink of new and cool rains,
bend in strange winds,
respond to the warmth of other suns
and, perhaps, to bloom" – Richard Wright
I discovered this quote at the beginning of Isabel Wilkerson's novel The Warmth of Other Suns, a work about The Great Migration. The book details the massive diaspora of former slaves and their descendants to areas outside of the southern United States. They were seeking to escape an era of racial terrorism in the south where, from the end of the Civil War to World War II, 4,000 African American men, women, and children were lynched. Those fleeing the violence sought an end to the fear of being killed just for existing. They sought a new world where the social order wasn't reinforced through the terror of mob justice and bodies swinging from the end of a rope in the town square.
It is a shameful part of United States history that has never been fully addressed. The resolution, however, has started in a former slave warehouse and on a nearby hillside in Montgomery, Alabama.
"We can't recover from this history until we deal with it." – Bryan Stevenson
Bryan Stevenson founded the Equal Justice Initiative in Montgomery in 1989. It exists as a private, 501(c)(3) nonprofit organization that provides legal representation to people who have been illegally convicted, unfairly sentenced, or abused in state jails and prisons. From the EJI website: "The Equal Justice Initiative is committed to ending mass incarceration and excessive punishment in the United States, to challenging racial and economic injustice, and to protecting basic human rights for the most vulnerable people in American society". In 2018 the Equal Justice Inititiative expanded on its mission. Thanks to their efforts a museum dedicated to racial justice and a memorial to those lynched in that era now exist. They serve as reminders of the harsh realities of the past and as a guidepost to a better future.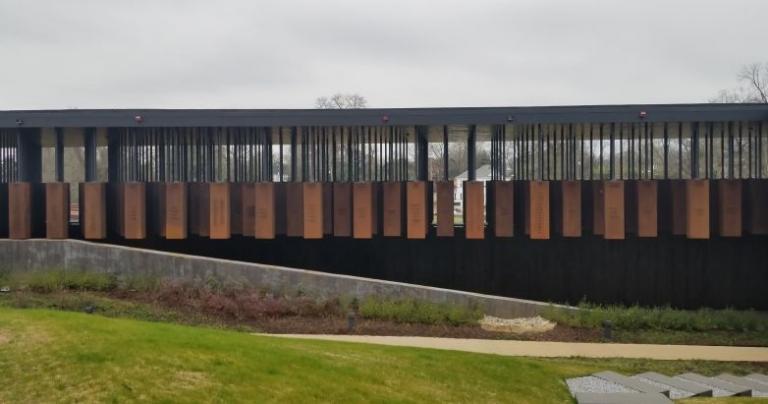 The Legacy Museum is inside of a building where enslaved people were once warehoused. The exhibits there stand as a way of confronting the ghosts of the past that still haunt us to this day. The museum follows the time from slavery, through reconstruction, the Jim Crow era, and on to modern day mass incarceration issues. It draws a convincing line that compels you to see that the latest racial issues we face as a nation exist as a result of failure to deal with past ones. This is a theme that is prominent in the mission of the Equal Justice Initiative.
Along with that a memorial was constructed that is dedicated to the victims of the racial terror of lynching. It is known as the National Memorial for Peace and Justice. Over 800 individual steel rectangle structures are suspended from the ceiling of the memorial. Each represent one of the the 800 counties in the south where lynchings against African Americans occurred. Names of the victims are displayed on the side of each structure and most contain at least one name– many far more– of the victims of the violence in those counties.
It is described by the Equal Justice Initiative as "the nation's first memorial dedicated to the legacy of enslaved black people, people terrorized by lynching, African Americans humiliated by racial segregation and Jim Crow, and people of color burdened with contemporary presumptions of guilt and police violence".
A Place to Remember
I visited the memorial a few days ago. It was a cold, overcast February day and not many people were out. As you walk up to the memorial there is a statue of enslaved people in chains. My (not quite) 11 year old son asked why we were there. He wanted to know the purpose of such a place.
"This is a place to remember, son", I told him. "This is a place to remember, honor, and learn." He teared up and I wondered if he was ready. After a few moments he composed himself and we moved on to the memorial. He walked around quietly and looked up at the structures. Sometimes I would hear him softly reading a name. In that moment I knew why this place must exist, why it has to survive to tell the stories to other generations. Before it we didn't know the names and we didn't truly know the horrors of the era. It IS a place to remember and a reminder of an era we must somehow come to grips with as a country. It is also a reminder of all of the unresolved racial issues that still exist in the United States and how we still fight to acknowledge these issues and refuse to face them honestly.
I have found that speaking on racial issues with my white friends and family in Alabama generally ends up with one of them saying something along the lines of "…but why do people keep bringing it up? The problem is that folks won't let it go". I firmly believe it is the opposite. We continue to pay the price for our unresolved history. It is a shameful era that won't easily be reckoned with without discomfort- and honest discussions about race are uncomfortable.
An Honest Accounting of Our Past
That's the importance of this memorial in Alabama. Honesty. It offers a raw and honest, unflinching and unfiltered view into an era many had hoped to sweep under the rug. It tells a story of an time that sent refugees fleeing oppression to hopefully find peace under the warmth of other suns. It tells a story that, in many ways, we are still living today.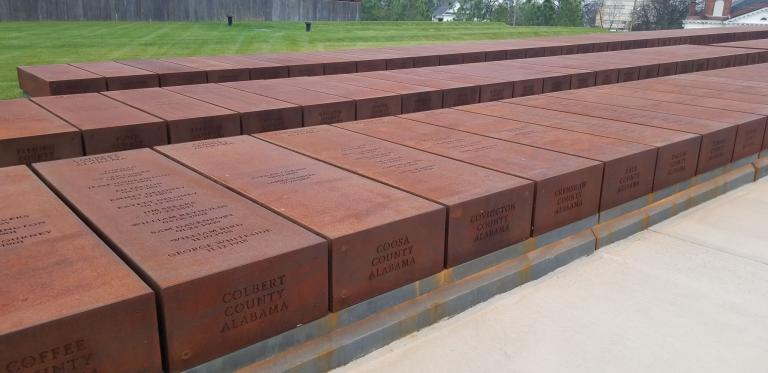 Outside of the memorial over 800 replicas lie in rows on the ground. They are waiting to be claimed to be placed in each county where the lynchings happened. Most all of them are still there but the Equal Justice Initiative reports they are in talks with dozens of individuals who want to have the memorials erected in their county.
That is the question moving forward. How honest can we be about these issues? Can we confront the past on a personal level and do the right thing as a result? Can we acknowledge an era of racial terror that nearly faded into the past unanswered and then admit to our crimes as a country? Can we truly own up to our racism as a nation?
More importantly can we then acknowledge current problems exist because of these failures as a people and can we do what is right once and for all?
Only time will tell but efforts like this keep the discussion honest. I believe it's a good start.
(Images via the author)