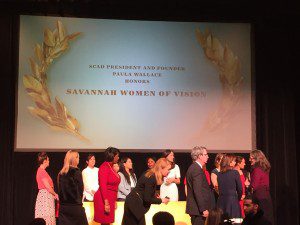 Tonight I had the opportunity to attend a ceremony where the Savannah College of Art and Design (SCAD) honored ten women of vision. The program of the evening described these women as an "elite cadre of trailblazers whose remarkable ideas, insightful leadership and distinguished service have profoundly sculpted the city of Savannah."
Among these ten women, five of whom are deceased and five are living, were included Mother Mathilda Beasley and Flannery O'Connor, both Catholic women who left an undeniable mark in the city of Savannah and the local church they loved so much. Mrs. Rhonda Williams accepted the recognition in the name of Mother Beasley and Bishop Emeritus J. Kevin Boland received it for Flannery O'Connor.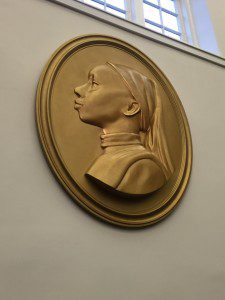 I became aquainted with Mother Beasley when I moved to Savannah in 2014. As chancellor of the diocese, I have been involved in the partnership between the city and the diocese to open to the public Mother Beasley's house across the street from Saint Benedict the Moor Parish in downtown Savannah. Born a slave in 1832 and baptized at Saint Louis Cathedral in New Orleans, Mathilda came to Savannah for an unknown reason, and later married Abraham Beasley in 1869. Probably unable to find her baptismal record from New Orleans before her marriage, baptismal records of the Cathedral of Saint John the Baptist of Savannah show that she was conditionally baptized on March 27th, 1869.
After Abraham's death in 1877, Mathilda donated his estate to the Diocese of Savannah hoping to open an orphanage and school for African American children. Her desire became a reality in 1887 when Sacred Heart Orphanage opened, and operated until 1897. Mother Beasley died in 1903.
Known as the first African-American nun of Georgia, it is actually unclear if she ever took religious vows. In 1885 she traveled to England where she lived at a Franciscan community. In 1886, Poor Clare Sisters from York, England visited Savannah, and Mother Beasley must have developed a relationship with them. There is no doubt however that Mother Beasley established an African American community of faithful Catholic women who served the poor, ran an orphanage, and wore a habit. Her legacy, along with the legacy of Catholic education for African-American children started in 1867 by the Sisters of Saint Joseph at the request of Bishop Verot, has touched countless lives in the African American community of Savannah.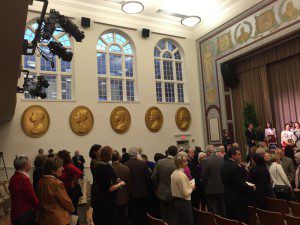 Flannery O'Connor was born and raised under the shade of the Cathedral of Saint John the Baptist on Lafayette Square. A fervent Catholic, O'Connor described herself as a "pigeon-toed child with a receding chin and a you-leave-me-alone-or-I'll-bite-you complex." A very complex woman, she became a fervent writer of fiction, but  has also left scores of letters and spiritual writings.
Born in 1925, she left Savannah in 1945 to study at Georgia State College for Women in Milledgeville, Georgia, followed by the University of Iowa. After being diagnosed with lupus at a young age in 1951, she returned to her native Georgia to live the rest of her days with her mother at their farmhouse Andalusia outside Milledgeville. She died in 1964.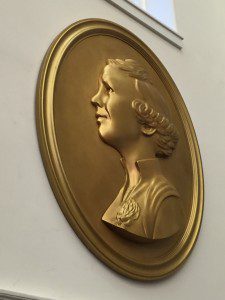 Her stories are about grace in a fallen world, the redemption of Christ offered to every one person, and finding beauty in the most profane and grotesque situations. Even though many find her stories odd, I find that in her characters' awkwardness and weakness, we can all see a small (or sometimes large) reflection of ourselves.
The uniqueness of her work continues to be misunderstood today, as it was was while she was alive. There is a story that Flannery's wealthy cousin Katie Semmes sent copies of Flannery's novel Wise Blood to her priest friends, including Monsignor McNamarra, rector of the Cathedral. After she read the book however, she was horrified. She immediately wrote letters of apology to the priests.
The ten women SCAD chose to honor have left a mark on the city of Savannah, including these two outstanding Catholic women. May their faith and the good it brought about in their lives continue to touch the lives of many in Savannah and beyond.
All these pictures are mine, all rights reserved.