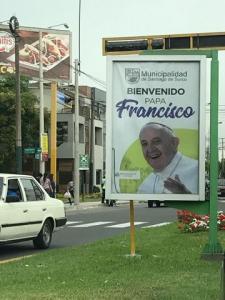 This evening Pope Francis will visit another Latin American country for the first time.  Though he has not returned yet to his native Argentina, he has visited Brazil, Bolivia, Ecuador, Paraguay, Cuba, Mexico, Colombia, and most recently Chile.
Pope Francis comes to Peru at a turbulent time.  Just a few weeks ago Congress voted to impeach Peru's President Pedro Pablo Kuczynski.  The impeachment process unveiled deep divisions among the powerful opposition which controls Congress.  At the end of the process, Kuczynski remained in power and Peru's past president Alberto Fujimori was freed from prison on humanitarian grounds.  Freeing Fujimori who is accused of human rights violations committed in the 1990s has divided Peruvian society deeply.  Many support Fujimori because he defeated the terrorist groups which infested Peru in the 70s and 80s, but others want him to die in jail due to his abuse of power.  Fujimori's two children now lead the opposition party, but have distanced themselves from each other.
The Pope's Apostolic Visit has the theme "United by Hope," and hope is what Peru needs now.
After years of a booming economy, things are slowing down.  Crime and insecurity are increasing.
It is good to see signs all over the city extending a warm welcome to Pope Francis.  Like all other Latin American countries, both the number of secularists and evangelicals have greatly increased.
After his arrival tonight, the Pope will travel to the district of Magdalena where a large statue of the Virgin Mary overlooks the Pacific Ocean.  After a brief ceremony, he will go to the Nunciature to rest.
On Friday he will travel by plane into the jungle of Peru to Puerto Maldonado where he will celebrate Mass and meet with indigenous groups.  In the afternoon he will visit the President at the Presidential Palace in Lima and finally gather with fellow Jesuits at the beautiful colonial church of San Pedro.
On Saturday he will travel north to Trujillo where he will celebrate Mass by the ocean in Huanchaco.
Finally on Sunday he will visit the Shrine of El Señor de los Milagros in Lima with the cloistered sisters who live there, and then continue to the Cathedral to pray before the relics of Lima's saints: Saint Rose, Saint Martin de Porres and Saint Toribius.  After praying the Angelus at the main square, he will head to the air force base for Mass with over 500,000 people.  He leaves promptly after the Mass.
There is great excitement today in Peru.  After thirty years the Successor of Peter returns to Peru to feed the flock of Christ and encourage his brothers.
Picture is mine, all rights reserved.