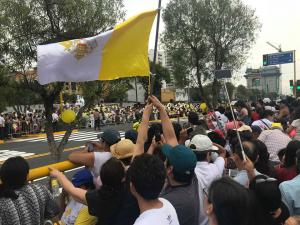 Looking tired, but with a tremendous smile, Pope Francis briskly descended from the papal plane onto Peruvian land.  After being greeted by President Kuczynski, first lady Nancy Lange and two bishops, he walked down a red carpet for a brief arrival ceremony.  He arrives on the 483rd anniversary of the founding of Lima.
The Peruvian press is describing the Pope's welcome by Peruvian society as apotheotic.  Tens of thousands lined up miles of avenues throughout the city as the Pope traveled from the airport to one end of the city where a brief ceremony was held.  A tremendous crowd of young people gathered outside the Apostolic Nunciature erupted when the Pope took a microphone to address them before entering the house.  "Good afternoon.  Many thanks for having come all the way here.  Thank you from the bottom of my heart.  Now I wish to give all of you, your families, and all those you hold in your hearts, a blessing.  Let us pray together, Hail Mary…  Pray for me, do not forget.  Thank you."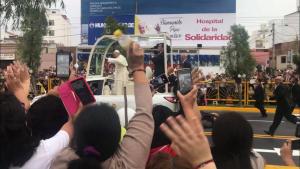 Sounding tired and a bit emotional, the Pope entered the Nunciature, probably ready to have dinner and call it a day.
I had the opportunity to see him dash by on the Avenida Brasil.  The excitement was palpable, many tears were shed by emotional pilgrims overwhelmed at having seen him.
I had in my mind the passage from the Acts of the Apostles: "Many signs and wonders were worked among the people at the hands of the apostles so that the sick were even taken out into the streets and laid on beds and sleeping-mats in the hope that at least the shadow of Peter might fall across some of them as he went past."
In the same way early Christians received a special grace from God by being in the shadow of Saint Peter, thousands and thousands flock today to the shadow of his successor, trusting that God will fill them with a special blessing.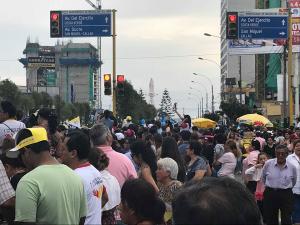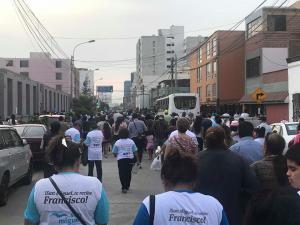 All pictures are mine, all rights reserved.