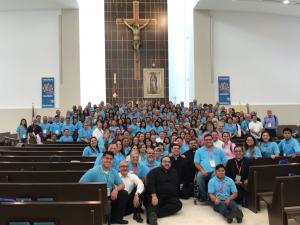 Archbishop Christophe Pierre, Apostolic Nuncio to the United States, preached a dynamic, heart-felt homily at the closing Mass of the V Encuentro Regional Meeting held at Our Lady of Guadalupe Parish in Miami.
"The Encuentro is the most dynamic thing happening in the Church in the USA now," he said early in his homily.  Speaking in flawless Spanish since he spent many years as the Apostolic Nuncio in Mexico, he identified as one of the greatest obstacles today the difficulty in transmitting our faith and our traditions to the new generation.  "Hay una crisis de tranmision de la fe," he affirmed.
He urged us to promote a Church that is able to offer people today, living in today's context, the possibility of encountering Christ.  "This is not something vague, but something rooted," he said.
Mentioning several times that we belong to God's people, he taught that an "encounter with Jesus happens within the context of the Church.  The faith is lived within the Church."  He pointed out that first we must be disciples, and then we must go out as missionaries.  "We must create disciples."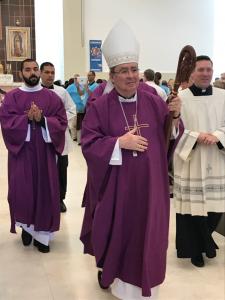 He closed his homily stating, "Me siento tan feliz de estar con ustedes.  Tienen una gran responsabilidad."  I am so happy to be here with you.  You all have a great responsibility.
As the Encuentro closed, the two words which emerged from the departing delegates were "hope" and "commitment."  Having played a role in the development of a national document providing a long term vision for the missionary efforts of the Church in the United States, delegates certainly felt part of something much greater than just their local churches.  The regional meeting was an opportunity to network and realize that the whole Church works together with one single purpose: the preaching of the Gospel of Jesus Christ.
Now the various regions of the USA will hold regional gatherings such as this one, this was the first one.  In September the National V Encuentro will be held in Texas, and after this gathering will continue the implementation period of the various initiatives which will emerge from this process.  There is great excitement, and the future certainly is bright.