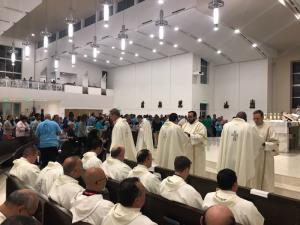 Tonight over 200 delegates from thirty dioceses in the Southeast gathered at Our Lady of Guadalupe Parish in Miami (Doral), Florida to mark the opening of a Regional Meeting in preparation for the upcoming National V Encuentro of Hispanic Ministry which will be held later this year in Texas.  After much preparation at the parish and diocesan levels, the purpose of this gathering is to discuss how the Catholic Church can be more effective in responding to the call from Christ to preach the Gospel in the Southeast.  The states represented here are: Florida, Georgia, South Carolina, North Carolina, Alabama, Tennessee, Kentucky, Mississippi, and Louisiana.
Archbishop Thomas Wenski presided over the opening Mass, and was joined by about fifteen bishops, forty priests, and many faithful.  After a wonderful dinner, Father Rafael Capo, director of the South Eastern Pastoral Institute, addressed the delegates reminding us of the words of Saint Paul, "woe to me if I do not preach the Gospel."  The National V Encuentro process encourages all to be missionary disciples, seeking ways that the Church must respond to the current needs not only of Hispanic Catholics, but of all the faithful.
Tomorrow will be a long day of reconnecting with friends and coworkers from the whole region, and an opportunity to meet new people.  It is good to be here with the diocesan delegation from Savannah which includes Lili Niederkorn, Father Gonzalo Meza, Deacon Chris Hassel and me.  Bishop Hartmayer will be present for the closing Mass on Saturday morning.