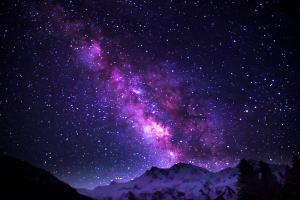 I remember one time when I was fourteen or fifteen years old, riding on the back of a pick-up truck in the Peruvian Amazon.  I had spent the day with my dad around the small town of Cuñumbuque visiting dairy farmers.  Up until the year before, the town had been controlled by one of Peru's main terrorist organizations, now that the army had liberated it, its people were free to do business with outsiders.  That's why we were there.
As we drove away from the small town on a badly kept, dirt road, I looked up at the night sky, and I was stunned.  Never had I seen this, and never I have seen it again.
I saw millions of lights spread across the night sky like spilled milk.  It was an illuminated highway of sorts right over me, cutting through the night.  The lights were of different colors and intensities: white, blue and even some red.  It was so beautiful I could not stop looking up.  I didn't even want to blink, I didn't want to miss a thing!
"Every perfect gift is from above, coming down from the Father of lights."
These words from the letter of Saint James remind me of that night on the desolate road looking up above at our galaxy, the Milky Way.  I did nothing to deserve such a beautiful view.  I just happened to be there.  It was a perfect gift from above; sent down my way so that my mind and heart could both be lifted up in wonder and awe.
For millennia humans have looked up at the sky and wondered about what lies beyond.  The stars have kept us humble, reminding us of our littleness.  The night sky speaks of something greater than us, something transcendent, mysterious and enormous.  For millennia, the night sky has spoken to us of gods and scary creatures, given us direction, and pointed us to a creator.
I have often wondered if Saint James had a stunning night sky in mind when he described God as the "Father of lights" who sends us every perfect gift from above.
The Father of Lights is the maker of those magnificent night lights.  Saint James tells us that the same God who has created the stars is the giver of every perfect gift.  If the Father of lights freely gives us a magnificent sky to see, how many other bigger and better gifts will he freely give!
There is a duality often discussed and debated in Christian theology: the role of faith and works when it comes to our salvation. Many believe that somehow we can "earn" our salvation.  The more we do, the more God will like us, and the more likely He will welcome us into heaven.  Others think that regardless of what you do, good or bad, the only things necessary to be saved is to believe in Jesus.
Asking which one comes first is like asking: what is more important, the birth, death or resurrection of Jesus?  You cannot say, all of them have a role in the plan of salvation.
Saint James writes that faith without works is dead, yet at the same time, we know that salvation comes from God alone and that it is freely given.  It cannot be earned or merited.
I cannot save myself.  God must save me.
Rather than speaking of faith alone or works alone, we should probably speak of "grace alone."  It is by God's grace that we are saved.  It is through God's action within you that you are granted salvation.
Salvation is the greatest gift the Father of Lights gives us.  And he gives it freely – even to those who are not looking for it like Saint Paul.
The laws and statutes of the Old Testament given to Moses, and the many traditions of men cannot save.  Though these bring order, and are good, they cannot save.
God gives us a gift and we respond to it.  In the Gospel passage Jesus lists ways through which we chose to separate ourselves from God, ways through which we reject the gift freely given: evil thoughts, unchastity, theft, murder, adultery, greed, malice, etc.  Despite our sinfulness and rejection, the Father of Lights continues to offer his gift of salvation.
As Jesus freely comes among us in this Eucharist and freely offers himself to strengthen us and fill us with his presence, we approach the altar aware that our presence here is itself a gift of the Father of Lights.  It is all grace.
The Father of Lights continues to give us perfect gifts; amazing gifts much more amazing than the beauty of the Milky Way.  What perfect gifts has He given you already today?
Being here, now, at Mass, is a good place to start.
Picture is not mine, used with permission.  Click here.
Homily for the 22nd Sunday of Ordinary Time, Year B